Everyone in Paris hopes for a glimpse of Nico's velvet underground.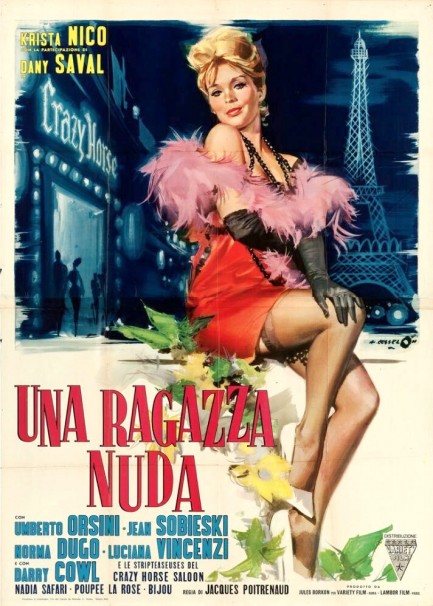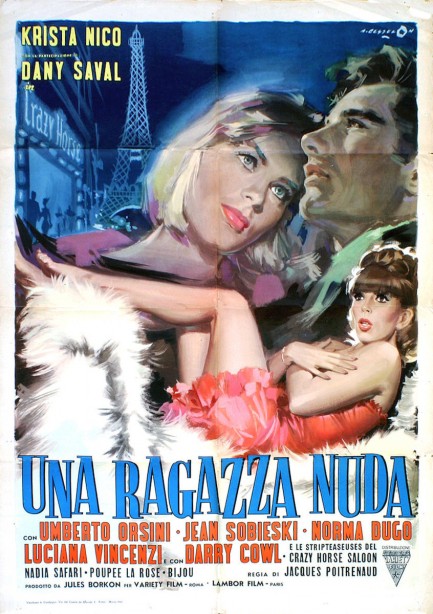 Una ragazza nuda, for which you see two beautiful Angelo Cesselon posters above, was originally released as Strip-Tease, and called in the U.S. Sweet Skin. It was an Italian/French co-production starring Krista Nico, née Christa Päffgen, better known as just Nico, future collaborator with the Velvet Underground. Her supporting cast includes Dany Saval, Jean Sobieski, and American jazz pianist Joe Turner playing a character named Sam (IMDB has him incorrectly listed as playing himself). Basically, the movie is the story of an ambitious dancer who can't catch a break, and takes a job stripping at Le Crazy Horse, the famed Parisian cabaret.
Nico goes through the typical stages of becoming the jaded, empty woman viewers have been taught to expect in movies like these. But what isn't typical is the setting. If you're looking for a film with overwhelming Parisian atmosphere this is the one. Streets, cafés, restaurants, the Seine, the wintry countryside, Hippodrome de Vincennes, and the Crazy Horse (or a fictive stand-in) are all on prominent display, and the stripteaseuses are beautifully showcased. And keep an eye out for cameos from Serge Gainsbourg and Juliette Gréco. We just came back from Paris last year and thanks to this flick we're already trying to figure out how to return.
On a technical level, the direction by Jacques Poitrenaud and cinematography by Raymond Pierre Lemoigne both take advantage of the film's many wonderful settings, but the on-camera performances aren't quite at the same level. Nico is a novice actress at this point and it shows, but her minimal emotional range fits with her character. Joe Turner isn't an actor at all and that shows too, but as the conscience of the film his role also works. Some movies are more than the sum of their parts, and Una ragazza nuda adds up to an excellent ninety-five minutes. It premiered in Italy today in 1963.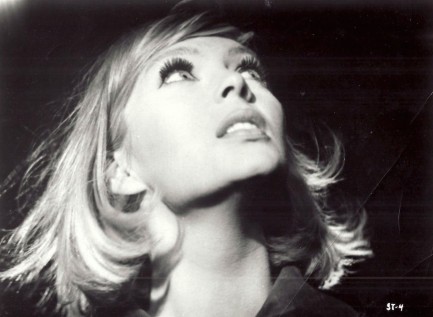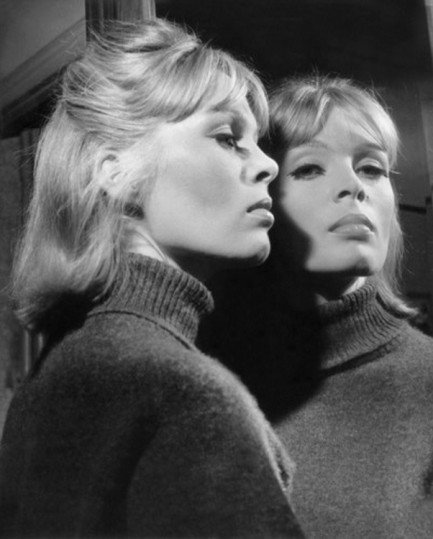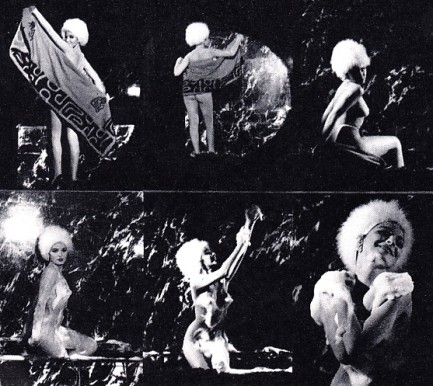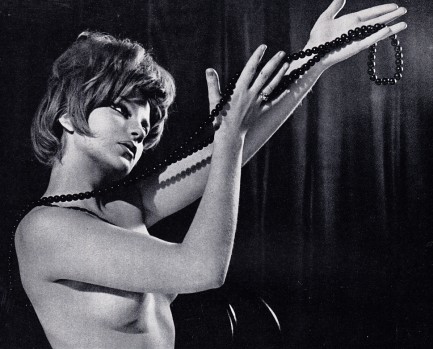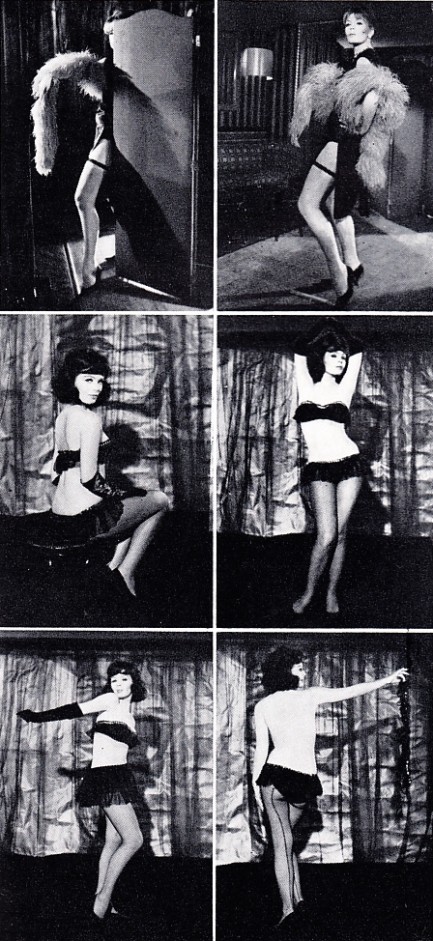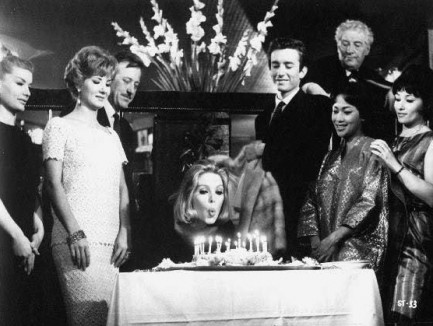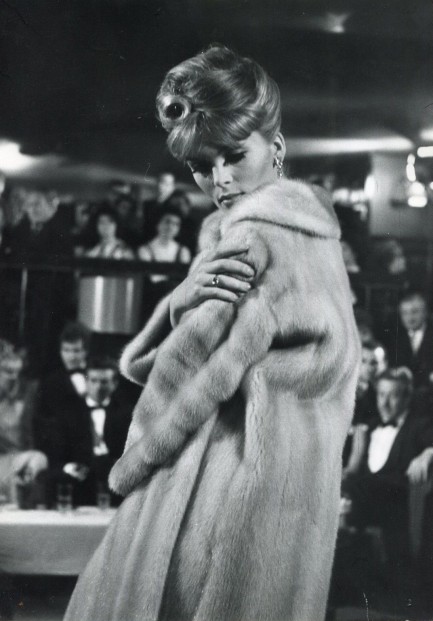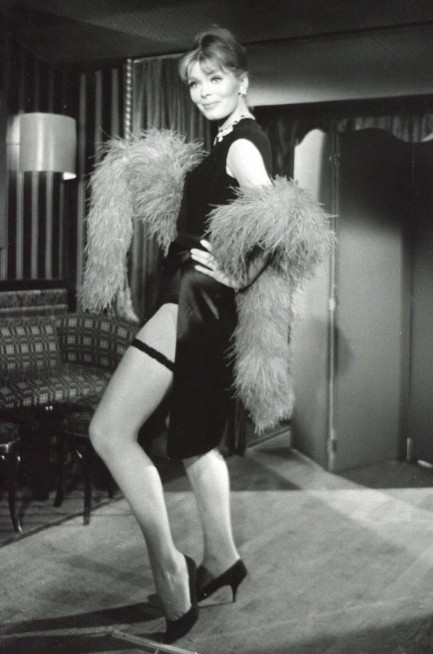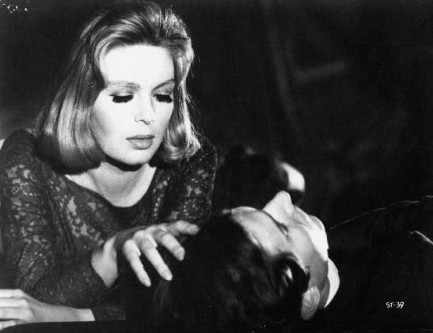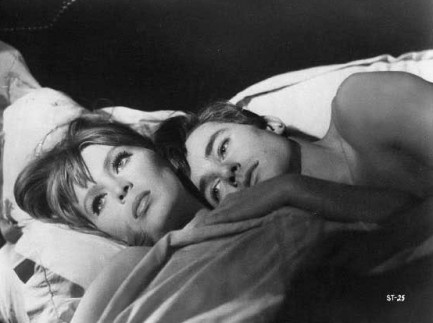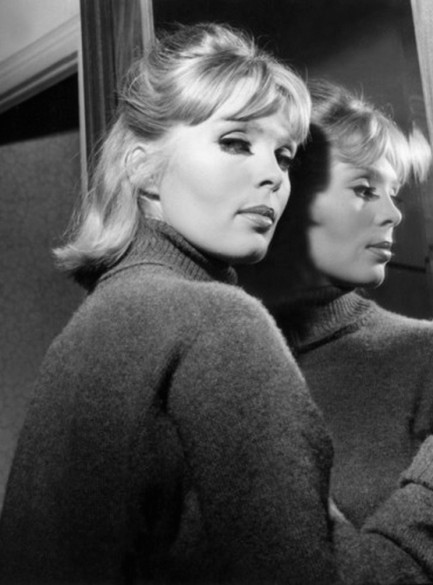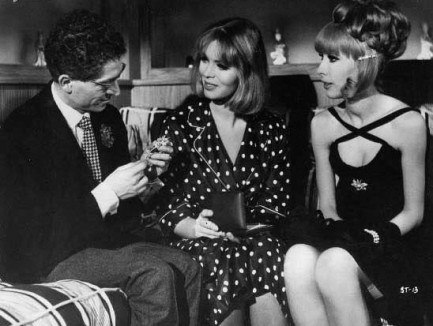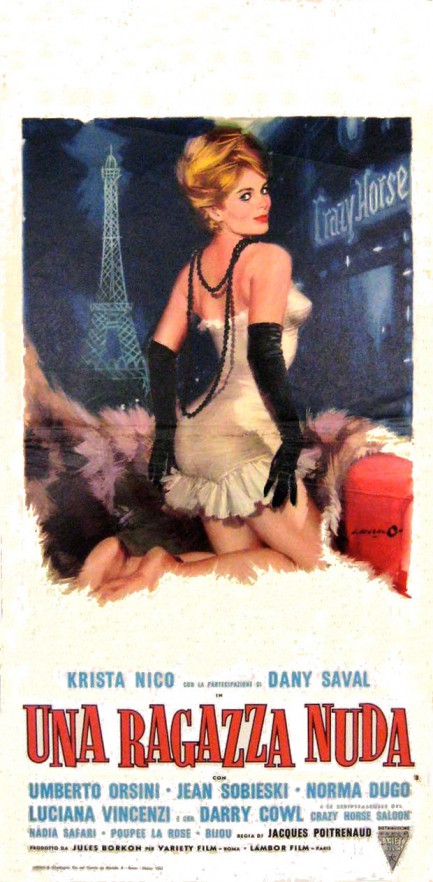 ---
Folies de Paris et de Hollywood shows readers where to get their kicks in '66.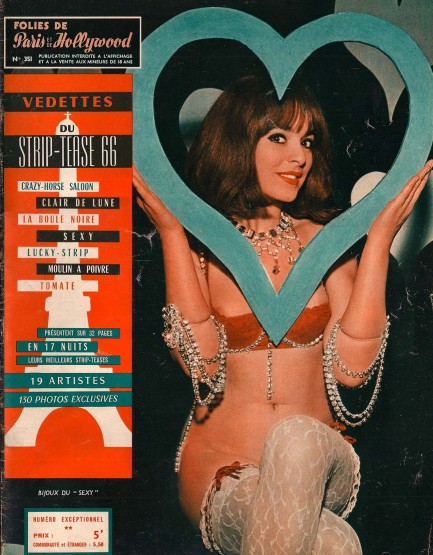 Folies de Paris et de Hollywood often published themed issues, and this one—Vedettes du Strip-Tease 1966—is reserved entirely for dancers from Paris cabarets such as Clair de Lune (Moonlight), La Boule Noire (The Black Ball), Moulin a Poivre (The Pepper Mill), La Tomate, and Alain Bernardin's famed Crazy-Horse Saloon. We love some of the dancers' stage names (aspiring strippers take note)—there's Franca Germanicus, Kitty Tam-Tam, Salammbo, Dailly Holliday, cover star Bijoux, from club Sexy, and Bella Remington, who occupies the coveted centerfold position and two more pages later in the issue. We researched all of them, and the only dancer mentioned online more than in passing was Dailly Holliday. She had already appeared on a Folies de Paris et de Hollywood cover from 1962, and was written of in a New Yorker article in October 1966, having apparently moved on from Moulin a Poivre to dance at a club in Montparnasse called Dolce Vita. Kitty Tam-Tam was briefly mentioned in François des Aulnoyes' book Histoire et philosophie du strip-tease, and Bella Remington's name appeared in an online list of former Crazy Horse dancers, but those instances hardly count because no actual information was attached. With the exception of Holliday there were no photos out there at all. We've remedied that today, and we were happy to do our part for history. We didn't scan the entire issue, because the dimensions of the magazine meant scanning the pages in two pieces and joining them in Photoshop. But we did manage nineteen of the thirty-two pages before we gave up. All below.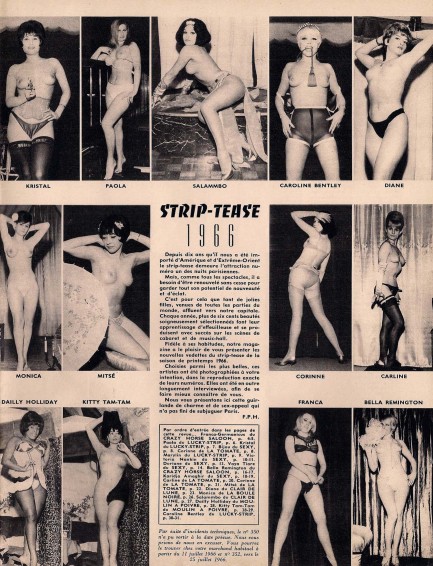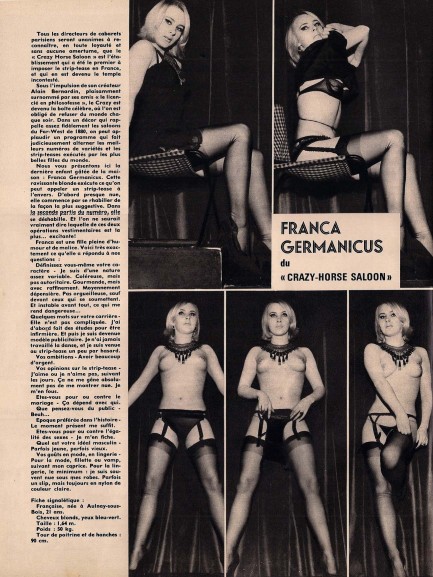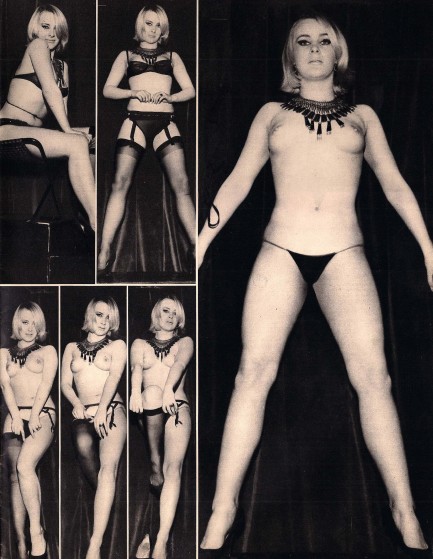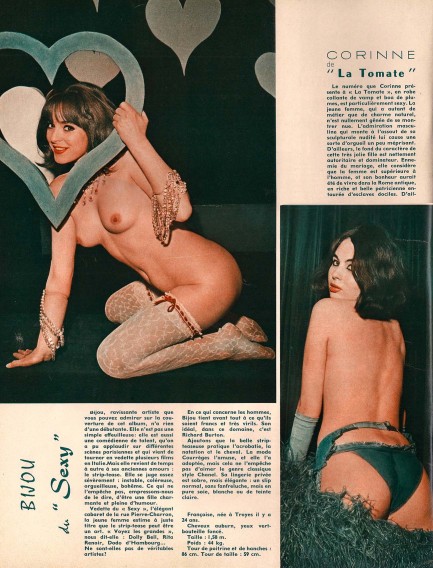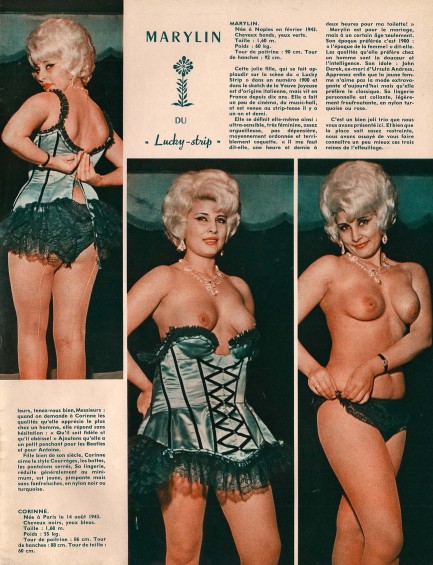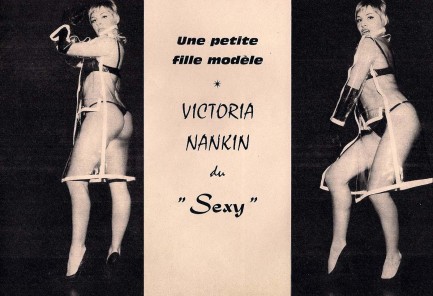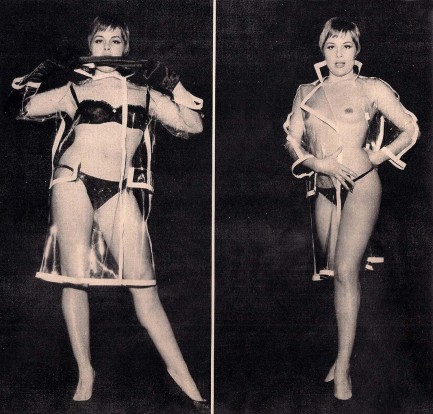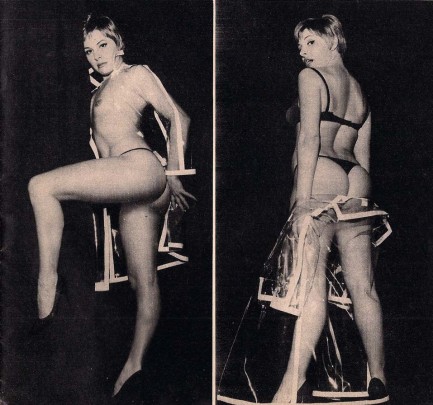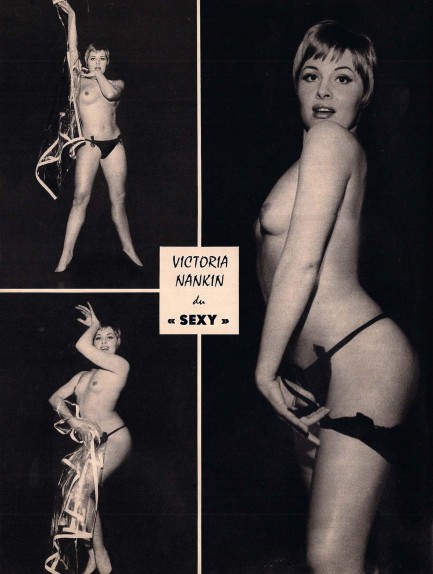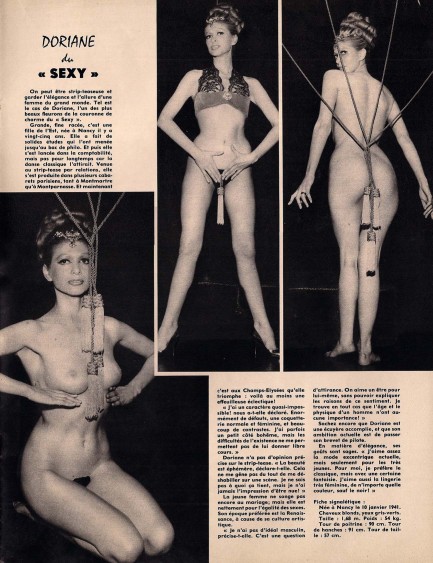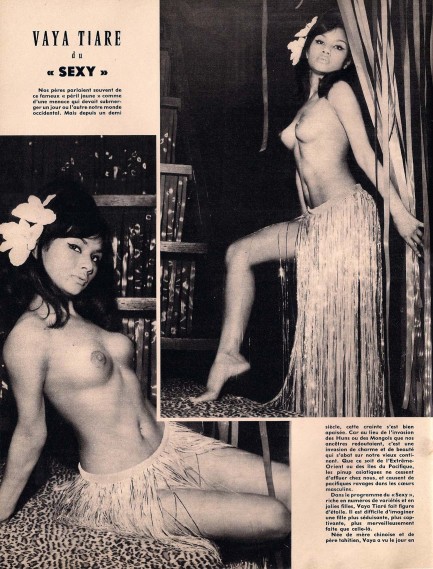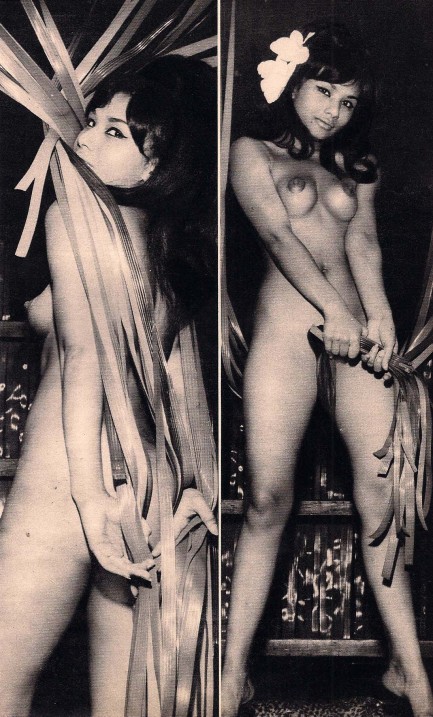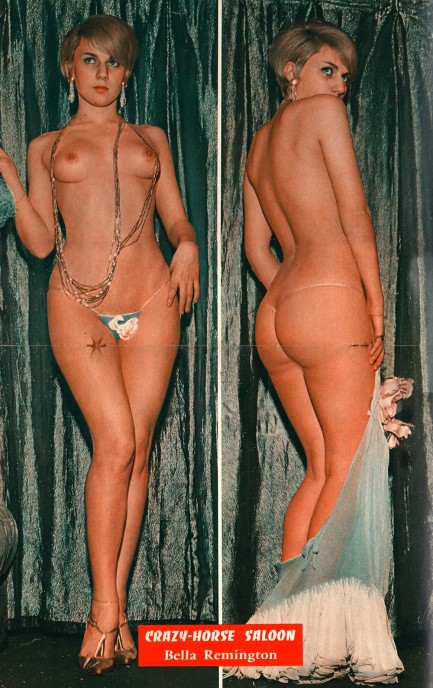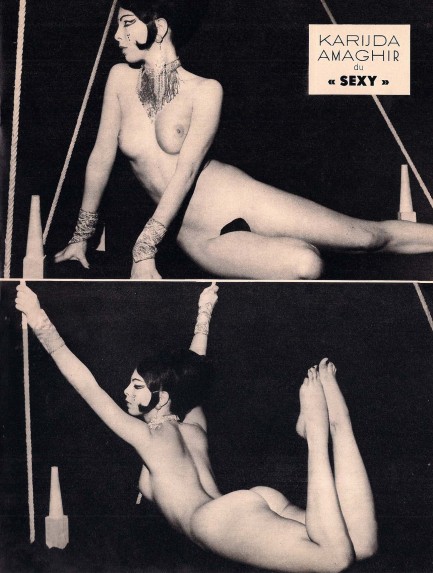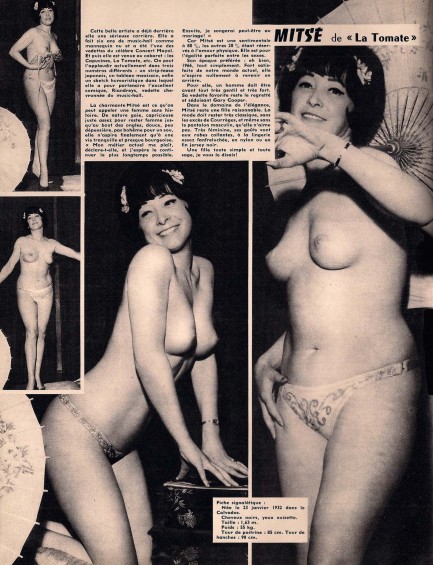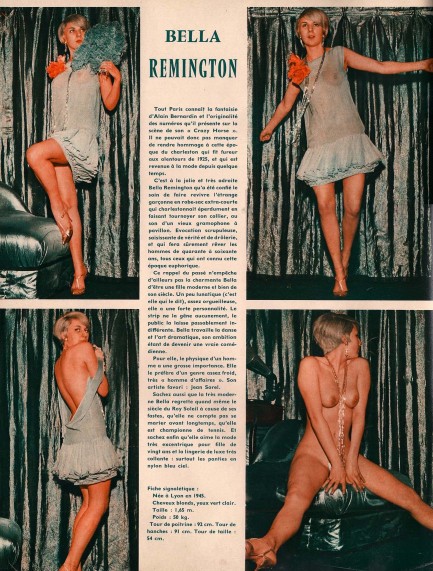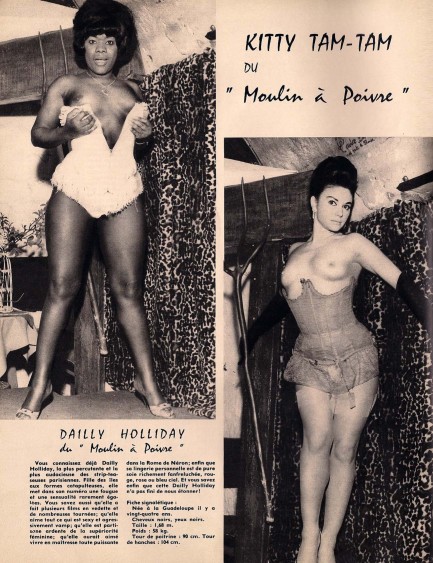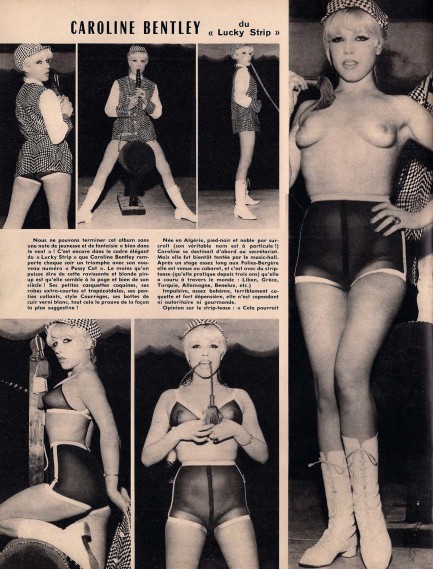 ---