Cohjizukin creates a modern piece of poster art for two classic films.
You know how we always say we're going to get back to something? Some artist, some subject, some mid-century murder spree? And then we never do? Kind of like when you were eight and your parents kept promising to let you buy a grizzly bear but always put you off until finally telling you they weren't going to buy you one and never planned to? Well, we don't want to be like your lying ass parents, so we've decided we need to be better about actually geting back to stuff we said we'd get back to. Consider it a twelve-step program of sorts, which we already started by keeping that five-year old promise about the naked diaries.
So here's someone else we promised to revisit—Japanese illustrator Cohjizukin, whose poster for an Ed Wood triple bill we shared back in October. He painted the above poster for Federico Fellini's I vitelloni

, known in some circles as

The Young and the Passionate

, and

Giulietta degli spiriti

, aka

Juliet of the Spirits

. We knew nothing about

Cohjizukin

last year, but we've learned a few things. He's actually award winning artist Koju Suzuki, who was born in 1948, has had innumerable exhibitions, live painting events, published many books, and seemingly even has delved into music, releasing four albums in the 1990s.
He also likes creepy eyes. Everybody in this poster looks like they're trying to drain your vital essence. We checked to see if either of these movies involved essence-draining, but they're both comedy/dramas
. Not sure Fellini would have approved of psycho faces on a poster for his films, but the art is amazing.
Cohjizukin created it for a double-bill sometime during the 1990s, probably for some film festival or other.
You can learn more about
him
by visiting the (also a bit scary) website maintained at this link, but it's text heavy and without Japanese probably useless to you. We'll dig up more pieces from him later. That's a promise we'll keep.
---
A Wood time was had by all at 1995 triple bill.
Above, a very nice chirashi mini-poster made in 1995 to promote a cinematic triple-bill of three Ed Wood films—Plan 9 from Outer Space, Glen or Glenda, and Bride of the Monster. None of the three played in Japan when originally released—and if you've seen any of them you realize there's no reason they should have—so this poster is for their premieres. The reason this happened is because Tim Burton's biopic Ed Wood became a hit in the U.S. in 1994 and this triple bill occurred about a month in advance of that film's arrival in Japan.
The art is signed, which you can see in the inset image at right, but we can make neither heads nor tails of it. Or rather, we can make out the letters just fine for the most part, but we can't really determine how they should be arranged. Conjizukin or
Comjizukin
seem most likely, but we get nothing on either of those names with online searches. We weren't surprised. These artists with their esoteric sigantures. We guess none of them imagine they might one day be obscure and their abstract autographs might actually be a hinderance to recognition. If anyone can identify who this is drop us a line.
Update: The answer has arrived. A reader has informed us the artist is Suzuki Cohjizukin. We'll dig up more work from him a bit later, and thanks very much to the person who wrote in.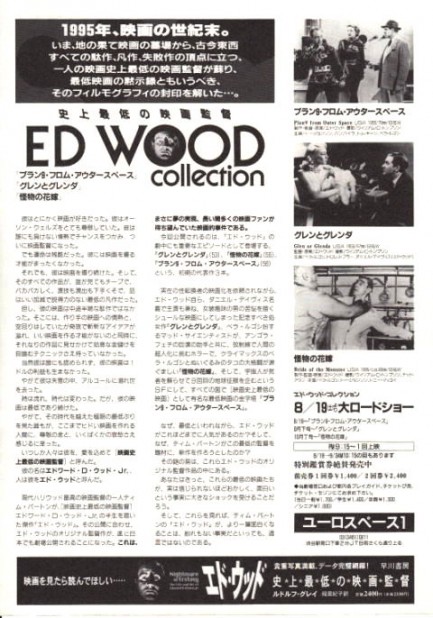 ---