It's lovely out here, but the serenity and quiet just magnify everything about each other we dislike.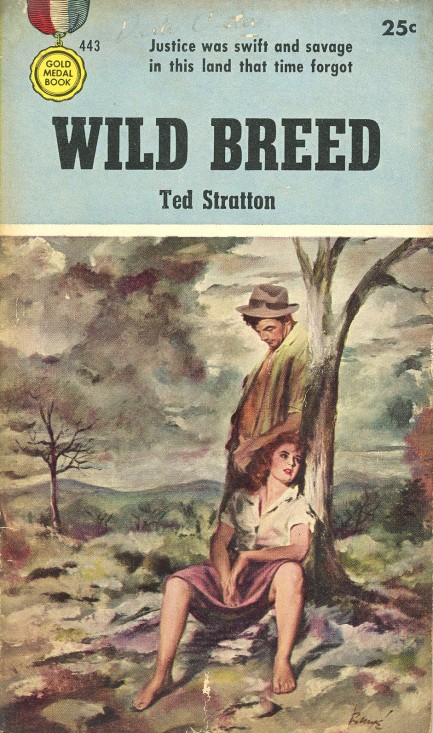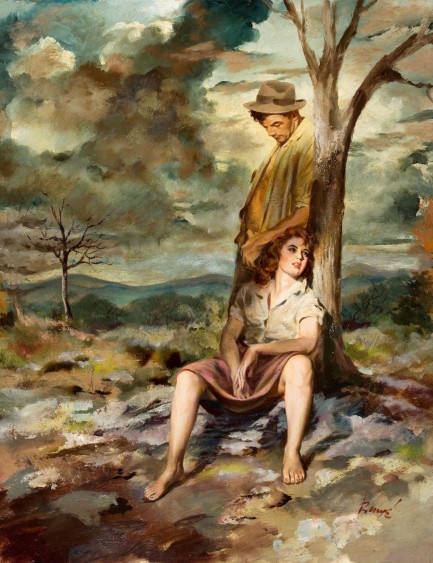 Barye Phillips handled the cover chores for Ted Stratton's 1954 novel Wild Breed, and as you can see by looking at the original reproduction we've included, the piece he produced was fine art adjacent. At least it looks that way to us. Compared to much of his other work, the detail here suggests a different frame of mind in execution, if not even a planned usage outside the realm of paperback covers for the finished piece. Its dimensions normally would have required that the work be radically cropped, but Fawcett Publications solved that by placing a solid rectangle at top to hold the text and Gold Medal logo, reducing the required trimming to a minimum. The editors knew quality when they saw it.
---
It's true I'm a little devil. But by morning you'll say I made you see God.
Above is a nice George Gross cover for Nora's No Angel by Tom Stone, aka Florence Stonebraker, aka Ted Stratton. This came in digest format from Rainbow Books and you can see that Gross has his femme fatale dressed in the same style of off-the-shoulder drawstring blouse we pointed out before. We own the book, but our cover is a little jacked, so we borrowed one from online and touched it up a bit. Below, though, you see two interior pages we scanned (shots posed by models are common with these digests), plus the rear cover. We'll update this post when we get around to actually reading the book. It's 1951 copyright.
Right, so we're writing in 2021 now, and here's your update. The surprise with this novel that took us years to finally read is that it's not the light sleaze you'd suspect, but a detective yarn starring a private dick named J. Gordon Ivers—Gordy to his pals. He takes a case for a rich woman who wants her son's tawdry affair broken up, but the girlfriend turns up dead and Ivers figures he needs to solve the murder in order to have an alibi. The Nora of the title doesn't appear until several chapters in, and indeed, the thrice divorced bombshell is no angel. This is a standard crime novel from Stonebraker, nothing special, but in branching away from sleazy romances she now seems like an author worth more exploration. We'll do that at the earliest opportunity.

---