Always be careful what you say to a tabloid.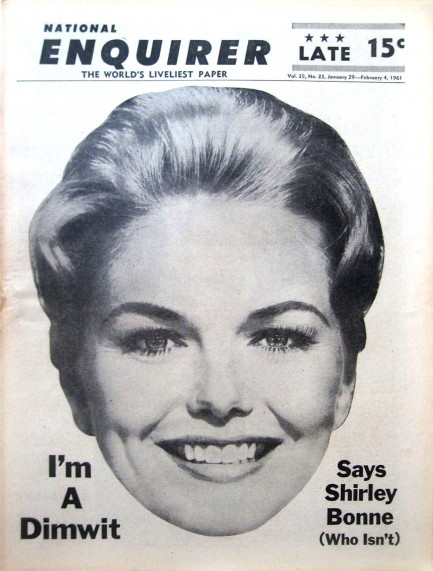 This National Enquirer published today in 1963 features the free-floating head of U.S. actress Shirley Bonne with a quote where she calls herself a "dimwit." Enquirer often splashed shocking, sexual, or confessional quotes from stars across its covers. We have little doubt Bonne was just joshing around, if she ever said it, which we tend to doubt. She isn't well known today. Though she amassed hundreds of magazine covers, as an actress she had zero credited cinematic roles. All her credits, including movies, were on television, where she appeared on shows such as Bonanza, That Girl, Medical Center, starred in the sitcom My Sister Eileen, and was in the all-time dog of a television horror flick It's Alive. Her zenith, at least in terms being appreciated by a fandom, is having guest starred in one of the best Star Trek episodes ever—1966's "Shore Leave." That's the one where the Enterprise crew land on a planet that makes anything they think about come true. Kirk thinks about a long lost love and Shirley Bonne appears—head, body, and all. Pretty smart thinking.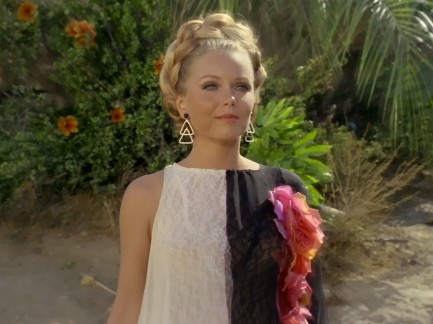 ---
From the hair salon to the executive suite.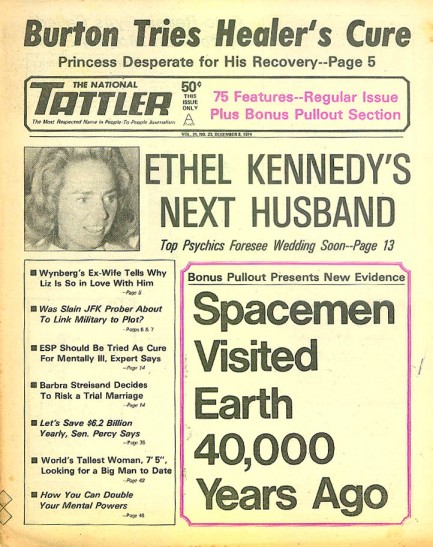 This issue of The National Tattler hit newsstands today in 1974, and as you can see, it lacks a certain something compared to issues of the 1960s. The earlier Tattler featured fantastically exploitative stories conjured from the darkest reaches of the editors' imaginations, while the 1974 version has content that is—amazingly—mostly true. Mostly. We're not sure about Richard Burton turning to a faith healer to help with his drinking problem, and if he did, it didn't work. Alcohol problems plagued him until his death.

The story that really caught our eye is the piece on Barbra Streisand moving in with her hairdresser. That hairdresser was Jon Peters, who, with a major boost from Streisand, became one of the biggest producers in Hollywood. Quite a climb from giving perms. Starting from scratch, knowing literally zero about moviemaking, he soon earned production credits on hits such as Caddyshack, Rainman, Batman, and The Color Purple. But he also made some ludicrous flops—The Bonfire of the Vanities and Who's That Girl come to mind. That's par for the course for producers. Win a few, lose a few.

Along the way Peters became a legendary eccentric, and these days he's almost as well known for being the subject of a Kevin Smith diatribe about everything that is wrong with Hollywood than for his movie work. Smith's take on Peters is one of the funniest Tinseltown insider tales of all time, and we suggest you do yourself a favor and enjoy it in its entirety. Part 1 is here, and Part 2 is here. It may be the best eighteen minutes you've ever spent online, and as bonus it's got spiders in it.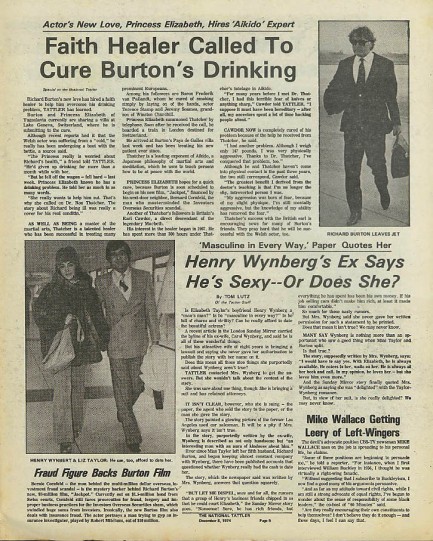 ---