They say you can't buy love, but you just have to know where to shop.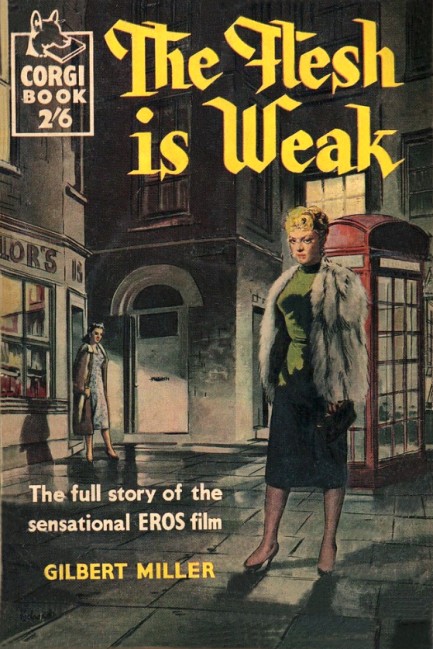 Above: a striking cover for Gilbert Miller's novelization of the 1957 movie The Flesh Is Weak, which is about how a ring of sex traffickers trick naive women into street prostitution. It stars Milly Vitale, and the painting here by John Richards is a very good likeness of her, despite its cartoonish style. We also like the fur. She must have borrowed it from her pimp. To see our other material on this film just click its keywords below and scroll.
---
Every day and overtime on Sundays.
Above: an Australian promo poster for The Flesh Is Weak, the 1957 John Derek/Milly Vitale vehicle we discussed earlier this month. Shorter version: Derek tricks Vitale into hauling her flesh out to the street to work at the oldest profession. There's no Australian release date for it, but it probably didn't play Down Under until 1958. Read more and see the amazing French promo here.
---
How do you show your man you love him? Show your love to other men.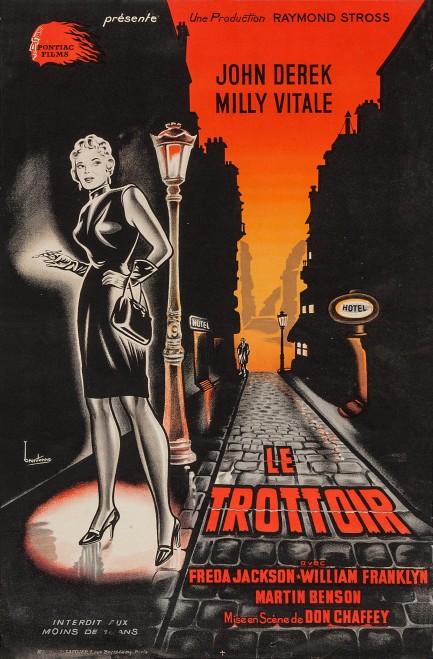 Here's another amazing and framable movie poster, this time for Le trottoir, which was originally made in England as The Flesh Is Weak. The art is by René Brantonne, who typically illustrated book covers, such as here and here. This is stylish work, very different from what we've seen him do before. It's cartoonish, but captures the mood of the film, an urban drama starring John Derek. Yes, that John Derek, the one who— Or has he been forgotten already? We'll reacquaint you. Derek was an actor, photographer, screenwriter, and director, but he's best known as a sort of Svengali who directed his fourth wife Bo Derek in several erotic films in which male actors got to squeeze and lick her soft parts. In 1984's Bolero he shot Bo in three love scenes, one of which made viewers wonder if there was more than acting involved. That's unlikely, but even so, actual penetration was about the only thing missing, which makes John Derek a different kind of husband indeed.
His partnership with Bo in using her body to make money is even more interesting considering the subject matter of The Flesh Is Weak. He plays London agent who meets naive Milly Vitale and convinces her to attempt resolving his debt problems by selling her womanly favors. Of course, he has no debt problems, and he's no agent—he's a pimp, and chose Vitale to convert to prostitution. She ends up tricked into selling herself because she's in love, and though for some readers that surely seems impossible to comprehend, we read Iceberg Slim's autobiographical Pimp some years back and he confirmed from a firsthand perspective that love was what he often used as a lever. It's hard to imagine but true. And its pretty sad, even in the sanitized version presented in The Flesh Is Weak. Is it worth watching? There's no need to clear your schedule, but overall it's pretty good. There's no known French release date, but it had its world premiere in London today in 1957.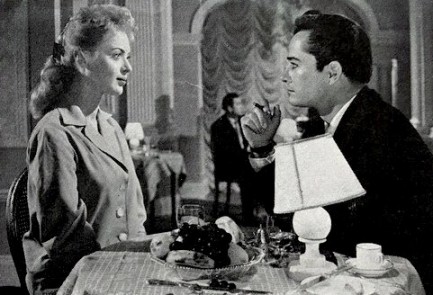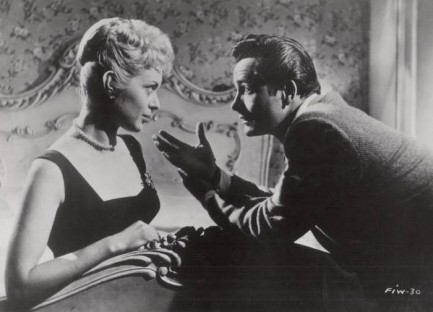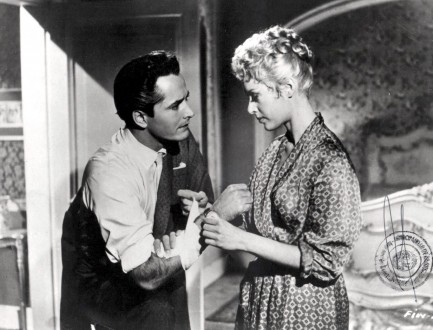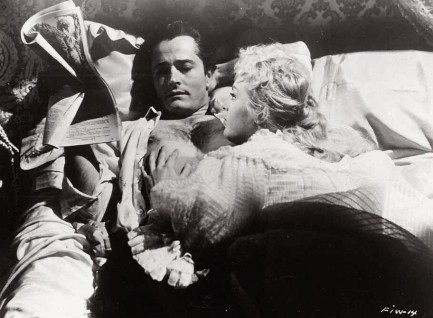 ---