Lord of the Rings fan raises his game, lowers his life prospects.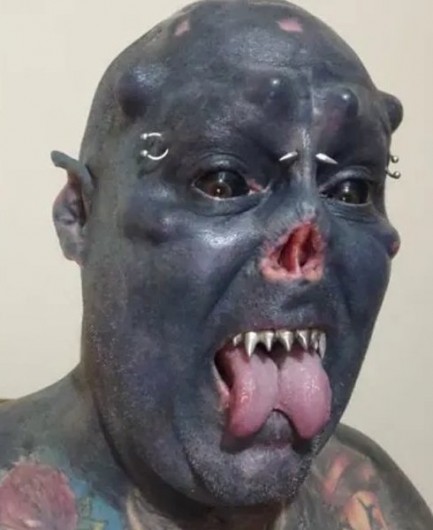 An interesting item began popping up online yesterday about Fernando Franco de Oliveira, an avid Lord of the Rings fan from Brazil who made himself look like an orc with the help of tattoos, dermal implants, and surgery—including an operation to remove his nose. The result is what you see above, and well, it's both atrocious and very sad. We liked the Lord of the Rings trilogy, but it's junior high literature. Imaginative and well written to be sure, but a typical person aged twelve to fourteen—like we were when we first came across it—would be able to read the books and enjoy them. Same with the movies. They're officially rated for filmgoers aged thirteen and up.
The point is that neither the books nor movies are something to let influence your life to the extent that you get your eyeballs tattooed black and your ears crimped. There's not a lot to say about this other than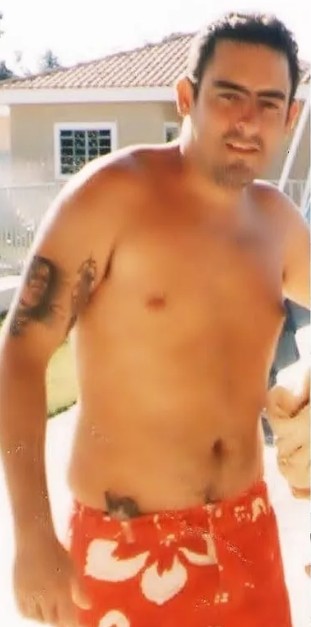 that the obsessive quest for individuality on a planet of almost eight billion people has claimed another victim—a mentally ill one. Yes, yes, we know. You're not supposed to say things like that these days. You're supposed to be supportive and non-judgmental, but we can do what we want on our website, and we judge that de Oliveira is mental.
Being able to express himself rationally, de Oliveira can of course present the façade of a sane person, but his outward appearance makes a mockery of that, because to do what he's done is to deliberately destroy one's life, or—even worse—to not understand that to do it is to destroy one's life. True, he was never a beauty queen, as you see in the soft-bodied, monobrow dominant photo at right. But he still had a nose. And anyone with a nose has a shot at good things in life.
De Oliveira will of course tell you his existence is good, that people tell him he looks cool, that chicks dig it or he has a committed partner who loves it, that he was never happy until finding himself in this way, that it even earns him money, and anyone who hates on him is really the one with problems, but he'll be using his surgically forked tongue to lie through his vampire teeth. He's insane. End of story. He's even crazier than Caius Veiovis and that guy probably bites the heads off bats. All that said, we'd still rather hang out with Orc Boy than someone who bases their life upon Atlas Shrugged. At least he's decided to be a monster only on the outside.


---