Don't cry, baby. They don't shoot horses. They take them to magical horsie land where they eat oats and apples forever.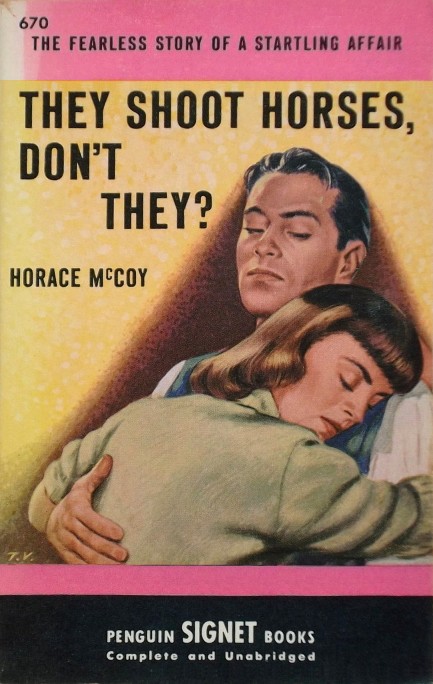 Above: another cover for Horace McCoy's They Shoot Horses Don't They?, very different in mood from the 1955 Berkley cover we showed you earlier. This one was painted in 1938 by Tony Varady, who we've seen before illustrating a different McCoy book, No Pockets in a Shroud, published in 1948. We loved They Shoot Horses Don't They? on its own merits, but because it's a social and political critique it has extra resonance in an era when most people have lost faith in the American dream (don't shoot horses, and don't shoot messengers—it's simply true, that's all). We talk a bit more about the book here.
---
It's both appropriate *grunt* and ironic *gasp* that ballroom dancing *argh* is going to give me a hernia!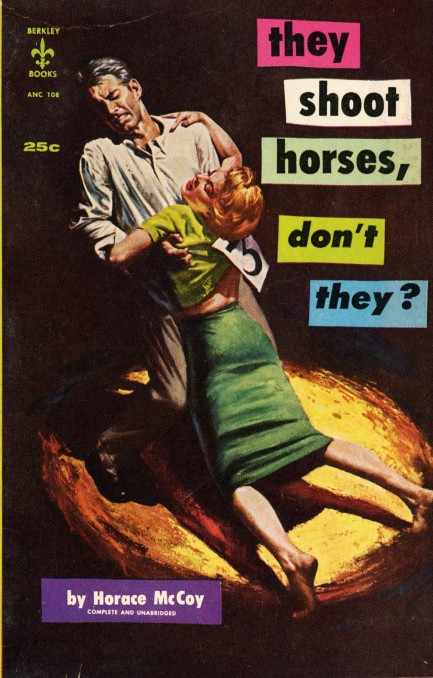 This 1955 Berkley Books cover for Horace McCoy's They Shoot Horses, Don't They? is one of the most striking art pieces of the paperback era. It's uncredited, incredibly. Still, the image succinctly gets to the core of McCoy's story—exhaustion in a dance contest, but metaphorically, exhaustion in the contest of capitalism. It revolves around a set of young people who enter a dance marathon in an attempt to win a $1,000 prize. The entire story, more or less, takes place during this dance-a-thon, which goes on for weeks. Those who quit early get nothing. Those who suffer long enough may profit a few measly dollars. Only a vanishingly small percentage desperate enough to exhaust themselves to the point of physical disintegration—in this case one couple—have a chance to come away with the prize.

Some reviewers say the book is a metaphor for life rather than capitalism. Well, that too, but what makes it an obvious capitalism critique are the celebrity guests intermittently paraded before the dancers. They show that wealth is real, function as suggestions to the dancers that the obstacle is not the rules for victory, but the will to succeed, though the odds are staggeringly, cruelly against them. Oh yes, it's a metaphor for capitalism, alright. The American Dream—generally defined as a decent salary, home ownership, sufficient family and leisure time, and retirement—increasingly really is just a dream. This fact makes mid-century capitalism critiques prescient by definition, but They Shoot Horses, Don't They? is more on target than most. And purely as a piece of fiction it's a total winner.


---