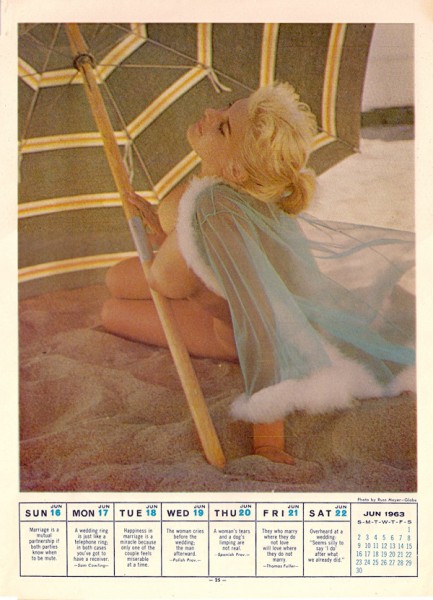 Above, the page for this week in the Goodtime Weekly Calendar of 1963, with photography by none other than big breast maven Russ Meyer. Meyer was, of course, the man behind such fare as 1965's Faster, Pussycat! Kill! Kill!, 1966's Mondo Topless, 1968's Vixen, and the 1970 schlock masterpiece Beyond the Valley of the Dolls. More Meyer photography to come.
June 16: Marriage is a partnership if both parties know when to be mute.
June 17: "A wedding ring is just like a telephone ring; in both cases you've got to have a receiver."—Sam Cowling
June 18: Happiness in marriage is a miracle because only one of the couple feels miserable at a time.
June 19: The woman cries before the marriage; the man afterward.—Polish Prov.
June 20: A woman's tears and a dog's limping are not real.—Spanish Prov.
June 21: "Those who marry where they do not love will love where they do not marry."—Thomas Fuller
June 22: Overheard at a wedding: "Seems silly to say 'I do' after what we already did."


---