Virginity wasn't against the law, but topless dancing was—until she came along.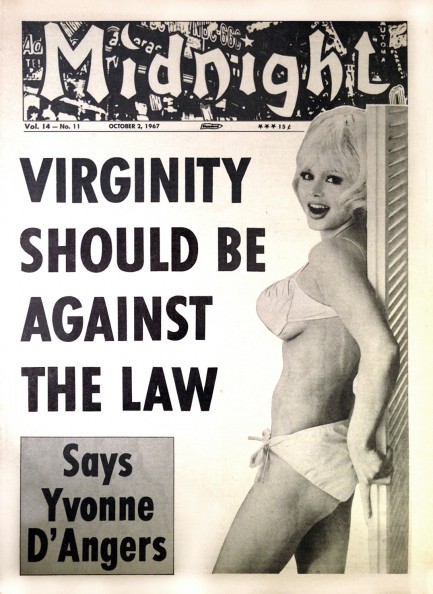 Burlesque dancer Yvonne D'Angers graces the cover of this Midnight published today in 1967. She was born in Teheran, Iran and reached the height of her fame after a 1965 obscenity trial, a government threat to deport her, a publicity stunt where she chained herself to San Francisco's Golden Gate Bridge, and a 1966 appearance in Playboy. There's surprisingly little about her online—not even a measly Wikipedia page. But she was important within her milieu—she was one of four defendants in the aforementioned obscenity trial, along with Carol Doda, Kay Star, and Euraine Heimberg, and the acquittal legalized topless dancing and waitressing in San Francisco. That decision made San Fran the first city in the U.S. where this was the case.
D'Angers' main haunt was the Off Broadway on Kearney Street, but she also danced at Gigi's, which was located on Broadway, and she worked in Las Vegas, in addition to touring the U.S. She was married to Off Broadway owner Voss Boreta, and he was her manager, making her part of a client list that included Doda and the topless girl-band The Ladybirds. She was also—though this is not often noted—a college graduate and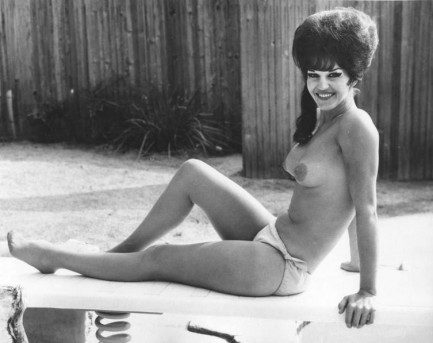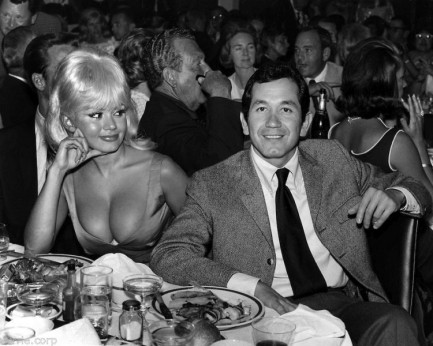 a painter. She billed herself as being naturally endowed, but both she and Doda were said by people who knew them early in their careers to have been worked on by cosmetic surgeons. The above shots of D'Angers, pre-fame, pre-blonde, versus post-fame, 44D, hanging out with Trini Lopez, seem to confirm those stories. We'll have more on D'Angers (and Doda) later.


---