Lindberg is larger than life in three dimensions.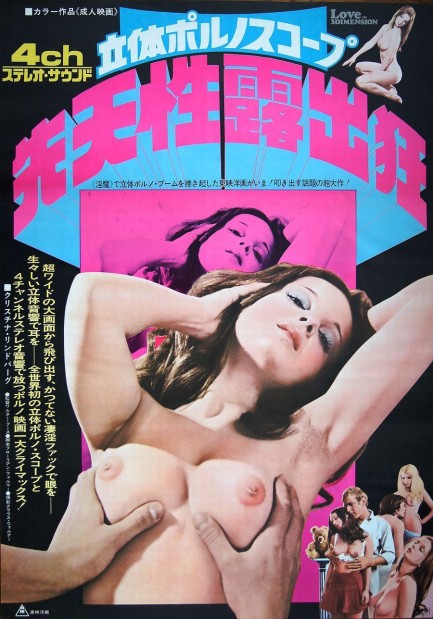 Have you ever seen a 3D sexploitation movie? Rittai Poruno-Sukoppu: Sentensei Roshutsukyou, which was originally released as Liebe in drei Dimensionen and known in English as Love in 3-D, is a typical piece of West German goofball sexploitation—except it comes right at you! Ingrid Steeger is top billed but the film's Japanese distributors—no fools they—put Christina Lindberg on the promo poster.
There isn't much of a plot to this. It's basically just sex vignettes wrapped around Steeger apartment sitting and dealing with her bad boyfriend. 3D movies always overuse their gimmickry and this effort is no exception. Items thrust at the camera include Dorit Henke's panties, Ulrike Butz's bush, several animatronic monsters in a house of horrors, and of course Lindberg's boobs.
Lindberg was globally famous for her breasts (see what we just did there?), which means her nudity was expected and duly delivered, but watching her tour Munich rocking a red mini-skirt and fluffy pink jacket may impress you even more. Lederhosen must have gotten cramped all over Bavaria when she shot those scenes. Liebe in drei Dimensionen premiered in West Germany in January 1973 and reached Japan today in 1974.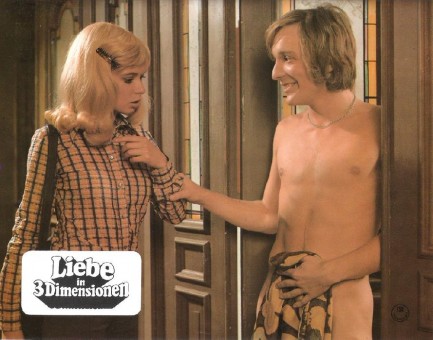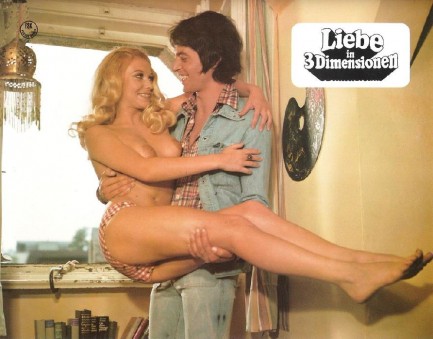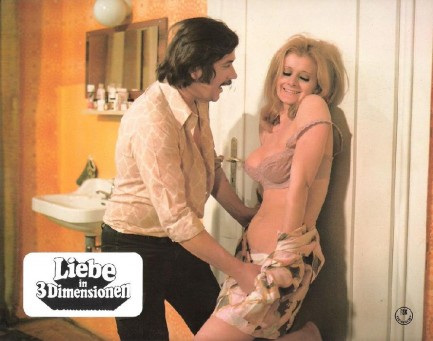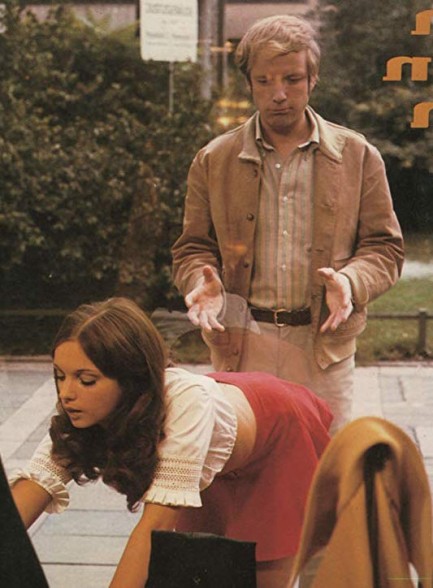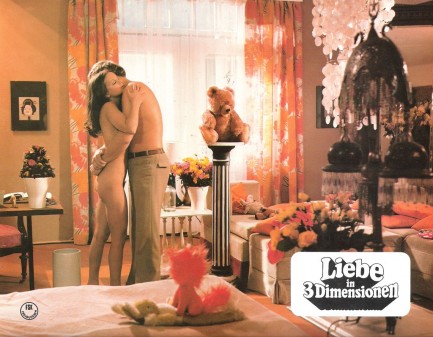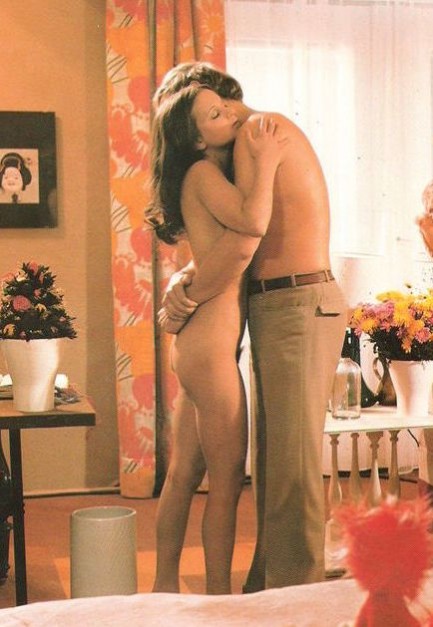 ---
Seventh movie in famed sexploitation series has plenty to report.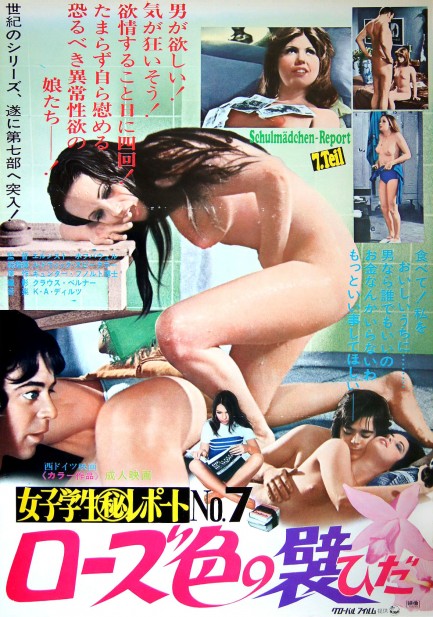 After taking a little break you can be sure we'd return to posting by showing you something unusual, so above you see a beautiful Japanese poster for the West German sexploitation comedy Schulmädchen-Report 7. Teil - Doch das Herz muß dabei sein. It's a mouthful, we know. The title would translate as "schoolgirl report part 7 - but the heart must be there." This word salad was changed for the film's English language release to merely Teenage Playmates. It was the seventh of thirteen films in the Schulmädchen-Report series and is generally regarded as one of the better entries—though having not seen all of them we can't corroborate that. Among its large cast are Elke Deuringer, Ulrike Butz, and Puppa Armbruster. The movie is also said by various websites, including IMDB, to feature Christina Lindberg, but she's not in it. It would be better if she were, but no such luck, and we aren't even sure how that rumor sprouted, except that the cast is uncredited and people have bad eyes.
Plotwise, when a bunch of high school aged brothel workers are arrested they tell a judge and court filled with scandalized spectators how they ended up in such circumstances. Thus the entire film is just a framework for sex vignettes. Our favorite quote: "Naturally I touched my breasts in the shower. Which are erogenous zones according to The Atlas of Sexual Education. My nipples got hard and my... my... my... how should I describe it? My pussy became aroused." Movies like this fall into the could-not-be-made-today category, which is a good thing—though we should note that all the alleged high schoolers were actors in their twenties, some considerably so. Which will be obvious when you look at the promo images below. After premiering in West Germany in 1974 Schulmädchen-Report 7. Teil - Doch das Herz muß dabei sein reached Japan today in 1975.
Update 2020: The movie still doesn't haven't Christina Lindberg in it. She did not magically appear. We actually sent a note to IMDB about it with a
link
to Lindberg's correct Swedish Wikipedia filmography, and it went ignored. Not a good endorsement for internet accuracy, nor the responsiveness of crowd sourced sites.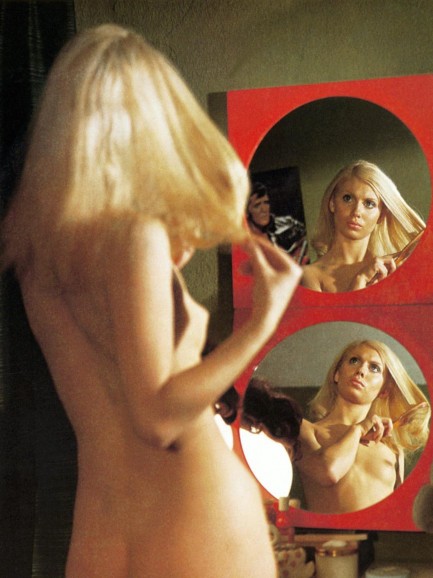 Fuck—I look at least twenty-five. I guess it's true what they say about this life aging you.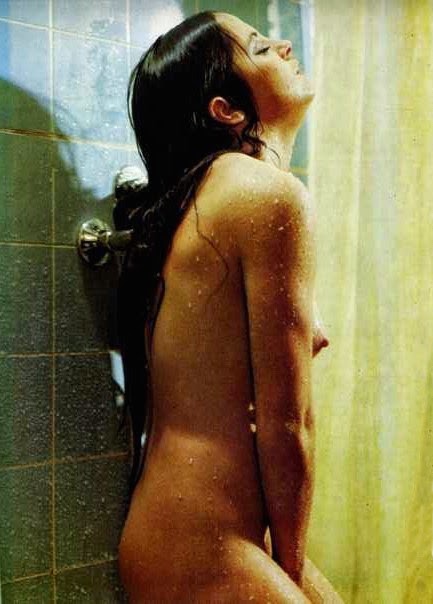 Oh, ah, the fact that some people mistake me for Christina Lindberg is a real turn on!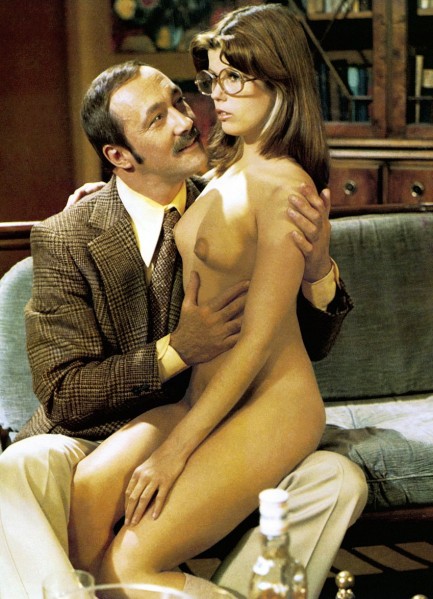 I'll leave the glasses on, if you don't mind. When this all comes out in court later I'll need to describe you accurately.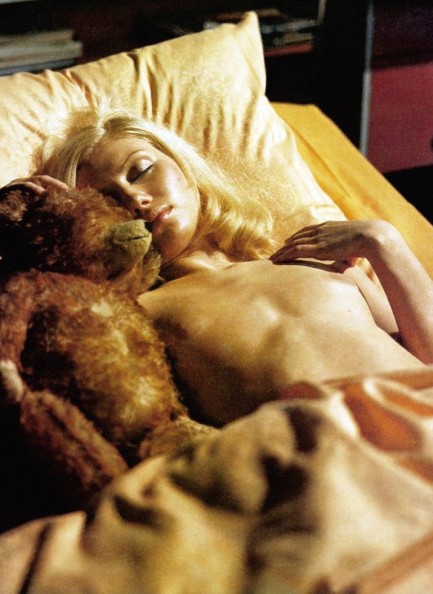 Mmm... fuzzy. I love you Mr. Zwetschgenkuchenbear.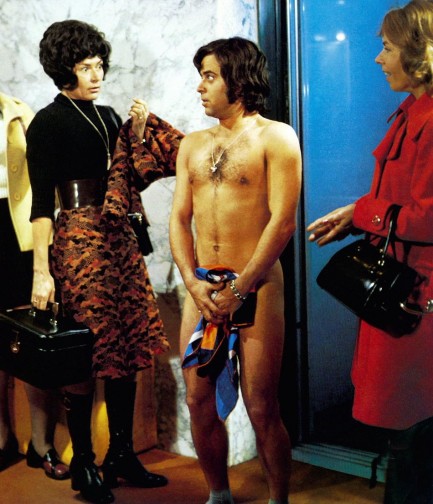 The teen brothel is on the third floor. This floor sells designer handbags. Buy one for a woman and you'll get laid even faster than going to a hooker. You'll learn that later in life.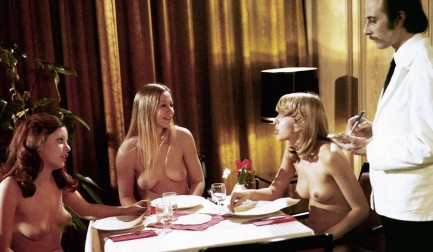 Who's in the mood for kochwurst? Kochwurst, everyone? Okay, kochwurst for all of us, please, waiter. Thanks.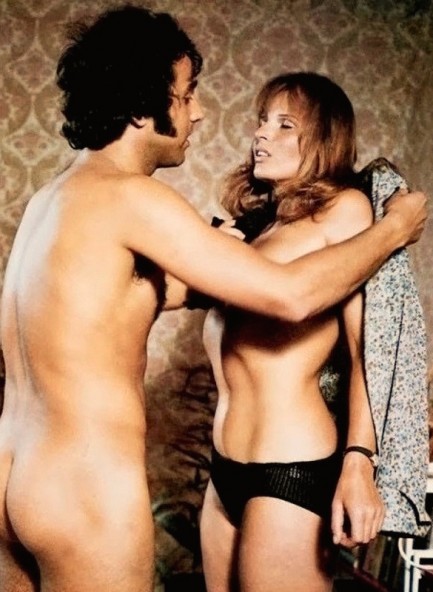 The Atlas of Sexual Education says we're rounding second base. Next stop—deeply unfulfilling sex for pay.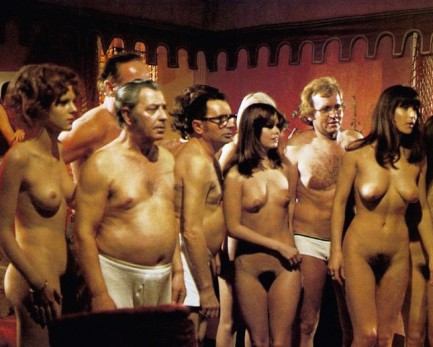 Police! This is a raid! Girls—you're all under arrest! Men—all of you go home and revel in the fact that male privilege lets you off scot-free!


---
Blood isn't the only thing this vampire wants to suck.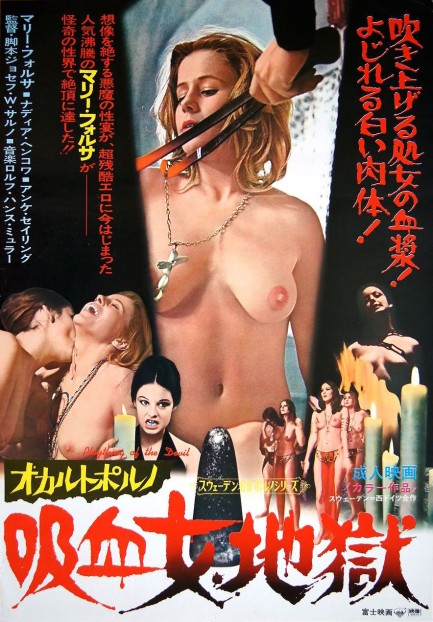 This Japanese poster was made to promote the run of the West German sexploitation movie Der Fluch der schwarzen Schwestern, which translates to "curse of the black sisters," but which for its English release was titled The Devil's Plaything, as well as Plaything of the Devil and Vampire Ecstasy. Last time we saw Swedish sex symbol Marie Forså she was using a giant zucchini for something other than nutrition. Here phallic items prove useful yet again. Forså and three other women are stranded in a castle by a storm. The workers in this gothic pile are secretly priestesses intent upon engineering the rebirth of their vampire mistress who was put to death 400 years ago. The details don't really matter. Here's what you get: naked dancing girls, continual bongo drumming, dick shaped candles, and lots of softcore lezzie action, with occasional token guys mixed in for variety. It's of course tender young Forså who seems the most susceptible to the ancient vampiress. Can she escape with her soul intact? Only a viewing will answer that question for you. We won't recommend the movie but we'll say this much—it's ludicrous, but very sexy. Der Fluch der schwarzen Schwestern opened in West Germany in October 1973 and premiered in Japan today the same year.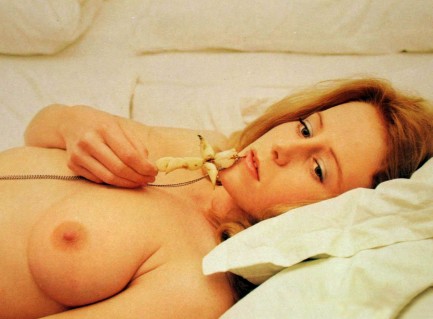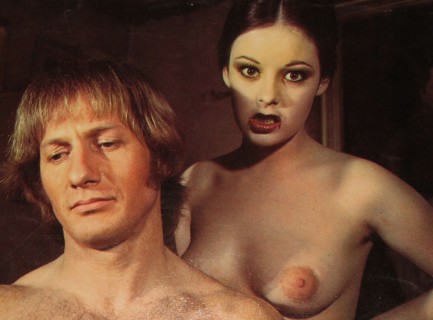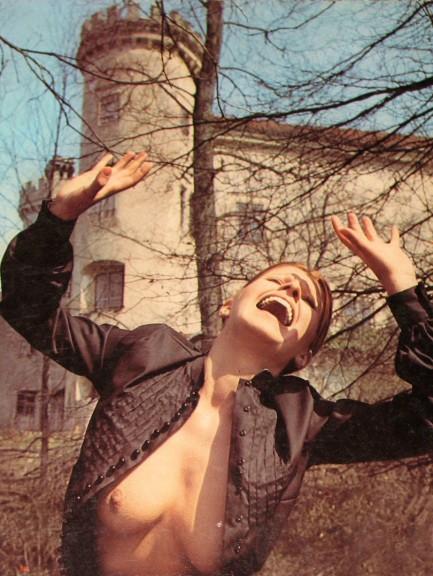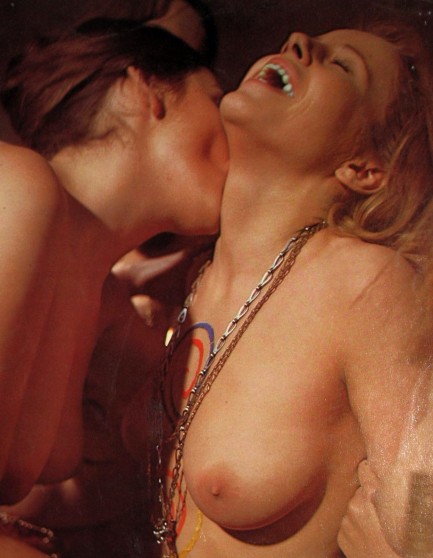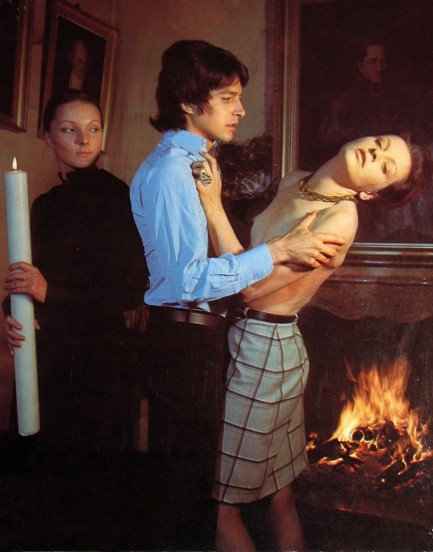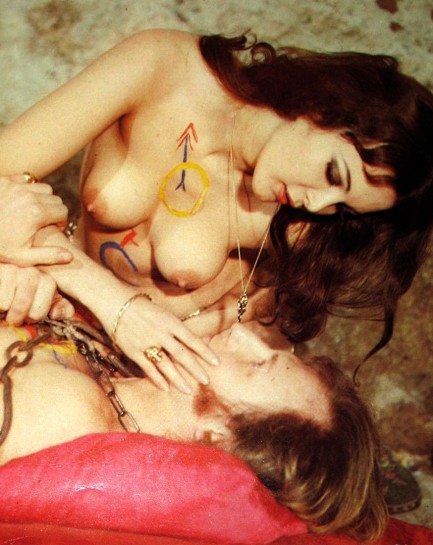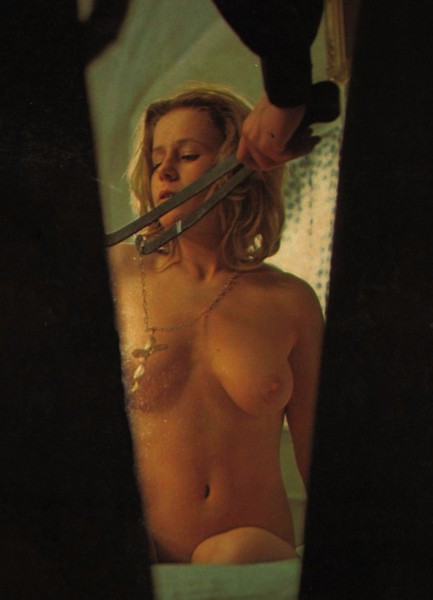 ---