More hapless northerners go to the tropics and end up as cannibaled goods.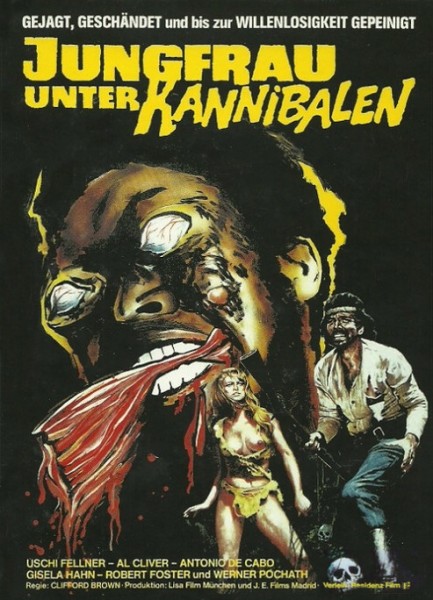 Spanish schlockmeister general Jesús Franco made movies cheaply, and Jungfrau unter Kannibalen, aka Devil Hunter, is bargain basement all the way. Even the poster looks like some stoned high school goth painted it during art class. We especially love the obvious theft of Raquel Welch from One Million Years B.C. for the female figure. If this hypothetical goth ever unveiled his painting to his art teacher, she'd have gone, "That's, uh, very... interesting," while secretly wondering what sort of psychological damage was behind such a creation. That's the way we feel about Jungfrau unter Kannibalen. It's, uh, interesting...
It premiered in West Germany today in 1980, stars beautiful Ursula Buchfellner, billed as Uschi Fellner, and was directed by Franco under the pseudonym Clifford Brown. We figured if he didn't take credit for this it must be really bad and we were right. Buchfellner, who we last saw in Linda, this time around plays a model kidnapped by Amazon maneaters that plan to sacrifice her to their devil god. The German title translated would be "virgin among cannibals," and that pretty much covers it, plotwise. She gets stripped early and stays mostly naked, along with cannibal chief and swinging dick Claude Boisson. Other cast members disrobe as needed.
Naturally there's a rescue attempt, we guess because virginal blonde models are as valuable as Amazon gold, and apparently just as worth killing over. The expedition is led by Al Cliver, who found himself in an amazingly high number of very bad movies during the 1970s. But you have to respect a guy who had love scenes with Sabrina Siani, Silvia Dionisio, and Annie Belle. Toting future Playboy centerfold Buchfellner around the jungle while she was stark naked may have been his crowning achievement. He probably plays those scenes to his grandkids. Let him be an example to us that we should find pleasure wherever we can in this flick. And for that matter, in life, because you never know when you'll be eaten.
I love being worshipped! There's literally no downside to it!
I hate being worshipped. There's a serious downside to it.
Don't tell anyone, but our so-called ceremonial ointment is really just Shunga strawberry flavored massage oil.
Grr! Argh! Gr— Oh, it's useless, Jesús. How am I supposed to ravage Ursula when I can't even see her?
I have an idea. Follow my voice, Claude. Here's a classic German yodel I learned. Yodel-lay-de-li-di-lo! Yodel-lay-de-yodel-ooo!
Stop that before I really kill you. And what smells like strawberries?
*lick* Wow, Ursula, do all Germans taste this fruity? *slurp*
Need help up? Pull on my dick.
No, seriously. Just reach up here and take hold.


Screw you then, you ungrateful..!


---
All jerks and no play make Linda a very dull movie.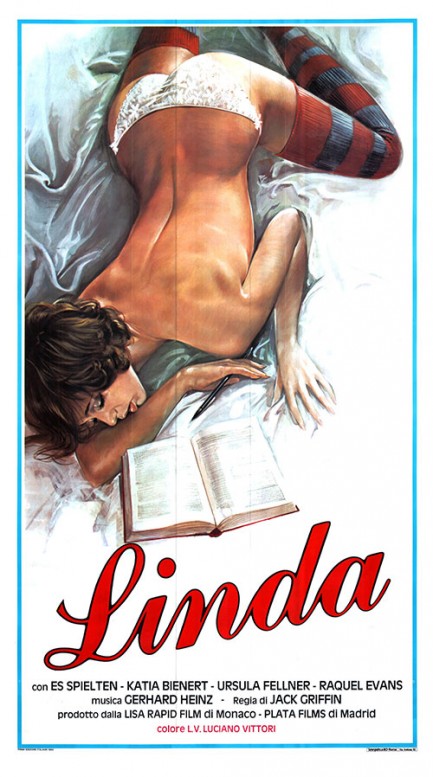 Some of the other titles of the West German sexploitation flick Linda are Captive Women, Naked Super Witches of the Rio Amore, and Orgy of the Nymphomaniacs. Those should tell you everything about the content of this movie. Plotwise, it involves a woman forced to work as a prostitute at a bdsm brothel on the island of Madeira, Portugal. How that actually happens doesn't much matter. The circumstances are ridiculous, and not at all the point. The point is nudity, which is delivered often and steadily. Characterwise, almost every man in the film deserves to be drawn and quartered, which makes it too bad that doesn't actually happen. It's actually a scorpion that turns the tide and allows the heroine to finally escape.
The movie is notable really for only two things: it was one of more than 100 productions helmed by Jesús Franco, that misunderstood genius, and it features 1979 Playboy centerfold Ursula Buchfellner, billed here as Ursula Fellner. Three things, actually: it's as humorless a sexploitation flick as we've ever seen. Even Katja Bienert in the title role can't save it. No way we can recommend this one, but we wanted to show you the Italian promo poster. It has the look of pieces painted by Mafé, but he signed all his work, as far as we know, so this must just be a convincing imitation. Linda premiered in West Germany for the first time today in 1981, and don't say we didn't try to steer you away.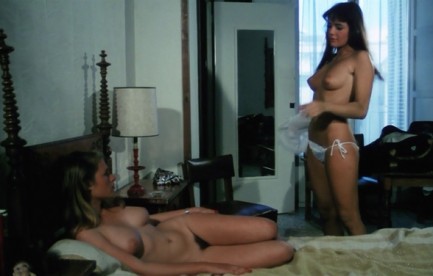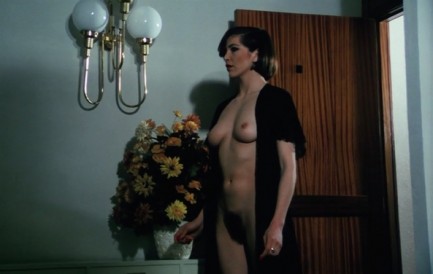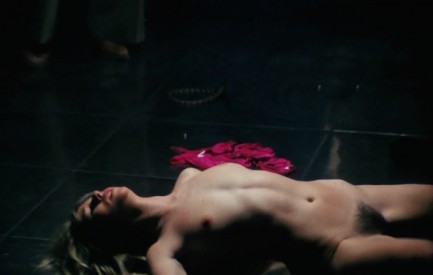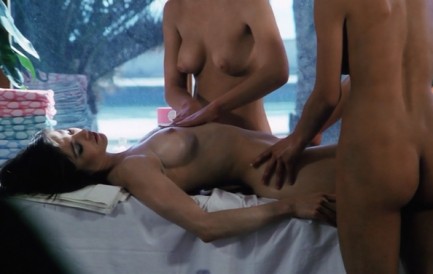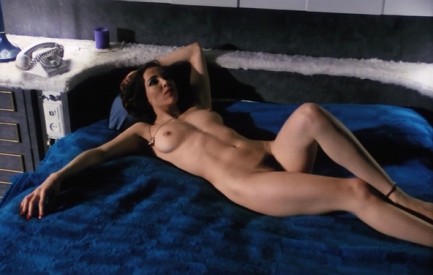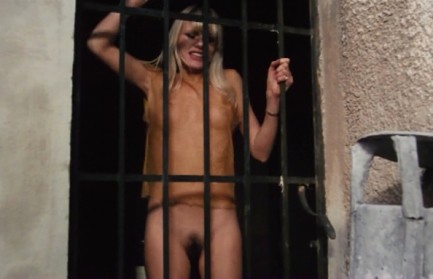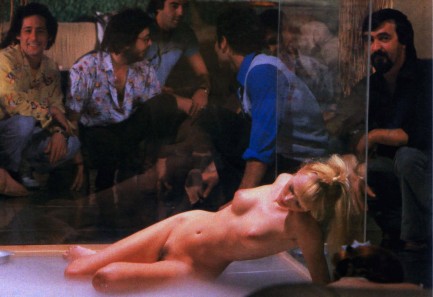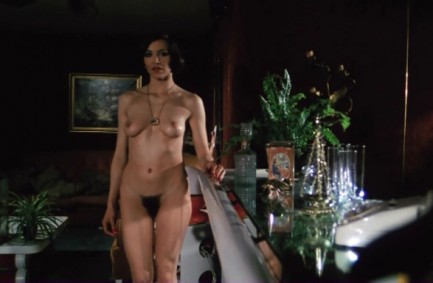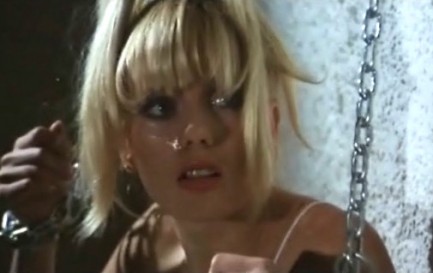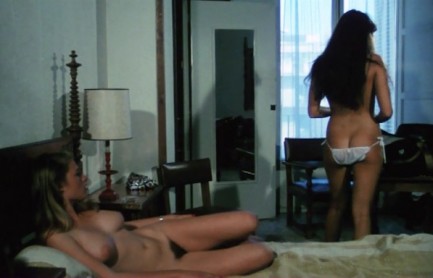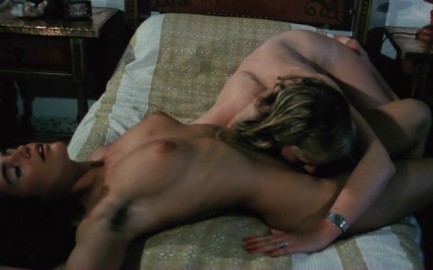 Bonus material: just for the hell of it, just because they exist, we've uploaded a couple of promo shots of Bienert and Buchfellner below. Their names together sound kind of like a cop show, like a prime time drama where every problem is solved within an hour. We think it would have been a hit, because they've solved our problems in just a couple of minutes. But our previous advice holds true: don't watch the movie.

---
Well, I use that part of my body so much I decided it was pointless to cover it.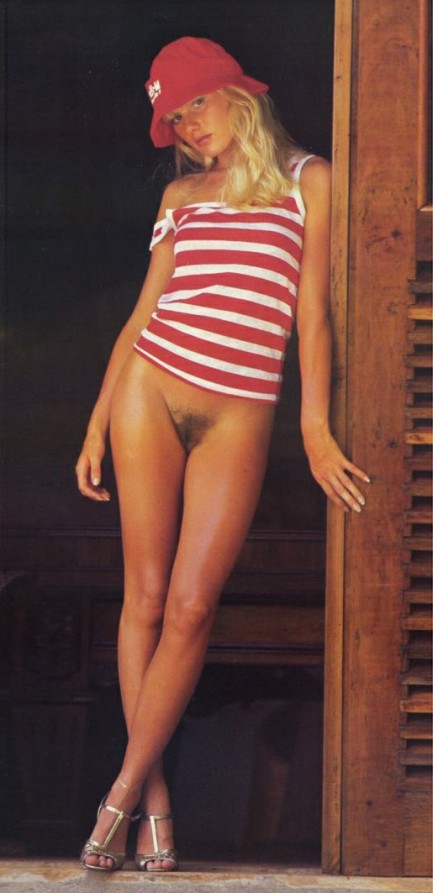 West German born Ursula Buchfellner got her start in Playboy and was one of those models who actually got into the magazine before her eighteenth birthday, with a shot featured in the West German edition in December 1977, when she was sixteen, and a photo appearing in the U.S. edition in February 1978, when she was seventeen. Her eventual Playmate of the Month layout was in 1979, and from there she went on to star in films such as El Caníbal, aka Devil Hunter, the humorous Hot Dogs auf Ibiza, aka Hot Dogs on Ibiza, and 3 Lederhosen in Saint Tropez. This shot is from 1979.
---