Hah hah, it always cracks me up when you ask me that, baby. No, you can't drive my convertible.
Passion Is a Woman is a Hollywood melodrama by Kate Nickerson, née Lulla Adler, focusing on aspiring but untalented actress Linda March, who hooks up with a series of men, including a director, an optometrist, and others. She eventually steals the actor husband of a fading but still powerful starlet, and has to contend with the spurned woman's wrath. The art is from Rudolph Belarski, and the flipside of the book, posed by two models, is rather interesting too.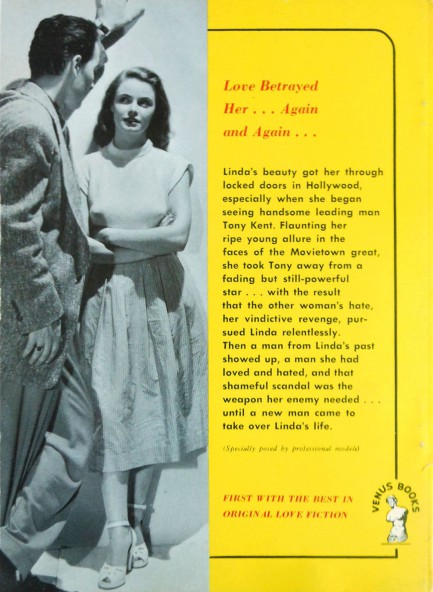 ---
A zebra amongst the lions.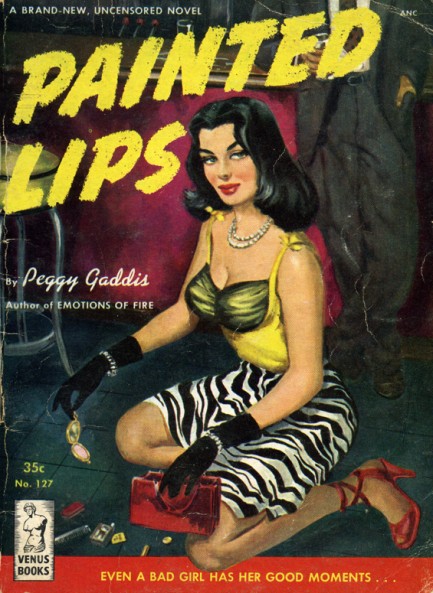 Erolie Pearl Gaddis Dern wrote as Joan Sherman, Joan Tucker, Pearl Gaddis, Peggy Dern, and for this 1951 romance Painted Lips decided to use her best known moniker—Peggy Gaddis. Gaddis was prolific, publishing dozens of romances and nurse novels between 1929 and 1966. This particular book follows the various dramas of a habitual homewrecker. We love the cover femme fatale, with her zebra skirt and wacky bodice. This would have been an absolutely insane outfit for 1951, so we wonder if the artist simply dreamed it up. We can't answer that, though, because the art is uncredited. We think that was the modus operandi at Venus Books, because we've seen quite a few of their releases—including a couple with covers obviously by this same talented painter—with no attribution. Shame. But we'll try to dig up more info on a possible artist anyway. There's always someone out there who knows.
---