As far as I'm concerned whoever let the cops in should pay all our legal fees.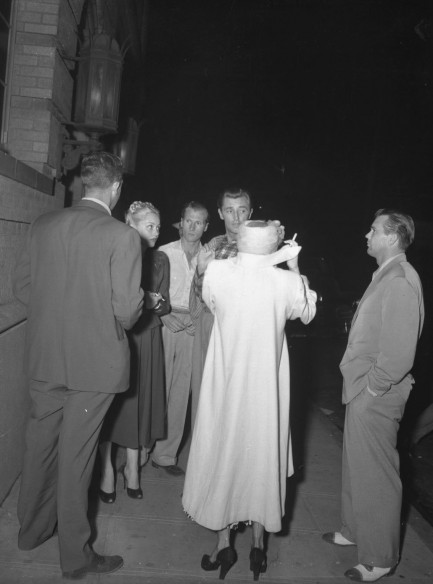 On this day in 1949, during the wee small hours of the morning, Robert Mitchum, Lila Leeds, Robin Ford, and Vickie Evans were hanging in a secluded Hollywood Hills home smoking a little mota when there was a scratch at the door. The house was the residence of Leeds and Evans, and it had become a spot where people, including Hollywood showbiz types, occasionally partook of the Devil's weed. By some accounts entry could be gained only via a secret knock, which—actually this is pretty clever—was to scratch at the front door like a cat. Since police had been tipped to the house's possible purpose, we can assume they too scratched at the door. We like to think they meowed too, but that probably didn't happen.
Anyway, Evans answered the door, and to her shock and dismay, in barged the police. Evans, Leeds, Mitchum, and Ford were corralled and escorted to the police station—and right into the cameras of the waiting press. The quartet are seen above with their legal representatives. Below, Mitchum, Leeds, and Ford are facing the camera, while Evans is facing away. Mitchum actually thought his career was ruined, but after being convicted of conspiracy to possess marijuana and serving sixty days in jail he continued as a top rank star. The up and coming Leeds, on the other hand, really was ruined by her conviction—at least according to her. Ford, who was a realtor, was also convicted, but we have no idea what happened to him afterward. Only aspiring dancer Evans was acquitted.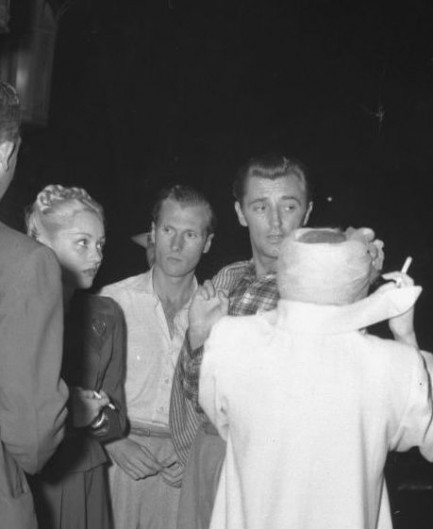 ---