Shall I play for you, pa rum pum pum pum?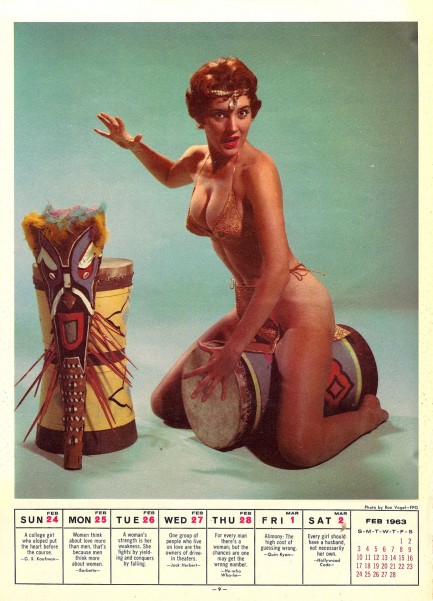 We're at the penultimate page of the Goodtime Weekly Calendar of 1963, and as promised last week here's a great shot from Ron Vogel of an unidentified model getting her groove on. This just cries out to be repurposed as a 12-inch cover or some kind of concert poster, don't you think? The image actually brings up lots of humorous possibilities, and we were contemplating something along these lines for a subhead: She's not the only one who loves beating something between her legs. But then we decided that was just too much. We have some class here.
Among the quips this week is one from a person named Barbette. We had no idea who that was, so off to the interwebs we went for an answer. Turns out Barbette was a famous trapeze performer and female impersonator. He was born Vander Clyde Broadway, and in his aerial act performed in full drag only to reveal himself as a man at the end. As his fame grew he worked all over the U.S. and Europe, selling out storied venues like the Casino de Paris, Moulin Rouge, and the Folies Bergère.
His renown extended beyond the realm of performance. He was photographed by Man Ray, cast in Jean Cocteau's experimental film
Le sang d'un poete
, was the subject of Cocteau's essay
Le numéro Barbette,
and choreographed aerial scenes for Hollywood movies
. It's also possible he was the inspiration for Reinhold Schünzel's musical comedy film
Viktor und Viktoria
, which was remade as
Victor Victoria
by Blake Edwards. Quite a legacy. We aren't sure if his quip is particularly insightful, but even Barbette had his off days.
Feb 24: "A college girl who eloped put the heart before the course."—G.S. Kaufman
Feb 25: "Women think about love more than men; that's because men think more about women."—Barbette
Feb 26: A woman's strength is her weakness. She fights by yielding and conquers by falling.
Feb 27: :One group of people who live on love are the owners of drive-in theaters."—Jack Herbert
Feb 28: "For every man there's a woman; but the chances are one may get the wrong number."—He-who Who-he
Mar 1: "Alimony: The high cost of guessing wrong."—Quin Ryan
Mar 2: Every girl should have a husband, not necessarily her own—Hollywood Code

---