Going nowhere fast in Harlem.
Hell Up in Harlem premiered in the U.S. today in 1973. It was the sequel to Black Caesar, which had been a surprise hit in cinemas a mere ten months earlier. The rush to make a follow-up shows. Hell Up in Harlem is eleven different kinds of inept, a tableau of repellent characters, bad scripting, and poorly staged action. It's not as if ambitions were low here. The movie tells the story of a Harlem crime kingpin who becomes pitted against his devious and ambitious father, imparting the lesson that family relationships come apart like tissue paper if the profit motive is strong enough. Yes, there was a good movie in here somewhere, but it never quite gelled. However Hell Up in Harlem does feature an excellent promo poster painted by George Akimoto, and some of the best production photos we've seen from the blaxploitation genre, a few of which we've shared just below. The time it will take you to look at them is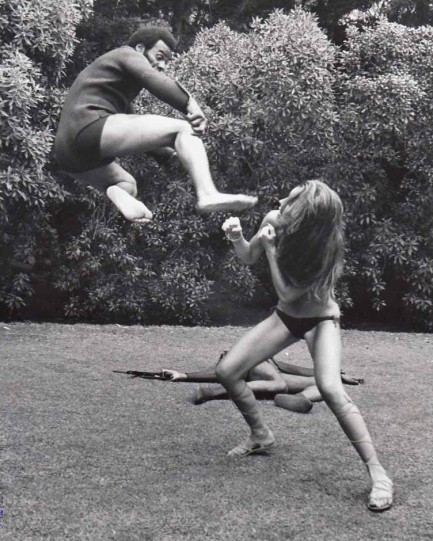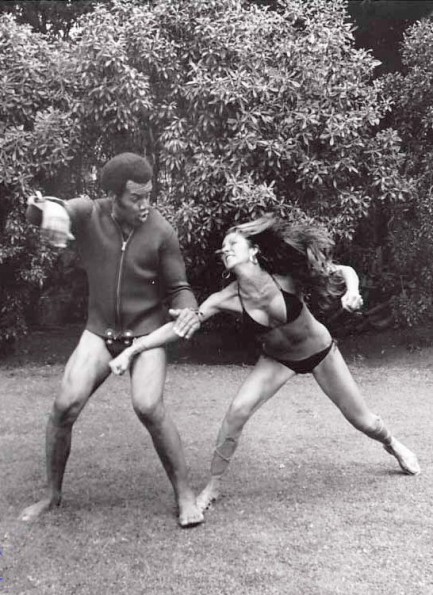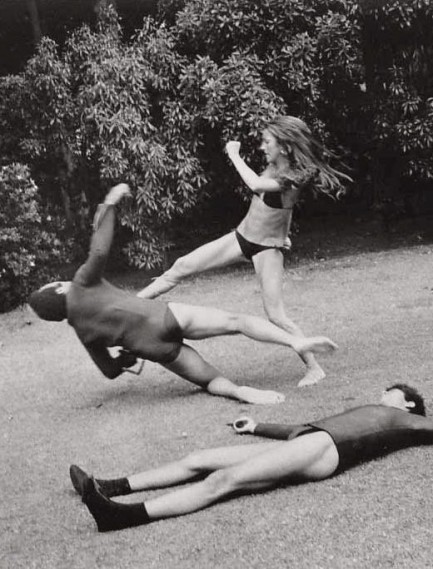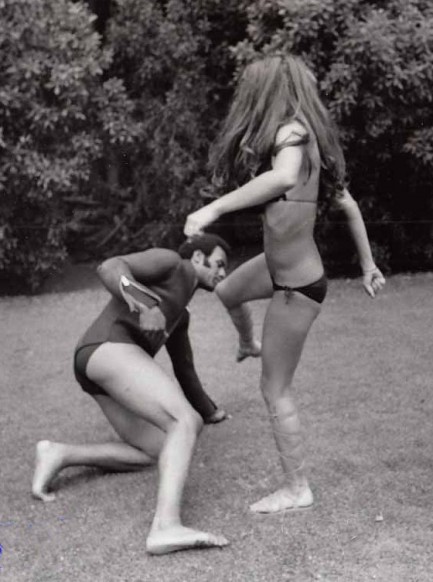 more than the amount of time the fight scene lasts—another flaw of Hell Up in Harlem. The shots show star Fred Williamson in mortal combat with Mindi Miller, who appeared in many films, including Westworld, Body Double, and Amazons. You can find these images around the internet, and she's misidentified on every single one of those websites—even Getty Images—as Gloria Hendry, who she clearly isn't. We also have, below, a great nude promo of Williamson. About time we featured a naked guy, right? Well, don't blame us for the lack. They just didn't make much in the way of nude male promos back then—especially ones like this. And speaking of unexpected, what's that dark shape between Williamson's thighs? We bet he didn't plan on showing that. But don't let it entice into you watching the movie. Unless you're a true blaxploitation fan you'll probably regret it.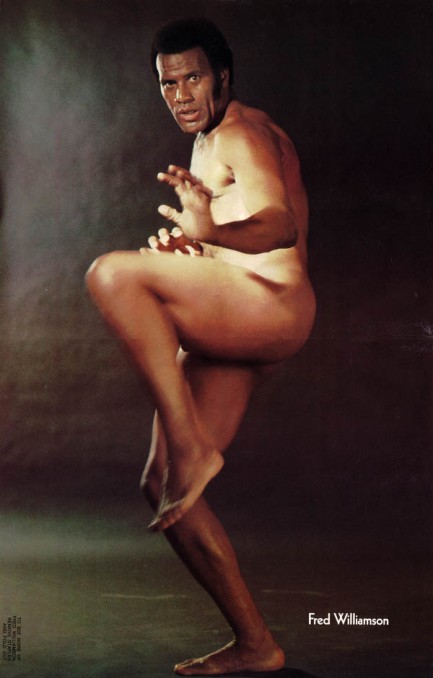 ---
Live by the gun, die by the gun.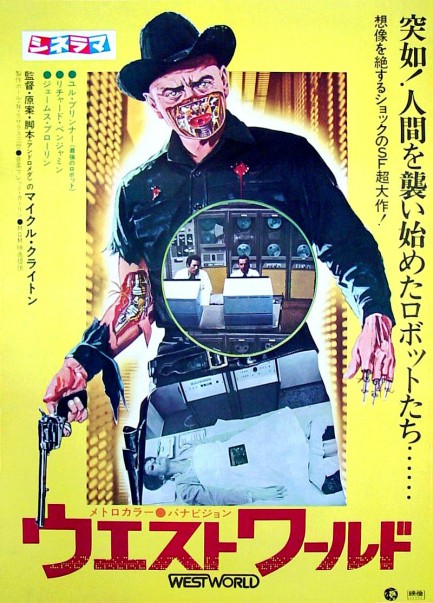 The sci-fi thriller Westworld—for which you see a rare Japanese poster above—was sourced from a novel by Michael Crichton and uses the same idea he would later update for his novel Jurassic Park—i.e. the attractions at a high-tech amusement park go awry and start slaughtering the guests. One of those robotic amusements is played by Yul Brynner, who is programmed to start fights then, inevitably, be shot down by Westworld guests after croaking, "Draw!" It's all fun and games at first, but when a computer virus attacks the park's robots Brynner returns from the repair shop pissed-off and harboring a notion to ventilate the customer who killed him twice. As compelling as this set-up seems, Westworld isn't flawless. While Brynner is excellent as the villain and James Brolin is adequate in a supporting role, lead actor Richard Benjamin seems to be sedated, and Crichton, who directed, somehow manages to give the whole project the feel of a television movie. The stuntwork is partly to blame for this. Crichton makes ample usage of hoary gags like the candied glass bottle shattered over the head and the balsa wood chair smashed across the back, even though more sophisticated approaches were being utilized at the time in other, better films. But we recommend Westworld anyway, and we absolutely love the poster—it's appearing here for the first time on any website, and it's definitely in our top ten, even if the movie isn't. Westworld premiered in Japan today in 1973.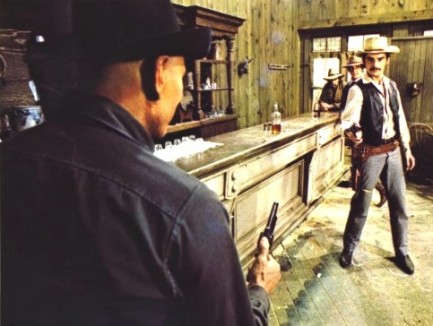 ---