Admit it—when I walked over and said I was going to sue your pants off you were really worried.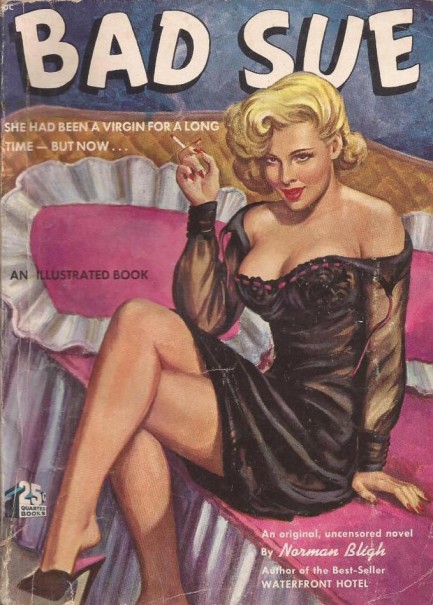 Above, a cover for Norman Bligh's novel Bad Sue, 1950, from Quarter Books. We've always thought this was an unusually pretty cover, but the artist is unknown.


---
My pa shouldn't be back for hours. But just in case he does show up, do you prefer burial or cremation?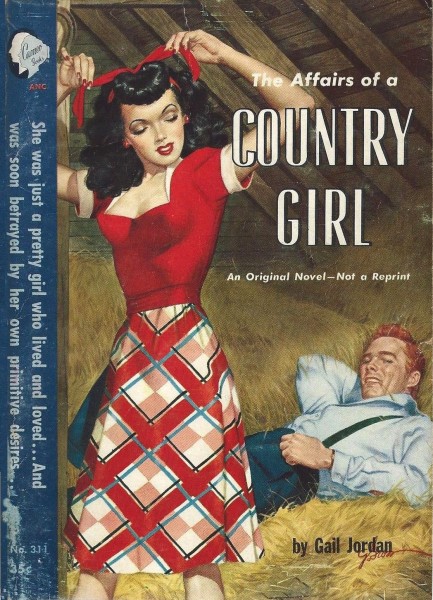 A double shot of rural sleaze today, Norman Bligh's Once There Was a Virgin, 1950 from Exotic Novels, and Gail Jordan's The Affairs of a Country Girl, 1952 from Cameo Books. George Gross provided the art for these covers, which are cropped differently, but between the two you see pretty much the entirety of the original piece. We think this is one of his better efforts. We're putting together a small collection of paperback covers set in barns and haylofts, so consider this a preview, along with the covers here, here,

and

here.


---
Wait, wait, wait! Why don't we settle this like real men? By blaming the woman!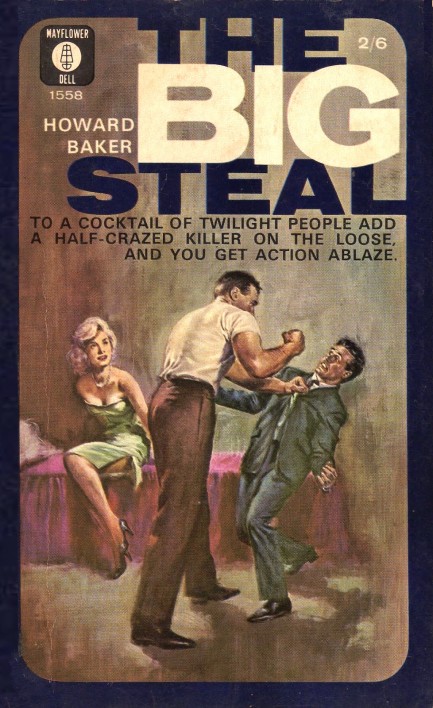 Howard Baker, born Arthur William Baker, is an Irish author sometimes referred to as W. Howard Baker, and who also wrote as Peter Saxon, William Arthur, W.A. Ballinger, and Richard Williams. The Big Steal involves a typical cast of misfit thieves trying to make off with a cache of gold bullion from Heathrow Airport, mixed with a plot thread about a killer on the loose. Baker also wrote war fiction, sci-fi and supernatural tales. The great cover art for the 1964 Mayflower Dell paperback you see here was painted by Peff, aka Sam Peffer.
---