Ma'am, we're highly trained professionals who can spot guilt a mile away… Okay, you're clean. Have a nice day!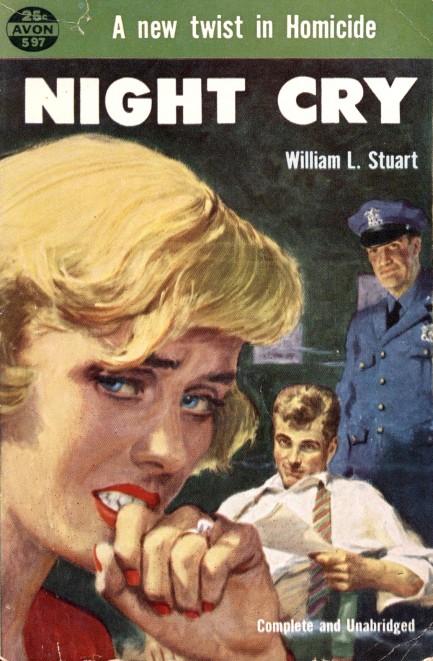 Night Cry is a thriller about a cop who accidentally kills a murder suspect and covers it up. Seems pretty straightforward until the suspect turns out to be innocent, which will fray the nerves of even the meanest cop a bit. The body, which the cop had dumped in a river, turns up and he's assigned to investigate the crime, which is even more nerve-racking. But there's more—the beautiful girlfriend of the deceased soon becomes everyone's prime suspect. Night Cry is a well-regarded book that inspired the movie Where The Sidewalk Ends, directed by Otto Preminger. The 1954 paperback front above followed earlier versions from 1948 and 1949, and the art is uncredited.
---
Hmm... looks like it was four or five shots that did her in—tequila most likely.
Originally published in 1945 as The Dead Lie Still, William L. Stuart's thriller Dead Ahead is about an ex-naval intelligence officer who after the war runs afoul of a gang of local thugs. The Ace edition here appeared in 1953 and the art is by Norman Saunders. It's a double novel, and the other side is Day Keene's Mrs. Homicide, also with Saunders art. Twice the vice, one easy price.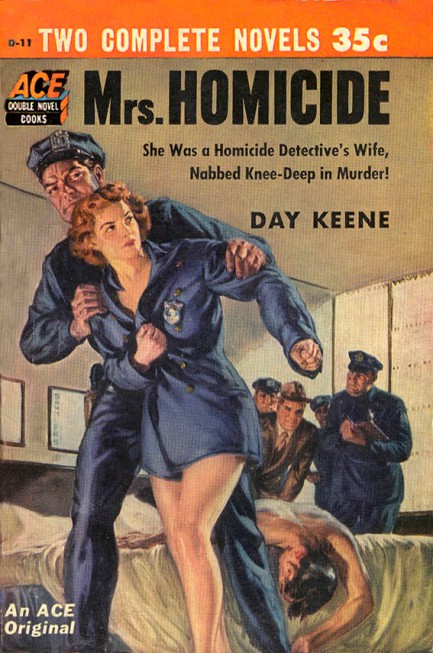 ---