Forget my wife—I think I need help regaining feeling in my lower half.
Nursing isn't easy—especially in mid-century fiction, where in addition to dealing with medical issues you have to dodge the roaming hands of doctors and patients alike. Visiting Nurse, written by Norman Bligh, aka William Neubauer, deals with an angel of mercy sent into the slums who finds herself giving the fellas some unconventional treatments. Why? Because "she has all the weaknesses and yearnings of women, the need to be loved, the aching desires, the mad impulses" and because "she tries and tries again, yet cannot help making mistakes, cannot help the fact that she is a woman." At this point, we'd note that the weaknesses and yearnings of men have reduced entire countries to parking lots, but that would be a digression. 1953 copyright, with cover art by Ray Pease.


---
Baby, you are something special. And to imagine I once thought a quality spread only referred to the stock market.
They say money can't buy love, but it can certainly buy a reasonable facsimile. That's not our opinion—that's empirical reality. It works even if you're even as old as
this
guy. Gordon Semple, aka William Neubauer, Norman Bligh, et al., explores the theme of love-for-money in Love-Crazy Millionaire, as a rich man gets tangled up with a woman who's decided it's time to get ahead in life. It comes from Croydon Publishing Company, and the excellent cover art is by Bernard Safran, who we need to feature more often. 1954 copyright on this.
And now, the top 20 financial terms that sound sexual but aren't:
17: Horizontal acquisition
13: In-service withdrawal
10: Jointly and severally
1: Endowment


---
I'll go through it one more time for you. Mine are b's, but there are also a's, c's, d's, double-d's...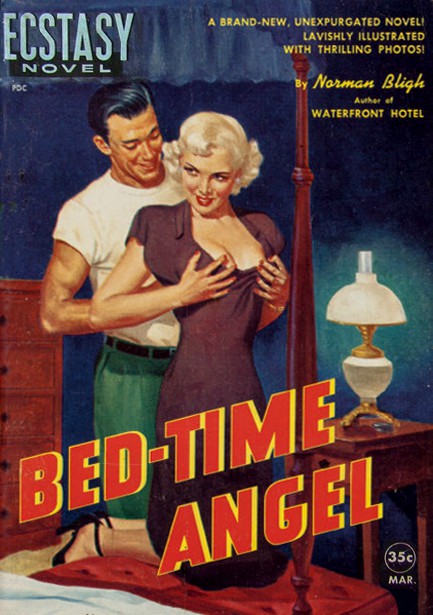 Above, an excellent George Gross cover for Bed-Time Angel written by Norman Bligh, aka William Arthur Neubauer, for Ecstasy Novel Magazine, March 1951.
---