1957 crime farce offers Slim pickings—at least until Dominique Wilms comes along.
We were busy little beavers last night. We watched a second vintage drama. At least, we thought it was a drama. Above you see an Italian poster for Slim Callaghan... il duro, which was originally made in France as Et par ici la sortie. It had no English title since it never had an English language release, but it was adapted from a novel by British author Peter Cheyney, who made a career of imitating American hard boiled detective novels. As many reviews of his fiction note, the vernacular was tricky for a guy who'd spent little if any time Stateside, making for some clunky prose at times.
When you watch Et par ici la sortie, it's clear that French filmmaker Willy Rozier picked up on the quirkiness of Cheyney's writing and decided to inject heavy doses of comedy into his film version. Thus in addition to gunplay there's a cream pie fight, a slapfest of attrition between Dany Dauberson and Pascale Roberts, a comedic brawl on a passenger airliner that almost results in a crash, and another brawl features that hoary vaudeville classic—seltzer water sprayed in the face. Much of this is hilarious, though not in the way Rozier and Co. intended—you'll laugh out of amazement.
The plot involves a Scotland Yard detective who is the virtual double of a criminal arms dealer, and decides he can infiltrate and bust the arms gang by relying upon this resemblance. But the arms dealer likewise realizes the resemblance and embarks on his own scheme to take advantage. Sounds positively scintillating, doesn't it? Erm... maybe not. But the movie isn't a total loss. Dominique Wilms gets a co-starring role here as the femme fatale Myrna de Maripasula. Think she isn't reason enough to watch? Think again. Et par ici la sortie premiered in France today in 1957.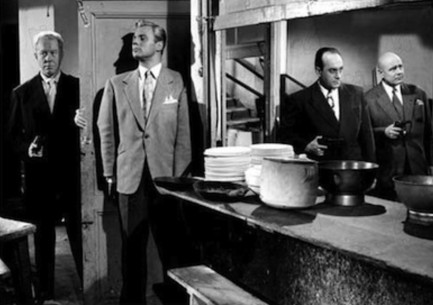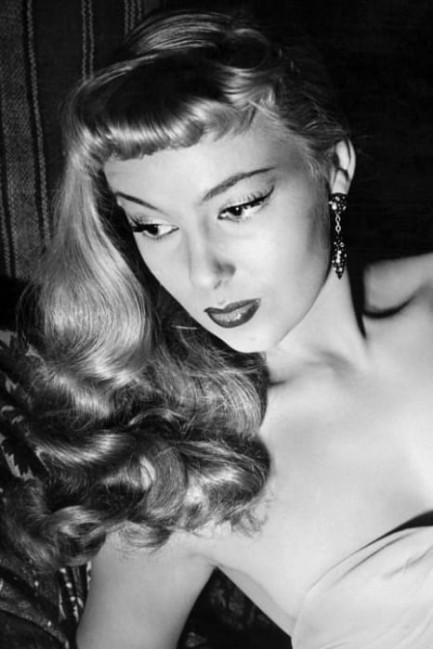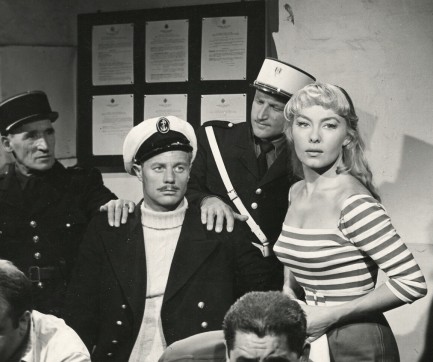 ---
A young Bardot perfects her precocious style in Manina, la fille san voiles.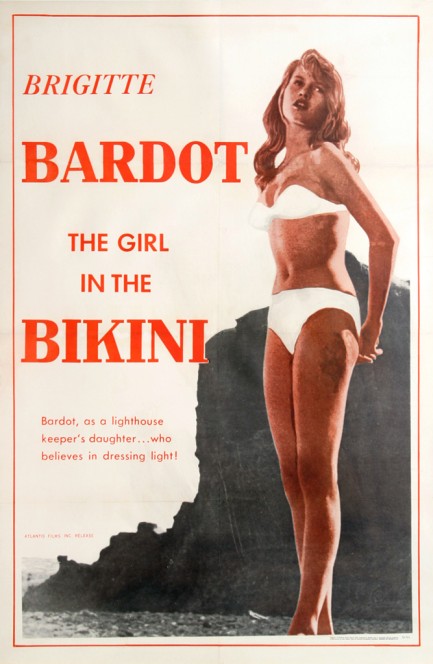 Brigitte Bardot took a while, like Marilyn Monroe, to morph into a bleached blonde, internationally famous sex symbol. The Girl in the Bikini, aka Manina, la fille sans voiles, presents a chance to see her just as she had begun to embark on that road. It was her second film and it opened when she was eighteen, but was shot while she was seventeen. The U.S. poster above doesn't offer much in the way of style, but the film is another matter entirely.
Bardot plays a lighthouse keeper's daughter who meets two men determined to find a treasure myth says was lost at sea after the Peloponnesian War. She appears about halfway through the film, sun spangled and filled with energy, frolicking on a rocky shore while almost—but never quite—losing her bikini. One of the treasure hunters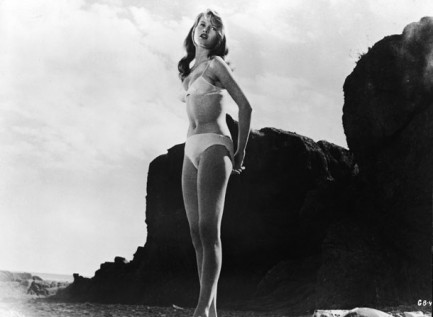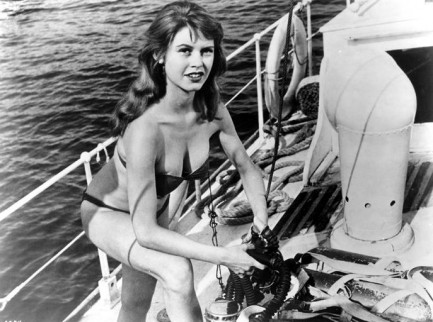 makes time for romance, while the other schemes to steal the loot. Bardot seems oblivious to the effect she has on men, and this innocent sexiness would be a style she'd hone to razor sharpness in later movies. It's high on style and light on substance (and acting ability), ultimately quite watchable (and in true egalitarian French fashion, the guys also spend much of the movie barely clothed).
Just above you see two production stills, one of which was the basis for the American poster, followed by a very famous promo photo from the film showing a nude Bardot at the seaside. And below we have a few more posters—first, the original French promo by Guy Ferard Noël, followed by an alternate version by Clément Hurel. Below those are two more, including a French-language Belgian poster. Manina, la fille sans voiles premiered in France in December 1952, and in the U.S. today in 1958.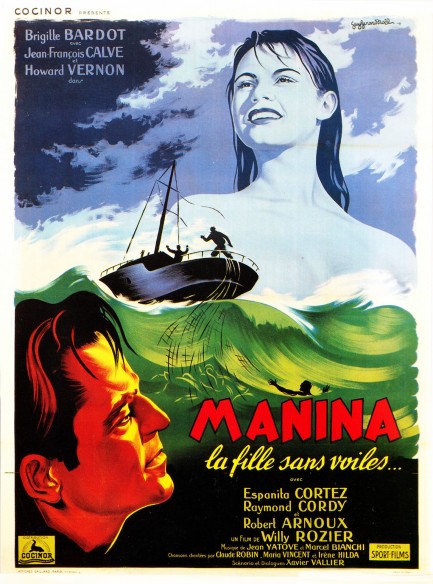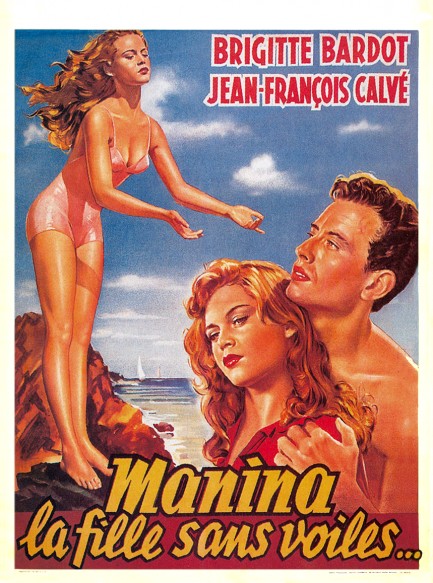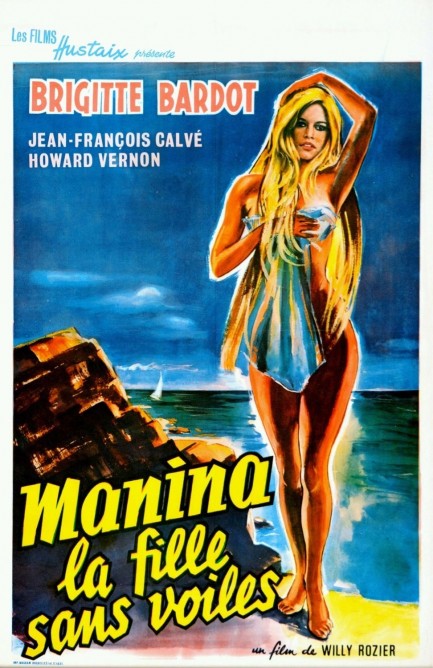 ---