What's a crime? Being unable to identify the artist.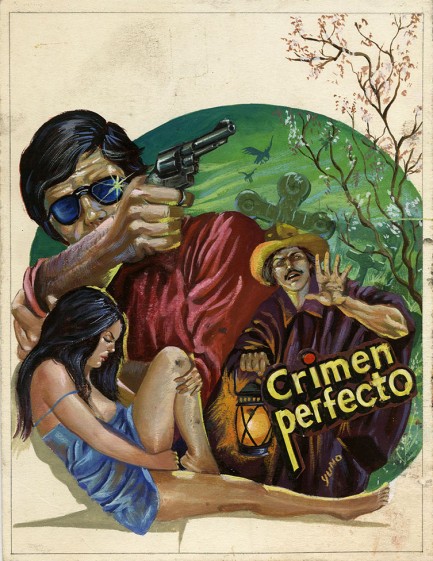 Has the Mexican crime art revival passed? Maybe, but not on Pulp Intl. We've talked about this niche quite a bit, and today we're veering back in that direction to share this piece entitled "Crimen Perfecto," painted during the early 1980s by someone who signed as Yuno. Yuno who? We dunno. Do you? You do? Let us know. Actually, we don't expect you to know, because these artists were rarely properly credited, nor properly compensated, we suspect.
For that reason they never could have expected interest in their work to rekindle, but it did, and for a while auctions in these were pretty active, both online and in brick-and-mortar. The technical execution on display isn't what you'd usually find in classic paperback art, but as critic Ken Johnson wrote in the New York Times in 2015, "The value of [Mexican crime] paintings isn't to be found in their aesthetic sophistication or refinement. This is truly art for the masses, as kitschy as it is amusing."
He forgot to mention horrifying and violent. A smart person once said that violent societies have violent amusements, and Mexico, like the U.S., has certain strains in its culture that persistently glorify mayhem. Art such as this gives you a glimpse of that, put to pasteboard via brush and paint. While the artists remain mostly unknown, what they produced resonates all these decades later. See more wild Mexican crime art here, here, here, and here.


---