From stripteaser to legal trailblazer.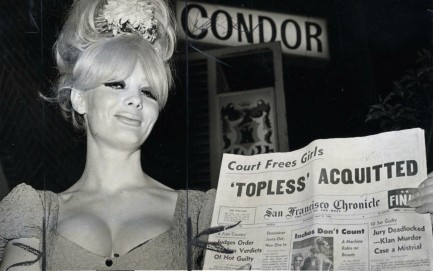 After being arrested two weeks earlier, topless burlesque dancer Carol Doda was acquitted of obscenity charges today in 1965, along with fellow dancers Yvonne D'Angers, Kay Star, and Euraine Heimberg. The above photo shows her standing outside San Francisco's Condor Club, where the arrest had taken place. The court case marked the legalization of topless dancing not just in San Fran, but helped usher in the practice elsewhere. Doda went on to push the envelope further when she graduated into totally nude dancing in 1969. Three years later the city passed an ordinance prohibiting total nudity in establishments that served alcohol. Such laws remain the norm even today in nearly the entirety of the U.S. Doda continued performing regularly until the 1980s, then opened a shop in San Francisco called Carol Doda's Champagne and Lace Lingerie Boutique. She died last year due to kidney failure. You can read a bit more about her trial and acquittal here, and see a brief clip of Yvonne D'Angers' reaction to the favorable decision at this link.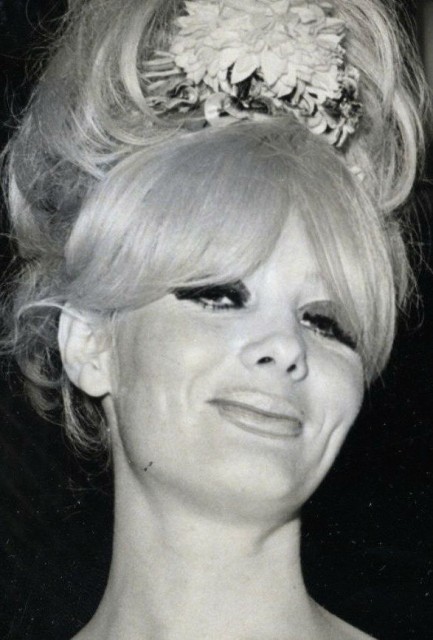 ---
Virginity wasn't against the law, but topless dancing was—until she came along.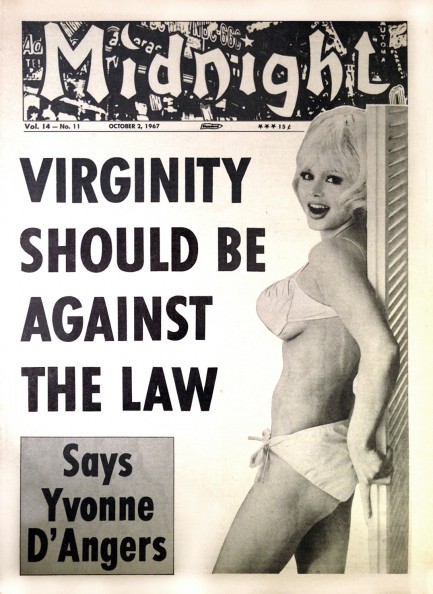 Burlesque dancer Yvonne D'Angers graces the cover of this Midnight published today in 1967. She was born in Teheran, Iran and reached the height of her fame after a 1965 obscenity trial, a government threat to deport her, a publicity stunt where she chained herself to San Francisco's Golden Gate Bridge, and a 1966 appearance in Playboy. There's surprisingly little about her online—not even a measly Wikipedia page. But she was important within her milieu—she was one of four defendants in the aforementioned obscenity trial, along with Carol Doda, Kay Star, and Euraine Heimberg, and the acquittal legalized topless dancing and waitressing in San Francisco. That decision made San Fran the first city in the U.S. where this was the case.
D'Angers' main haunt was the Off Broadway on Kearney Street, but she also danced at Gigi's, which was located on Broadway, and she worked in Las Vegas, in addition to touring the U.S. She was married to Off Broadway owner Voss Boreta, and he was her manager, making her part of a client list that included Doda and the topless girl-band The Ladybirds. She was also—though this is not often noted—a college graduate and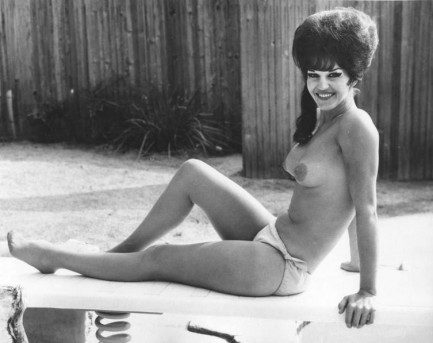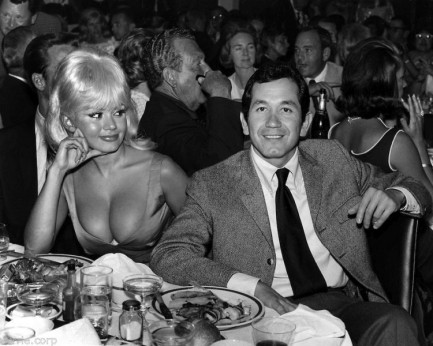 a painter. She billed herself as being naturally endowed, but both she and Doda were said by people who knew them early in their careers to have been worked on by cosmetic surgeons. The above shots of D'Angers, pre-fame, pre-blonde, versus post-fame, 44D, hanging out with Trini Lopez, seem to confirm those stories. We'll have more on D'Angers (and Doda) later.


---
The year of living d'Angerously.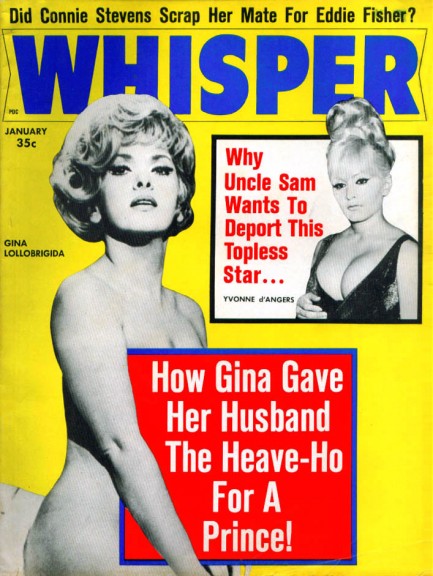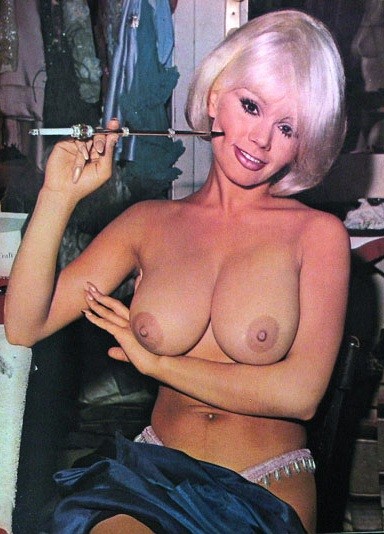 This January 1967 issue of Whisper digs up dirt on Gina Lollobrigida, Eddie Fisher and Connie Stevens, and tells us why Uncle Sam wants to deport a topless dancer. The latter is actually an interesting story. The topless star in question is Iranian-born burlesque dancer Yvonne D'Angers, aka Yvonne Boreta, and the reason she was being deported was for obscenity.
D'Angers, who was also known by the nickname the Persian Lamb, had already been involved in a 1965 obscenity trial over the employment of topless waitresses and dancers by various San Francisco nightclubs and had gotten herself on the radar of political bluenoses scandalized by her act at the Off Broadway.
When the deportation order came, d'Angers waged a very public battle against it and finally, in 1967, chained herself to the Golden Gate Bridge in protest. The press turned out in droves for the bizarre spectacle, and all the publicity made her nationally famous. At that point she was able to make the leap into motion pictures, appearing in 1968's Sappho Darling, 1970's Move with Elliot Gould, and the 1971 Russ Meyer flick The Seven Minutes. And in the end d'Angers was never deported, so, in this case at least, protest paid. So there's a lesson for all of us.
---