Rare talent. Reasonable prices. Results guaranteed.

Above are three promo posters for the Japanese actioner Onna koroshiya: Mesu inu, which in English was called The Art of Assassination and, interestingly, Hitwoman Bitch. It's about a woman who works as a restaurant hostess but moonlights as an assassin, and draws an assignment killing a rich businessman but gets entangled in all kinds of complications. The lead is Kyôko Enami, whose amazingly long career lasted from 1960 until 2018, when she died aged seventy-six. These beautiful posters are fitting tributes. The two tateken sized promos look identical at a glance, but upon closer inspection you'll see that they're different in several respects. We'll circle back to Enami a bit later. Onna koroshiya: Mesu inu premiered in Japan today in 1969.


---
Fifty years on and the American mainstream media have completely retreated into an alternate reality.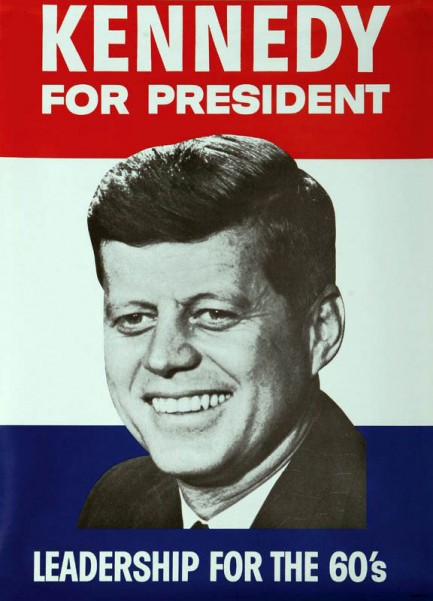 Stories about John F. Kennedy's assassination have been appearing in the media for several weeks leading up the 50th anniversary of the event, as various outlets try to get ahead of the wave of interest, but we're purists here, so we're sharing this poster today, on the actual anniversary of the murder. Let's get the basics out of the way first. As we've mentioned before, a Gallup poll taken days after the killing showed that a majority of Americans believed Oswald was not the only participant. That percentage has gone up since, reaching more than 80%, according to some surveys. That means people who believe Oswald acted with others have always been the majority, and today are the vast majority. That's something your trusted media outlet always leaves out, doesn't it? The point is if you think there was a conspiracy, you are the norm, part of an overwhelming norm, rather than some crackpot minority.

It's an important point because many of the articles published today ask questions like, "Why do people believe in conspiracies?" The problem with that question lies in its framing—it implies that we live in a world that has no or few conspiracies, that it's silly to believe they exist. That's very interesting, considering that in the Libor scandal up to 20 major banks conspired to rig interest rates in a $350 trillion derivatives market, that Britain's spy agency GCHQ conspired to secretly tap into the fiber optic cables that carry the world's phone calls and internet traffic, that the bank HSBC conspired to launder billions of dollars in South American drug cartel money, that ING conspired to violate sanctions against certain types of business dealings with Cuba and Iran, that News of the World conspired to illegally hack the phones of private citizens, and that Merrill Lynch conspired to deliberately overcharge 95,000 customers $32 million in unwarranted fees. All of these happened in just the last few years.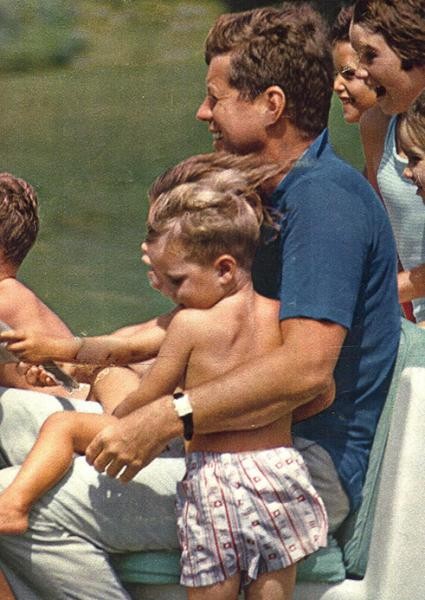 To listen to the mainstream media, you'd almost think there weren't actual criminal proceedings or lawsuits extant in every example we just mentioned. It takes a willful disconnection from reality to deny how prevalent conspiracies are in modern life when hundreds of perpetrators are at this moment sitting as defendants in court because they were caught conspiring. If we want to delve into a few historical examples of conspiracies, then note that the NSA conspired to mislead the U.S. public about the Gulf of Tonkin incident, that American asbestos companies conspired to cover up the truth about the danger of their product, and that in 1962 the U.S. Joint Chiefs of Staff conspired to kill American citizens. That conspiracy took the form of a proposal called Operation Northwoods. In short, American citizens would have been killed in a series of terrorist bomb attacks that would have been blamed on Cuba. Northwoods was
approved
for implementation by every one of the sitting Joint Chiefs. Really let that sink in. The only reason the American government did not kill American citizens is because John F. Kennedy said no—he wasn't interested in committing high treason and murder so he could invade Cuba.
All of the examples we've cited above—a small percentage of the whole, by the way—are incontrovertible historical facts, easily referenced in reams of unearthed documents and on the internet. And all are conspiracies by definition. People who believe Kennedy was victim of a
conspiracy
are derided as semi-literate fringe crackpots, but that group includes

President Lyndon Johnson, First Lady Jackie Kennedy, Robert Kennedy, French president Charles DeGaulle, and Cuban leader Fidel Castro, all of whom voiced disbelief that Oswald acted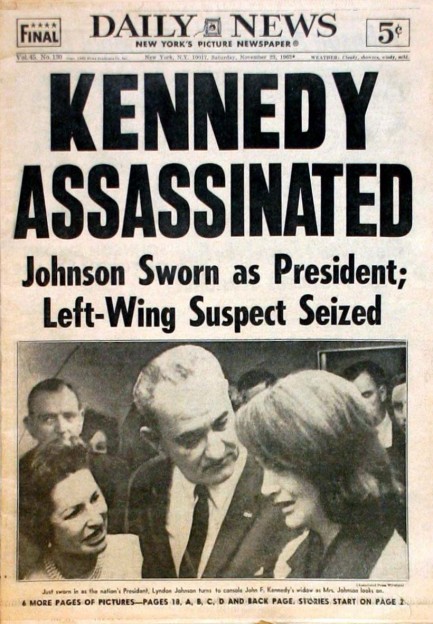 alone. So the

question we should be asking today isn't why so many people believe in conspiracies, but why the mainstream media are so far removed from the factual realities of human, corporate, and political existence, why they are so resistant to the simple truth

that

conspiracies are how powerful actors circumvent regulations, laws, and democratic rights. Or more to the point, exactly what planet do mainstream journalists live on? Not this one, seemingly.
Here at Pulp Intl., we do not style ourselves as truth tellers or serious investigators. We just like pulp art and good white wine, and if we can combine the latter with our naked girlfriends, all the better. We think the question of whether JFK was the victim of a conspiracy needs to be confronted with the proper respect toward the people who believe he was, and the fractional element who believe he wasn't should not automatically be given the high ground. Kennedy was dead before we were born, so in truth, we don't feel any great passion about it. But to us he is symbolic of the steep decline of the modern American mainstream press. Consider this: in a world where conspiracies incontrovertibly occur, and occur so often that it's actually difficult to keep track of them all, the American press continues to use terms like "conspiracy theory" as an epithet and treats anyone who questions the official JFK assassination story like a fool or a nut case. At the very least, that's a disservice. At worst it's deliberate social engineering.


---
Police Gazette gets readers up to date with Ava Gardner but it's their Castro story that leads someplace interesting.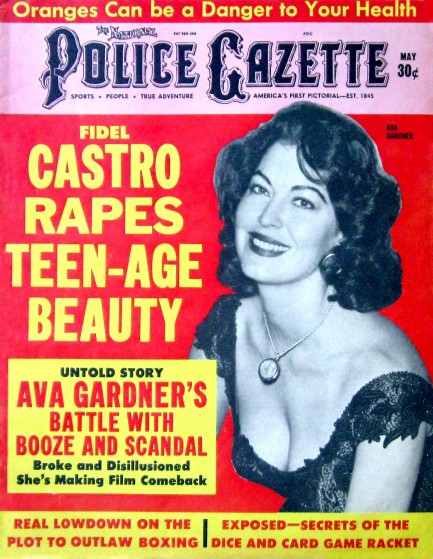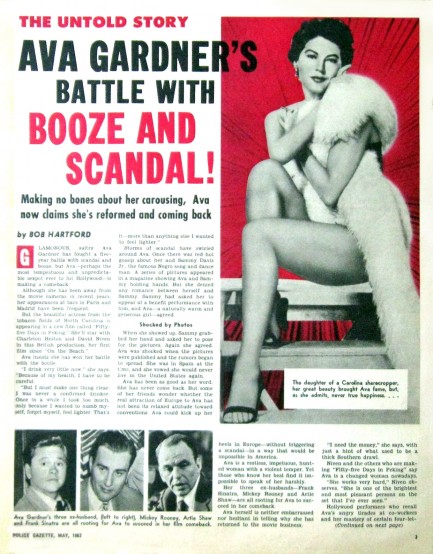 Above are a couple of scans from an issue of The National Police Gazette published this month in 1963 with cover star Ava Gardner. Gardner had been living in Spain and hadn't been in a movie in three years, but was about to appear in the historical war drama 55 Days at Peking with Charlton Heston and David Niven. The Gazette discusses how she'd gotten fed up with the U.S.—particularly the American press. She had been particularly annoyed by the rumor that she was involved with Sammy Davis, Jr., a story that took flight after several magazines published photos of the two holding hands. When asked why she was returning to Hollywood after being out of circulation for so long, Gardner, in typically blunt fashion, replied, "I need the money."
Moving on, we've pointed out that the Gazette

made a longstanding habit of using Adolf Hitler on its covers, but his wasn't the only face that moved magazines. After Fidel Castro assumed leadership of Cuba, the

Gazette regularly wrote scathing stories about him. We've already learned that he let Viet Cong killer squads train in Cuba, and that he planned to "arm southern Negroes" in order to foment revolution in the U.S. Well, now we learn he was also a rapist. Figures, right? He might have been supreme leader of an island filled with beautiful women, but people always want what they can't have—in this case, a teenaged ship captain's daughter named Lisa. Gazette writer Bob Hartford cranks up the melodrama:
Castro laughed drunkenly as he weaved his way into Lisa's sitting room.
"Have you changed your mind, my pet?" he demanded.
"No," replied the brave but frightened girl.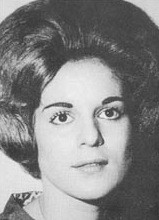 All Castro needs at that point is a Lacoste sweater and a fraternity paddle and his transformation into pure evil would be complete. But as fanciful as the story seems, Lisa really did exist. Her real name was Marita Lorenz and she was Castro's live-in mistress for several months in 1959. While Lorenz herself never suggested she was ever raped by Castro, the two did have a falling out around the issue of her unplanned pregnancy, which was terminated in its sixth month. Lorenz later said the abortion was forced on her while she was drugged; Castro's associates claim that she wanted it. Lorenz went on to join anti-Castro activists in the U.S., and on a fundraising visit with the deposed Venezuelan dictator Marcos Pérez Jiménez, became involved with him. She was still traveling to and from Cuba, and was recruited by the CIA for a Castro assassination attempt. But instead of poisoning his food, like she'd been instructed, she abandoned the plot, supposedly because she still felt strongly for him. Lorenz later wrote about all this in two autobiographies.
In 1977, Lorenz told the New York Daily News that she met Lee Harvey Oswald in autumn 1963 at a CIA safe house in Miami. She claimed she met him again weeks later along with a group of anti-Castro Cubans and they had Dallas street maps. We all know what happened next. Lorenz eventually testified about this before the House Select Committee on Assassinations, but her story was deemed unreliable. We suppose bouncing between two dictators and acting as a double agent will tend to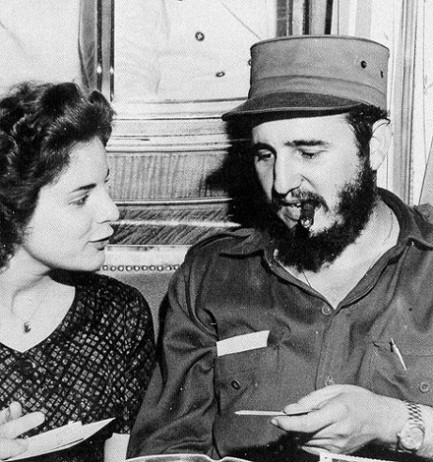 raise a red flag with American congressmen, though these things have no bearing on whether she was telling the truth. It's interesting though, isn't it? You'd think that if a single man of his own accord assassinated another man the surrounding circumstances wouldn't be so… labyrinthine. Yet lurking near the supposed black swan event of the Kennedy killing were double-agents like Lorenz, spooks like E. Howard Hunt, underworld figures like Eladio Ceferino del Valle and others. Just saying. In any case, we'll have more from the Police Gazette and more on Fidel Castro soon.


---