Actually, that's more than enough money, lover. You're under arrest.
The thing about GGA covers is they often mislead in terms of written content. The dove in The Frightened Dove is not the femme fatale on the cover but rather a Mussolini underling named Colombo—Italian for dove—who's hunted by the hero Ricci Bartoli, a retired anti-fascist fighter dragged out of his peaceful life as a tailor in New York City. Colombo is after a trove of gold, and Bartoli is out to stop him, with the crucial action taking place in Montreal. You can always tell there's something French about a book when the cover femme is wearing a beret. And her name is Marie, which seems to be the go-to for French women in genre fiction. The story here fits squarely into the post-war political adventure niche—i.e. cleaning up the loose ends of World War II. And on the subject of pseudonyms, Hardin was actually a Hungarian author named Louis Vaczek. The Frightened Dove was originally published in hardback in 1951, with the above Bantam paperback arriving in 1952 with uncredited cover art.


---
Los Angeles bunker intended to house Adolf Hitler set to be demolished for picnic area.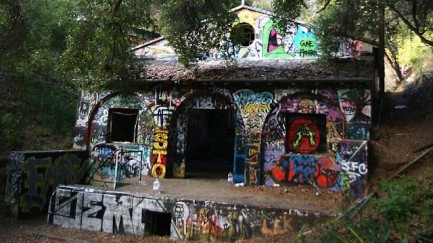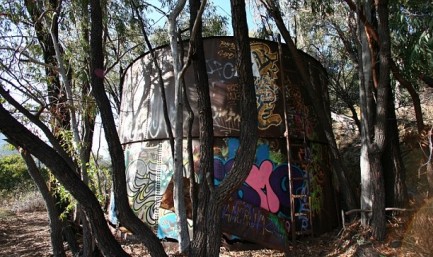 The Pulp Intl. tour across America has left San Francisco for our last stop, Los Angeles, and our timing was good, because this interesting item appeared in the news yesterday. Apparently, a Los Angeles bunker intended to house Adolf Hitler is being razed to make room for a picnic area. Set on several acres in what is now Will Rogers State Park, it was built during the 1930s by a group of fascist adherents who called themselves the Silver Legion of America, or Silvershirts, with the idea of giving Hitler a base of operations in America. Though the land was purchased by Winona and Norman Stephens, the mastermind behind the project was William Dudley Pelley, below, a well-known fascist of the time. The sprawling site was inhabited by his Silvershirts, and besides a large house intended for Hitler, included a diesel plant, a sprawling garden, and a bomb shelter.
Pelley and his Silvershirts numbered about 15,000 official members during the mid-1930s, and certainly there were many more sympathizers. The group was powerful enough that it became a concern for President Franklin Roosevelt, who ordered FBI director J. Edgar Hoover to keep an eye on them. Hoover did so, but left the group more or less in peace until Pearl Harbor was bombed, at which point feds raided the ranch and arrested the occupants. That was 1941, and by then the Silvershirts had already declined in membership and influence. The raid pretty much destroyed what was left of the group, and the base designed and built for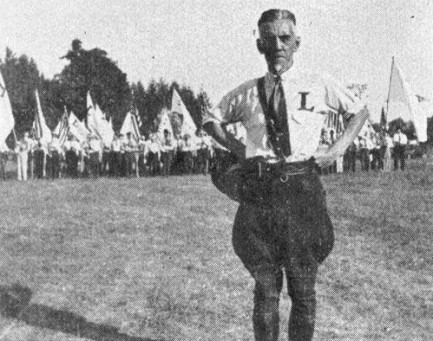 Adolf Hitler fell into disrepair. We think the place would serve an important purpose if at least one building could be saved and perhaps adorned with a historical marker. Picnic areas need bathrooms, after all, and what better place to take a piss than in a monument to global fascism. But of course, what else would we think? We're a history site, and we believe covering up the past serves no one. Some say the Silvershirts were never important enough to be considered a threat to American democracy, and thus should not be remembered, but they only seem hapless in hindsight. It's precisely when people think their society is immune to malign influences that they always seem to take hold.
---