Butt on the other hand...
Above, a poster for Noribumi Suzuki's Ero shogun to nijuichi nin no aisho, aka Lustful Shogun and His 21 Mistresses, aka The Erotic Shogun and His Twenty-One Prostitutes, which starred Tôru Abe, Yasumori Hikita, and also features three of our favorite pinku actresses, Reiko Ike, Yayoi Watanabe, and Miki Sugimoto. We had a bit of a debate here at Pulp HQ as to the actual number of buns 21 women possess. Would it be 21 or 42? The PI girlfriends just rolled their eyes at this question, by the way. But it's worth exploring. In the strictly physical sense, a bun possesses two halves, right? Thus one woman has one bun, comprised of two halves, each of which might be useful for an open face sandwich, perhaps, but which cannot by itself constitute a whole. Alternatively, when referring to a person's backside, you might observe that she has nice buns. More to the point, if there were, say, a tattoo there, you might say, "She has a tattoo on her right bun." Actually, first you might say, "Poor girl. That looks really frickin' trashy and she has no idea." But then you'd say she has a tattoo on her right bun. Or left bun, as the case may be. Or saddest of all, across both buns. All of which would seem to imply that 21 women have 42 buns. The PI girlfriends suggested we go with the British term "bum," which is not in any way ambiguous, but also doesn't rhyme with "gun," which was really the whole point. Actually, it technically could rhyme with gun, depending on how loose your interpretation of rhyming is. Certainly, a rapper would agree that bum rhymes with gun, but we don't rap, so in the end, we went with bun. That is, one woman has one bun. All pretty confusing, truthfully. At this point we'd normally do a quick review, maybe show you some still shots of these 21 mistresses that populate Ero shogun to nijuichi nin no aisho, maybe even mention that it premiered in Japan today in 1972, but after dragging you through the cramped, dark spider hole of our editorial process, the least we can do is show you an/some actual bun/buns. So there's Reiko's below. Hooray!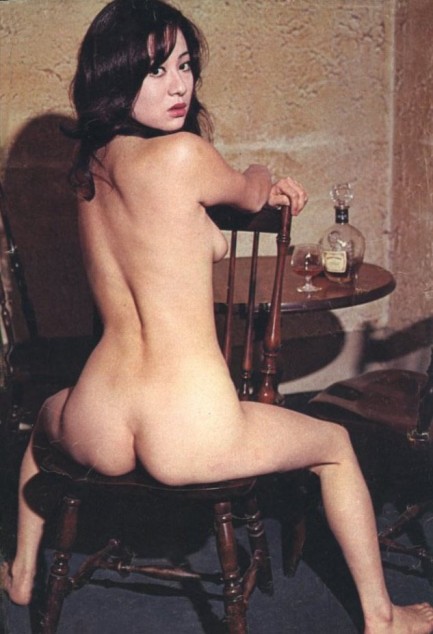 Japan
,
Toei Studios
,
Ero shogun to nijuichi nin no aisho
,
Lustful Shogun and His 21 Mistresses
,
The Erotic Shogun and His Twenty-One Prostitutes
,
Noribumi Suzuki
,
Tôru Abe
,
Yasumori Hikita
,
Reiko Ike
,
Yayoi Watanabe
,
Miki Sugimoto
,
poster art
,
pinky violence
,
sexploitation
,
pinku
,
cinema
---
They tried to make me go to Reform School and I said, no, no, no.

Posters for Miki Sugimoto's 1973 pinku flick Sukeban–Kankain Dasso, aka Girl Boss: Escape from Reform School abound online, but Toei Studios routinely had more multiple versions of their promos and, as far as we can tell, this particular door length sheet has not appeared before. At least, not uncensored. Sugimoto starred in the movie when she was a pinku icon, yet today it is obscure. It has no IMDB entry at all, and has only a filmography listing on both English and Japanese Wikipedia. We saw the movie several years ago and can't remember it well enough to give a real summary, but the title tells the story. Besides, if you know anything about pinku, then you already know what happens. Sukeban–Kankain Dasso premiered in Japan today in 1973.
---
These Yakuza never learn.
Above is a nice panel length poster for 1972's Sukeban berûsu: mesubachi no chosen, aka Girl Boss Blues: Queen Bee's Challenge, the second entry in the Girl Boss series made by Toei Studios in the early 1970s. This one stars Reiko Ike (before the tattoo), along with Chiyoko Kazama, and Miki Sugimoto in an appearance just lengthy enough for her to get a couple of bottles of cola sprayed up her ya-ya. If you can wrest your eyes from the constantly recurring tableaux of perfect skin, there is a plot, and it involves a pair of girl gangsters/bitter rivals captured by a yakuza boss and subjected to various sadistic tortures (including that old Japanese favorite—rope bondage, aka kinbaku-bi). Of course, the abuse in these films is inevitably followed by much deserved revenge against the evil males, up close and bloody. But it isn't all violence and vengeance. There are some effective moments of comedy, and of course, the film is beautifully shot. All-in-all, Sukeban berûsu: mesubachi no chosen is a must-see for pinku fans. You'll learn exactly how effective a handful of soap foam can be for covering a woman's bush.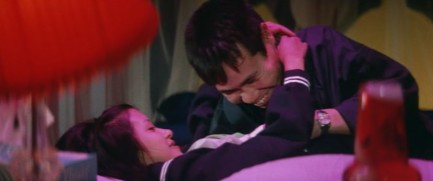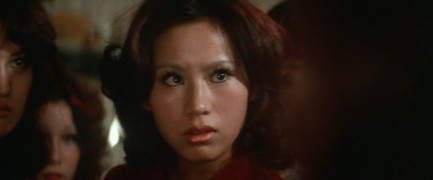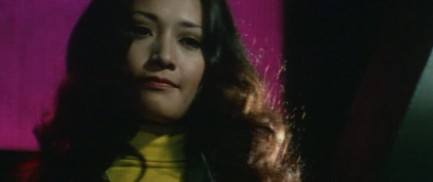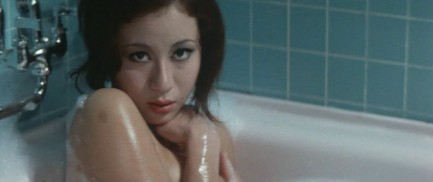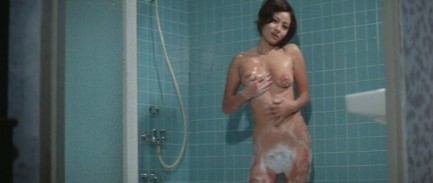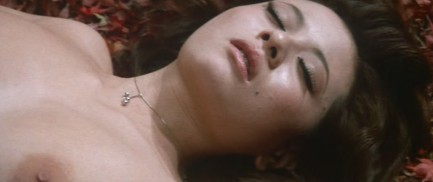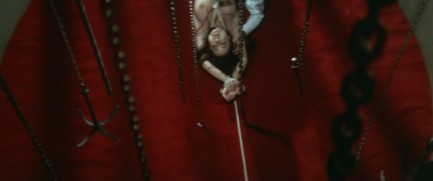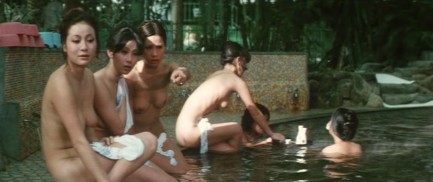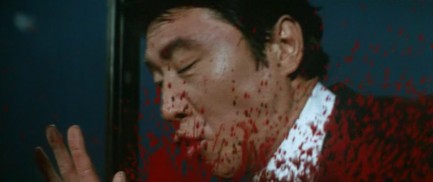 Japan
,
Toei Studios
,
Sukeban berûsu: mesubachi no chosen
,
Girl Boss Blues: Queen Bee's Challenge
,
Reiko Ike
,
Chiyoko Kazama
,
Miki Sugimoto
,
pinku
,
pinky violence
,
bdsm
,
kinbaku-bi
,
sexploitation
,
poster art
,
cinema
,
movie review
---