When Meiko comes 'round trouble is sure to follow.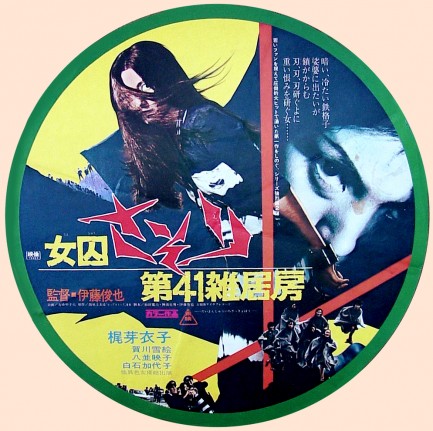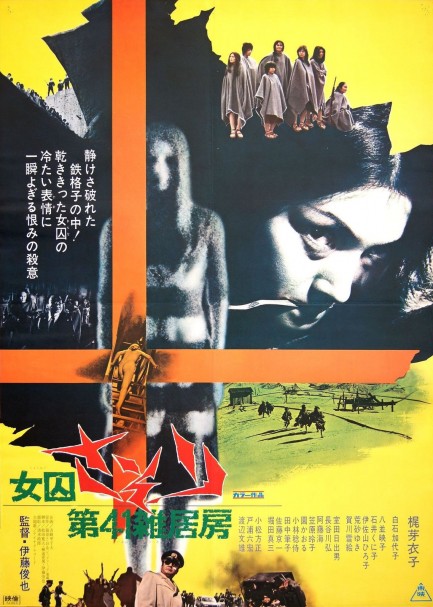 We're in Japan again today with another Meiko Kaji poster. Above you see an incredibly rare circular promo for the pinku film Joshû sasori: Dai-41 zakkyo-bô, aka Female Prisoner Scorpion: Jailhouse 41, along with the standard promo. It premiered in Japan today in 1972. Meiko's paid her debt to society for now, so we'll let her go, but don't worry. She's a career criminal—she'll be back.


---
Seems like she gets tougher to work for every year.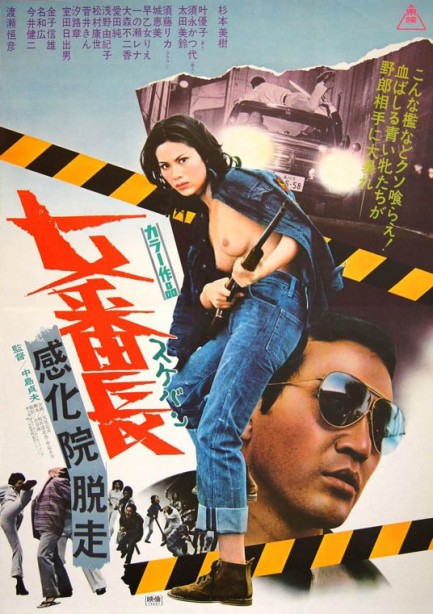 The internet is all about change. When we first wrote about Miki Sugimoto's 1973 pinku flick Sukeban–Kankain Dasso, aka Girl Boss: Escape from Reform School, we shared a rare tateken sized promo poster and mentioned that it was the first of its kind to appear online, while the standard sized promo could be found anywhere. Six years later it's the tateken poster that's everywhere online, while good scans of the standard promo seem to have disappeared. So here's a good scan of the standard promo. Sukeban–Kankain Dasso premiered in Japan today in 1973.


---
You have the right to remain dead.

We already showed you a rare hand-painted poster for the pinky violence actioner Zeroka no onna: Akai wappa, aka Zero Woman: Red Handcuffs. Today we're showing you the tateken poster, which is rare too, so much so that this may be the best scan you'll of it see online. The kind of washed out look is part of the design. If you haven't seen the movie, it's about a vigilante cop played by Miki Sugimoto who is released from prison by a government agency in order to take down the kidnappers of a powerful politician's daughter.
Like most pinku movies, there's some sexual violence, and many reviewers excoriate this admittedly overused plot device. We don't claim those reviewers are wrong, but it should be noted that rape in pinku is often symbolic, serving both to advance the immediate plot and implant a deeper message. In this case the main perpetrator in the sexual assault of a young Japanese woman is wearing U.S. Navy coveralls. The depth of negative feeling about the U.S. occupation of Japan is made clear. All that said, the constant use of sexual assault in Japanese film—if it was ever artistically justified at all—definitely jumped the shark with the arrival of Nikkatsu Studios' roman porno offerings. We've talked about that before.
One interesting part of assessing vintage art is that at the time it was created the artists often thought they were making a certain statement, but decades later their art is perceived as sending the exact opposite message. Such is the case with pinky violence movies, in which maverick male filmmakers—in this case Yukio Noda—showed Japanese women taking on and usually destroying an entrenched male power structure, but only after being driven to it through degradation and violence. Which in screen terms meant rape. Were there other ways to show women driven to the point where they would kill? No doubt, but in patriarchal 1970s Japan the shock of these films was not how women were driven to kill men, but that they did—and often got away with it.
Miki Sugimoto deals with with some very bad men in Zero Woman, but her focus never wavers. She's to rescue the kidnapped daughter and dispose of the abductors in such a way that no news coverage or police investigation points back toward the father. Wrapped in a crimson raincoat she dispatches villain after villain, but learns that not even the presumed good guys are redeemable—not the politician, not the cops, nobody. It's grim, cynical, nihilistic stuff—and a classic of the genre. Zeroka no onna: Akai wappa opened in Japan today in 1974.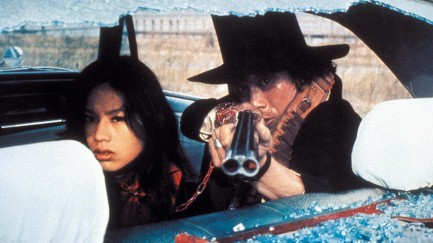 ---