Nessie isn't the only monster swimming British waters.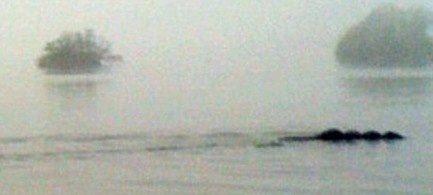 The giant aquatic creature Bownessie, thought by some to reside in Lake Windermere, in England's Cumbria region, was supposedly spotted this week by a pair of kayakers taking part in a corporate team building exercise. One of them, Tom Pickles, had a camera phone handy and shot the image above. Pickles says the creature surfaced about 160 meters from his kayak and swam for twenty seconds before disappearing. "At first I thought it was a dog," he said, "then I realized it was much bigger and moving really quickly. Each hump was moving in a rippling motion and it was moving fast. I could tell it was far bigger underwater from the huge shadow around it." Pickles' kayaking partner Sarah Harrington corroborated Pickles' account, saying, "It was like an enormous snake. It freaked us out. All I could think about was that I had to get off the lake." Bownessie experts hail the sighting and photo as the best evidence yet that the monster exists. Work is now underway to positively identify the creature, with particular focus on Harrington's descriptive phrase: "enormous snake." No word yet on whether Davy Cameron was in the Lake Windermere region that morning.
---
Committee finds that News of the World hacked on an industrial scale.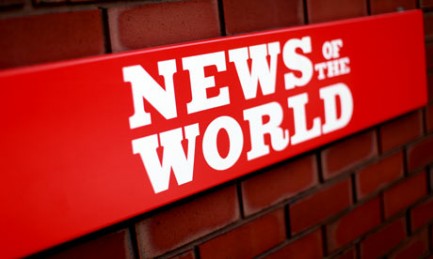 In Britain, a growing scandal has ensnared Rupert Murdoch, head of News International, and Andy Coulson, who was editor of the News International paper News of the World before becoming communications director for Conservative Party leader David Cameron. In short, News of the World hacked into voicemail accounts and computerized police records, and also extracted confidential information from banking computers. Murdoch claims to have known nothing about it, but yesterday a committee of MPs concluded an investigation into the matter by accusing News International execs of engaging in "obfuscation" and suffering from "collective amnesia."
While Murdoch has taken some heat for the mess, the investigation into the hacking has increasingly turned toward Andy Coulson, who, while editor of News of the World, employed four private investigators to dig up dirt on public figures. Nineteen victims of the hacking have been identified, but records show that ninety-one were targeted. To make matters worse, Scotland Yard resisted investigating the matter, has refused to comply with Freedom of Information requests concerning the investigation, and failed to notify those whose cellphone pin codes were found in possession of one of News of the World's PIs. This means that public figures who suspect being targeted by News of the World have been forced to launch their own investigations to discover whether they were victims.

If all this seems to point toward a culture of criminality within News of the World, also consider that the paper recently paid a

£

792,000 settlement to a reporter who experienced harassment at the hands of Coulson, and last year paid out another large settlement to Professional Footballers Association head Gordon Taylor for illegally intercepting his phone records. Back then News International and Rupert Murdoch issued statements assuring the public that the reporter responsible for the phone tampering, Clive Goodman, was an "aberration" within the company. Now, half a year later, a bipartisan committee of MPs has described the hacking as having taken place "on an industrial scale."


Perhaps most interesting is the fact that, while Murdoch claims to have no knowledge of these matters, his newspapers, which he touts as exemplars of balanced reporting, hid the story in their Thursday editions. While The Guardian and other papers devoted multiple pages to what is one of the biggest scandals of the year and quoted directly from the official report, Murdoch's Sun buried 135 words on the matter between an ad and a weather map of Ireland, his Times printed a mere 230 words, and his Daily Telegraph was able to manage only 325.


---