Argentine edition of classic takes art in different direction.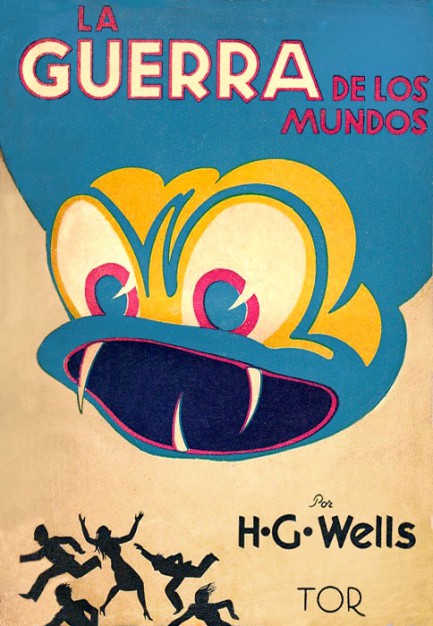 This 1938 printing of H.G. Wells' 1898 masterpiece La guerra de los mundos

, aka

The War of the Worlds

, leaps right to the top rank of covers we've seen. It was published by Buenos Aires based Editorial Tor, a company founded in 1916 by Juan Carlos Torrendell. Despite the demented Mickey Mouse aspect of the fanged alien, and the fact that it's a completely different vision from any other cover treatment we've seen for the book, we think the overall feel of the piece is very much on target. Unfortunately we have no artist info.
---
Pretty fancy shooting.
This cover for Maurice Leblanc's thriller La Agencia Barnett & Cia was printed in Argentina by Editorial Tor as entry #87 in their serie amarilla, or yellow series. Leblanc was a well known writer whose most famous creation was the thief and detective Arsène Lupin, a sort of French version of Sherlock Holmes. When La Agencia Barnett & Cia was originally published in France in 1941 it was called L'Agence Barnett & Cie, with both "Cia" and "Cie" meaning "Co." The cover is signed but we can't really read it. Is it Tenser? Teneer? Tenger? We get no hits on any of those names, which is too bad. But the art is brilliant and we have a feeling this particular illustrator will pop up again, hopefully with a more legible signature.
---