Judge, jury, executioner. Rinse out the blood and repeat.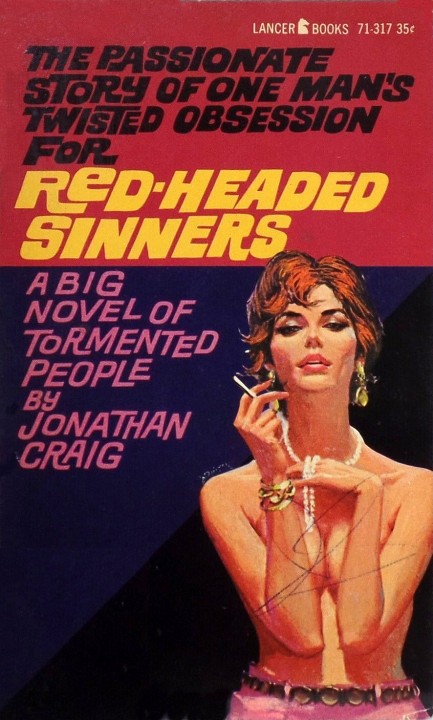 Red-Headed Sinners was originally published in 1953, with the above edition coming from Lancer Books in 1963 fronted by uncredited art. Jonathan Craig, aka Frank E. Smith, writes simply, without much in the way of flourishes, but his stories hit hard. Sinners features a detective drummed off the King City police force for beating a female witness. The cop hopes he can redeem himself and be reinstated, but he has a drinking problem which under certain circumstances unlocks a childhood trauma that sends him into a red haze of violence. This trauma thing is handled by Craig in a hamfisted way, but the book is a gripping thriller starring a cop on the edge of self destruction—and the destruction of others. It's definitely one for pulp fans to read.
---
You're damned picky all of a sudden for a dame I found dumpster diving behind White Castle.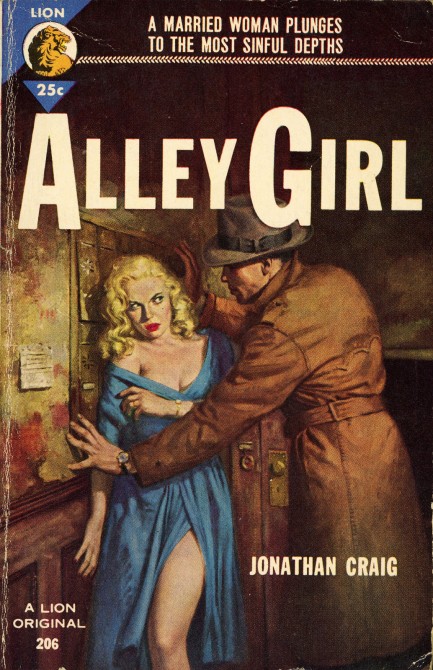 Alley Girl has some of the harder boiled characters we've come across in mid-century fiction. We're reminded a bit of James Ellroy, whom we suspect must have read and been influenced by this book. The style of author Jonathan Craig, aka Frank E. Smith, is not similar to Ellroy's, but the feel is a match. The lead male Steven Lambert is a crooked cop, a sexual predator, and a serial swindler. His girlfriend is a hardcore drunk, a nymphomaniac, and a self-destructive thrill seeker. Most everyone else is a victim or a dupe, particularly the innocent man Lambert is framing for murder, and the man's beautiful wife who Lambert coerces into sex by promising not to go through with the frame-up. We throughly enjoyed this book. It's anchored by just the sort of irredeemable heel that makes crime fiction so entertaining. The only problem is a 1954 edition from Lion like you see here could cost you a fortune. The 2013 re-issue, which comes from Black Curtain Press—but without the excellent cover art from Robert Maguire—is much more economical. We recommend reading it in any case.


---
Once an addict always an addict.
The title of Jonathan's Craig's, aka Frank E. Smith's novel Junkie! is a bit misleading. The junkie in question has little part in the action save as the damsel in distress, mostly kept offpage. But the art by Ketor Seach captures the book's mood nicely, even if it highlights someone other than the actual protagonist, a jazz musician named Steve Harper who prowls the mean streets and smoky clubs of Washington, D.C. trying to solve a murder, then another, then another. A trio of beautiful women keep him thoroughly baffled, and a specially made couch plays a crucial role. Harper's characterization as an actual musician is thin, but the book is a good read, with short chapters and spare prose. Though the fertile milieu could have led to a higher quality result, we recommend the final product.

---