Okay, first of all he never listened to me. That's where the blame for this really starts.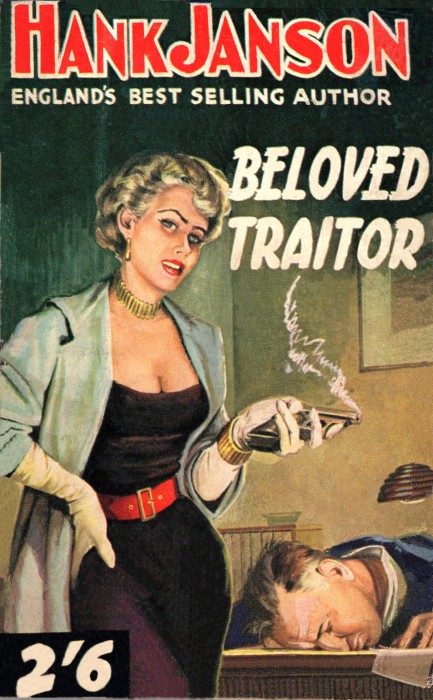 Above: an unusual cover for Hank Janson's novel Beloved Traitor, published by the British imprint Roberts and Vinter in 1960, with a lettering style the company used to good effect on other novels. The cover painting is by the Spanish artist Joaquin Chacopino Fabré, sometimes known as merely Chaco. We have two more good examples of his work here, and we'll see if we can dig up more later.
---
Murder always rings twice.
The last book cover we shared was a Dell mapback, so today we thought we'd continue that theme by showing you a double-sided Hank Janson cover from London based Roberts & Vinter, Ltd., advertising Janson's upcoming novel on the rear. This appeared in 1960 with uncredited art, but was painted, according to a couple of convincing sources, by a Spanish artist named Joaquin Carcupino Fabré. We'll dig for more info, but these do pass the initial eye test—i.e. they look very much his work.
---