French photo covers get down and dirty.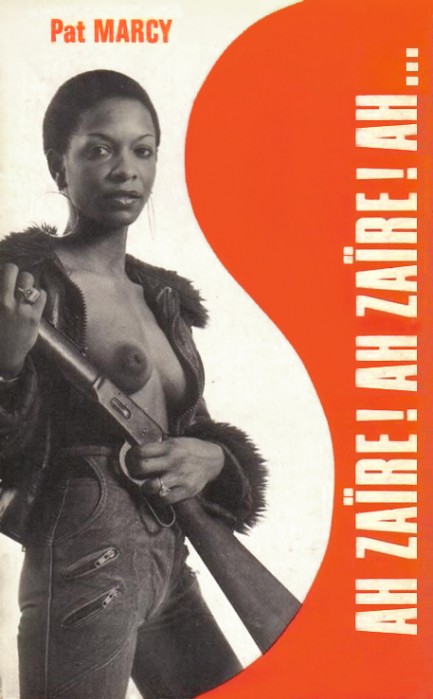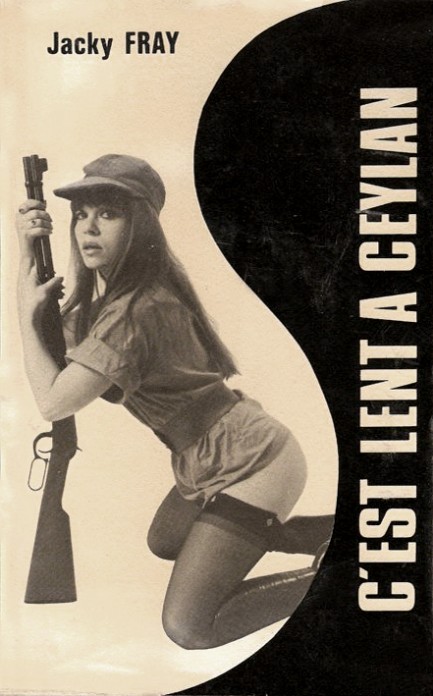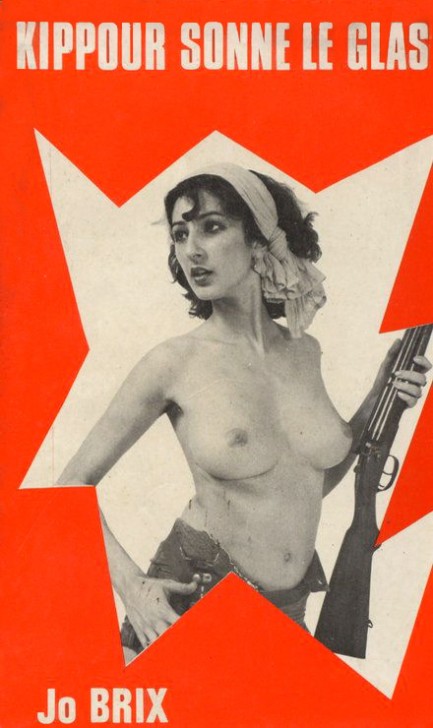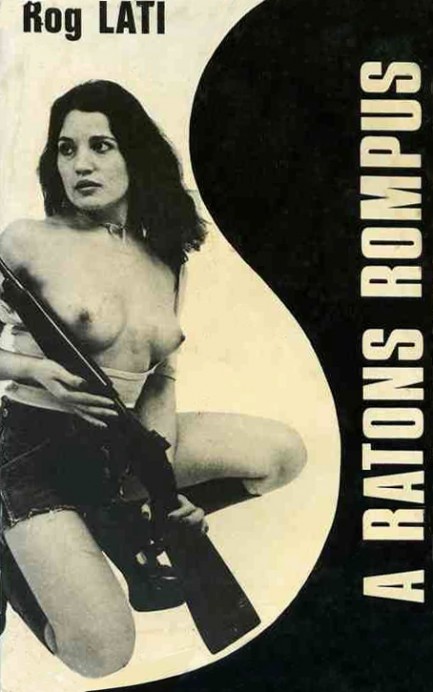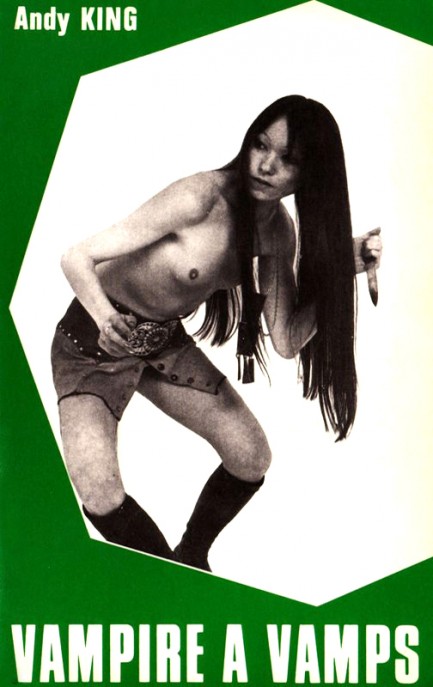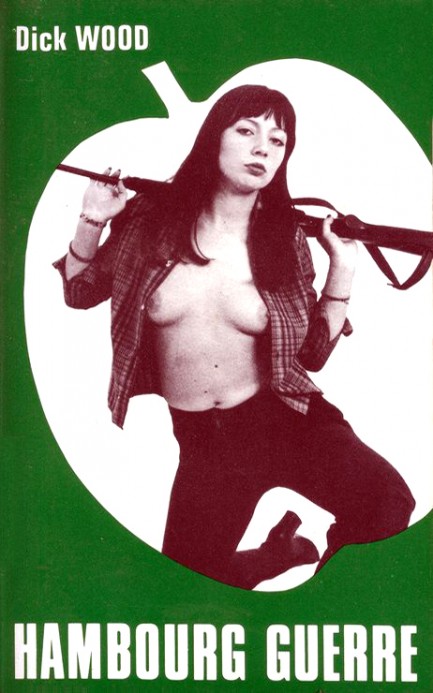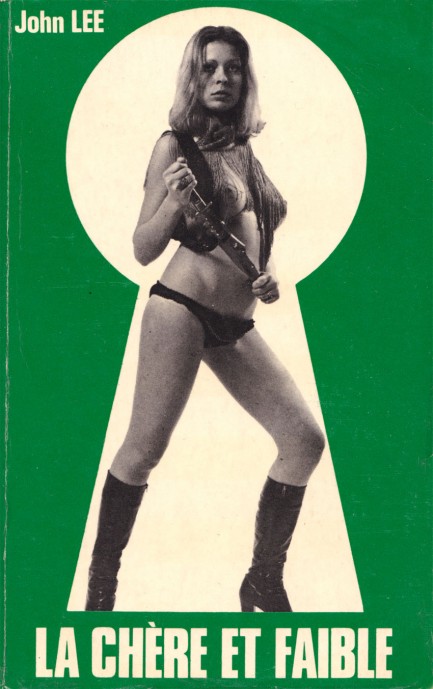 We don't often feature photo covers, but these are pretty nice. They're French erotica-espionage from Éditions Promodifa written by various pseudonymous authors, eighteen examples from the company's lines Érothèque, Sexpense, Mystérotic, and others, early and mid 1970s. Best pen name of the bunch—definitely Dick Wood.
---
Man, he had tiny feet. Suddenly it's hard to remember why I thought he was so dangerous.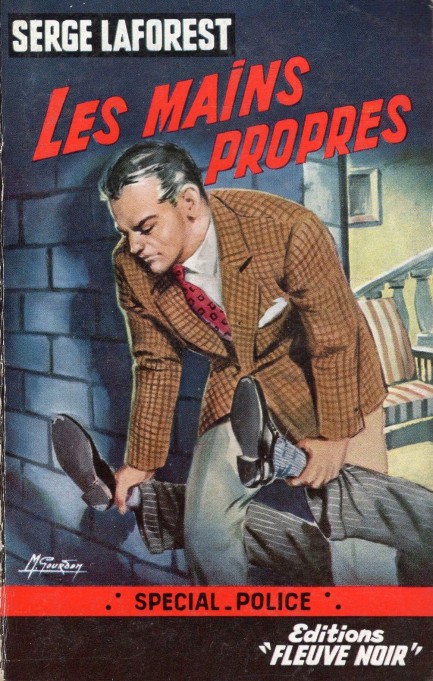 Above, a Michel Gourdon cover for Serge LaForest's Les mains propres, aka Clean Hands, for Collection Special Police from French publisher Fleuve Noir. LaForest was a pseudonym used by Serge Arcouet, who wrote 140 novels as LaForest, Russ Rasher, Tony Stewart, and—we love this one—John Lee Silver. Actually, he shared Silver with two other French writers Pierre Aryaud and Léo Malet. Remember those trips to France we took? These Fleuve Noir paperbacks are staples in every secondhand bookstore you find, probably because very close to a billion have been printed and sold from 1949 until today. Les mains propres is from 1960
---
Knocked for a loop in Los Angeles.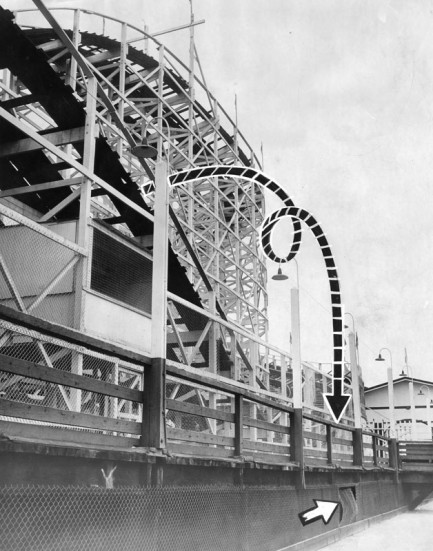 Were the police being whimsical? We don't know. This evidentiary photo taken at Pacific Ocean Park shows the curious path that 19-year-old John Lee O'Brien took when he fatally plunged from a roller coaster into the sea, today in 1927. The image comes from the Los Angeles Public Library's archive of twentieth century police photos. There are two accounts of what happened here. One says
O'Brien
fell 50 feet, but that doesn't explain the strange loop in the photo.
The more plausible story is version two. In that one, O'Brien was showing off by standing up during the ride. When the car went around a curve, he lost his balance and plunged 125 feet into the ocean. A fall from that height would have his descent beginning from the higher track in the photo, whereupon—boing!—he struck the lower track, rebounded and fell a further 50 feet into the water, unconscious or possibly already dead. Maybe that's what the loop signifies—bounciness. The coaster, by the way, was called the High Boy. See below.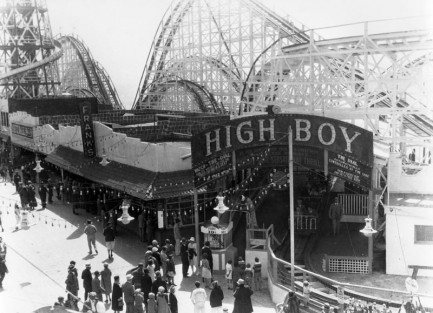 ---