L.A. stands for Lew Archer in John MacDonald's tinseltown thriller.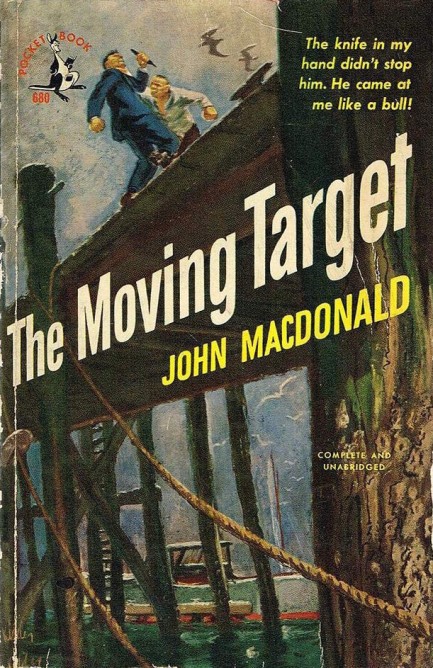 We love this cover art by Harvey Kidder for John MacDonald's, aka Ross MacDonald's first Lew Archer novel The Moving Target. The way the figures are placed at such a remove from the viewer and the text is stretched across the underside of the pier is strikingly different. The book was originally published in 1949 with this Pocket Books paperback coming in 1950, and it stars MacDonald's franchise detective trying to locate a philandering millionaire who's gone missing. The man's wife is more concerned about the possibility of her spouse being on a bender and sharing the family money than she is about foul play, but Archer soon decides that the situation is a kidnapping.
We'd been meaning to read MacDonald for a while. We'd heard that his prose has a Dashiell Hammett vibe and that certainly turned out to be true. Set in and around Los Angeles, it weaves summer heat, wacky mysticism, outsize ambition, and broken dreams together into a tale with great Southern California flavor. And Archer is appropriately road worn: "I believed that evil was a quality some people were born with, like a harelip. But it isn't that simple. Everybody has it in him, and whether it comes out in his actions depends on a number of things. Environment, opportunity, economic pressure, a piece of bad luck, a wrong friend."

In this world that he's accepted as more complex than he'd like it to be, he navigates using a solid personal code and a very hard skull—both severely tested multiple times. We gather the story is considered unremarkable compared to later Archer novels, but for us it was entirely satisfactory. It satisfied Hollywood too, which made it into a star vehicle for Paul Newman called Harper. Why the name of the detective was changed we can't even begin to guess, but we saw the movie a couple of years ago and it was enjoyable. Below you see a 1959 Pocket Books edition of The Moving Target with Jerry Allison art. More from MacDonald later.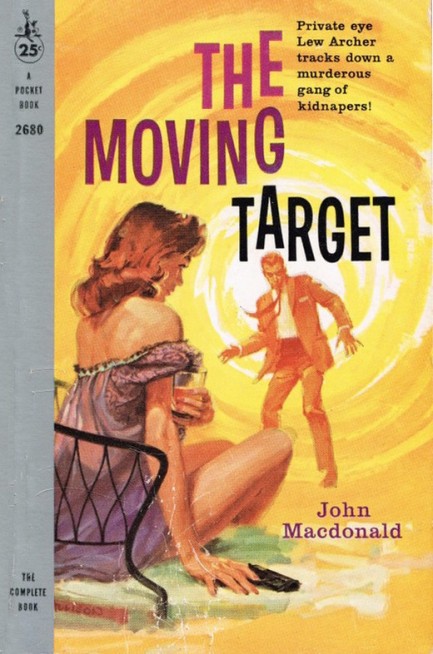 ---