Whisper dishes dirt from Sukarno to Lollobrigida.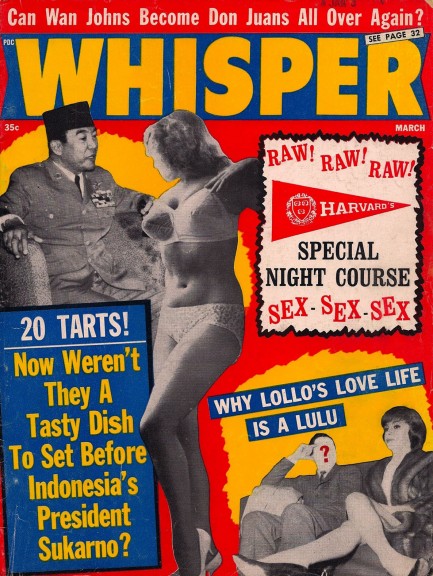 Whisper features a political figure on this cover from March 1964, namely Indonesian ruler Kusno Sosrodihardjo, later known as Sukarno, who we're told was offered twenty prostitutes while visiting his country's embassy in Copenhagen in 1961. In fact, the magazine goes on to claim that the embassy housed a brothel. Though it sounds like a typical tabloid tall tale, it's actually true. Time magazine had written about it in its October 1963 issue, stating: A diplomat may be only a cookie pusher, but the kind of cookies pushed by Indonesia's charge d'affaires in Copenhagen tumbled, not crumbled. Last week Danish police announced that Gustin Santawirja not only ran his country's embassy, [snip] but was also a procurer on the side. Santawirja got into the tart trade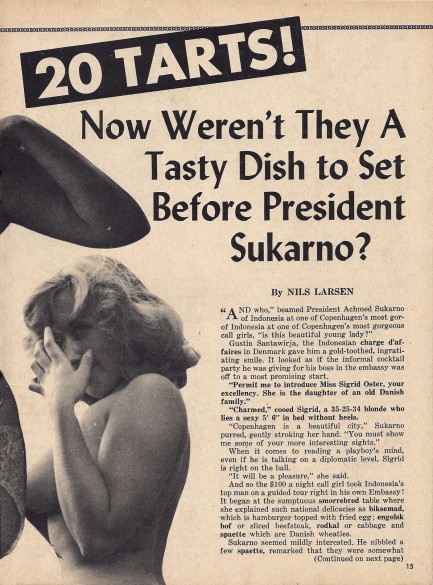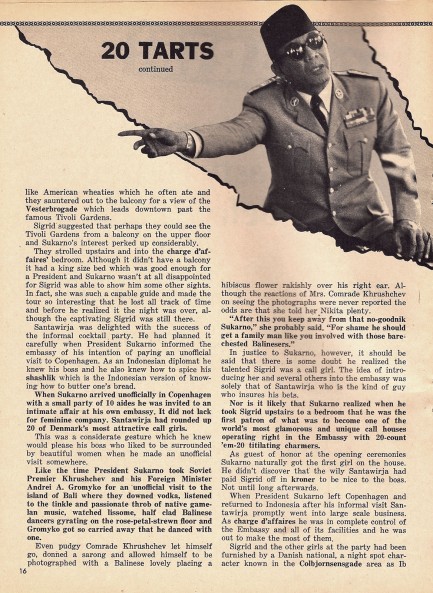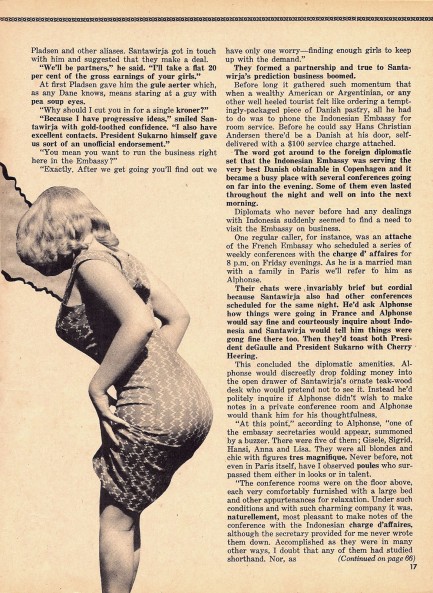 in 1961 when Indonesia's President Sukarno showed up in Copenhagen on an unofficial visit. Amiably, he rounded up some girls for the visiting entourage. So successful was the venture that he decided to supplement his entertainment allowance by running a fulltime poule hall. "Poule" is French for "hen," by the way, and Whisper was correct, but it was also late to the party. We give no credit for publishing what was already widely known.
The magazine moves on to the subject of sexual shenanigans at Harvard University, Carol Lynley's divorce, Sonny Liston's world, Roland Gilbert's bed hopping, and George Bernard Shaw's love child. The latter is a curious story, since Shaw had died in 1950. But the woman in question, whose name was Patricia Joudry, claimed to have conceived spiritually. In addition to Shaw apparently transmitting his seed from the netherworld, Joudry claimed he transmitted a treasure trove of written material to her, explaining, "There are eighteen full length stage plays, a dozen TV plays, two full length novels and essays. At first George and I worked out an alphabet so we could speak, but now I am a clairvoyant and clairaudient. Now I can see him and hear him

." We actually believe this story because our entire website is transmitted to us by Rodney Dangerfield.
Lastly, Whisper offers up an exposé of Gina Lollobrigida's complicated personal life. For years she had been protesting that she was not a sex symbol (as if she's the one who actually gets to decide that), but rather a nice girl. She tells an interesting story from her early career about Howard Hughes' efforts to romance her, which were fruitless but led to her being stuck in a hotel "for six weeks like a prisoner." In the end,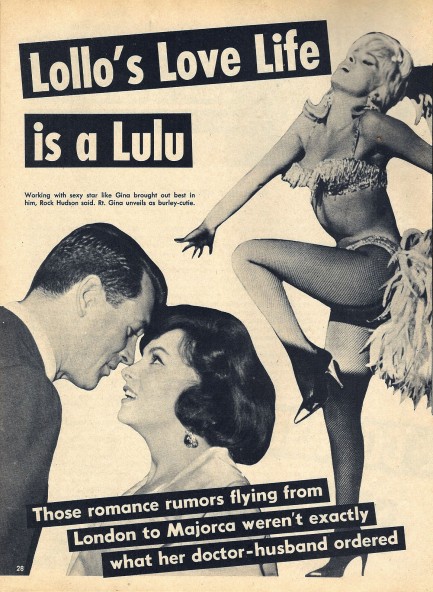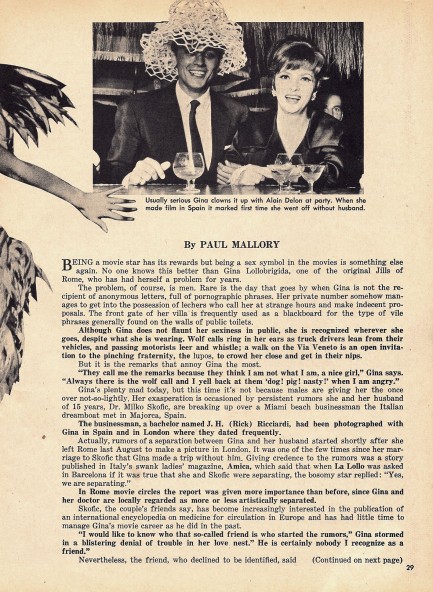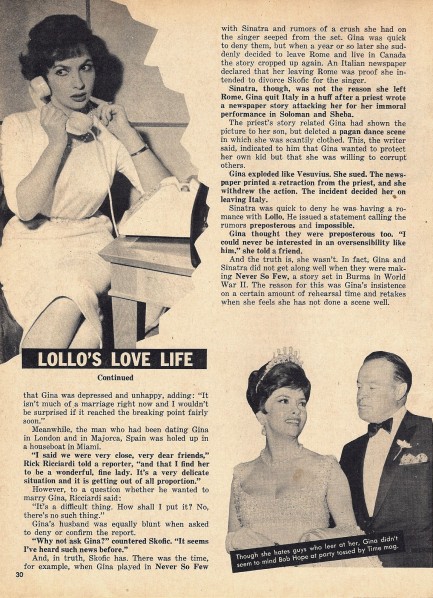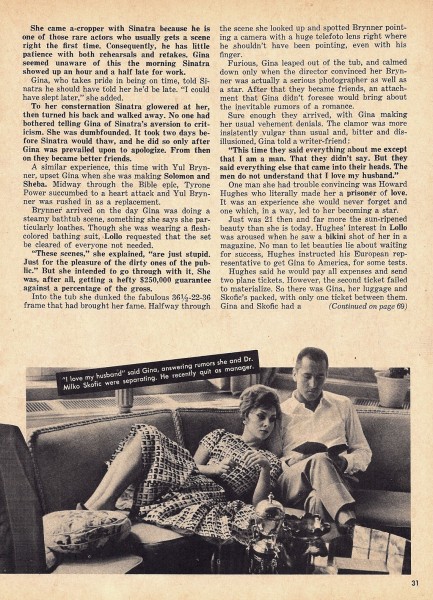 she fled back to Italy and, because Hughes owned her American contract, she was unable to make movies in the U.S. She became an international star just the same, acting exclusively in Europe, but having attained celebrity claimed it was difficult for her. She complained: "When I am with people I am constantly watched, and I can't get used to this sort of thing—that they look at me as a chimpanzee in a zoo." Sounds bad, but she eventually learned to enjoy it. In 2000 she commented to Parade magazine, "I've had many lovers and still have romances. I am very spoiled." So it seems even the worst parts of celebrities' lives aren't really all that bad. Assorted scans below.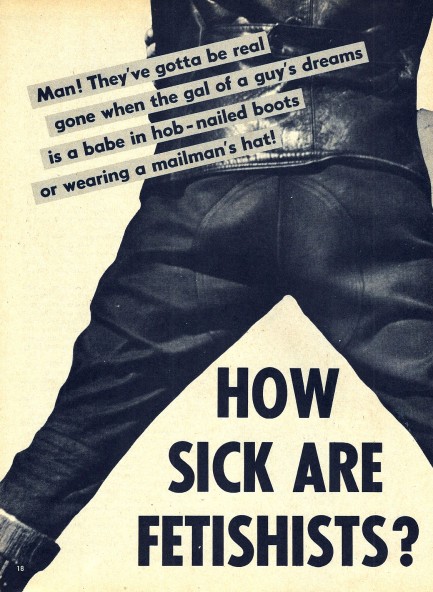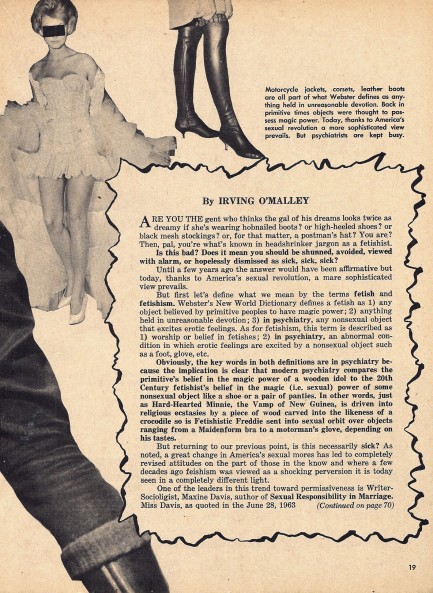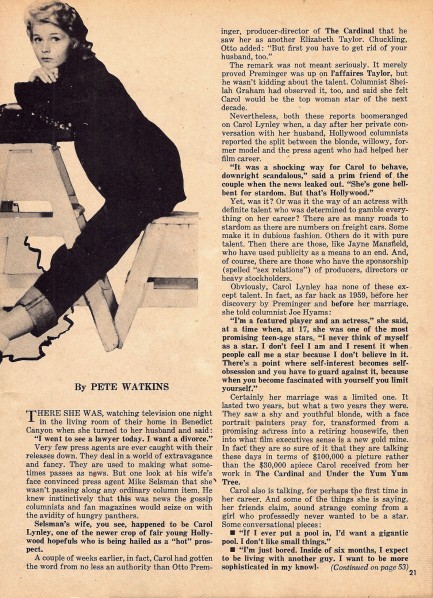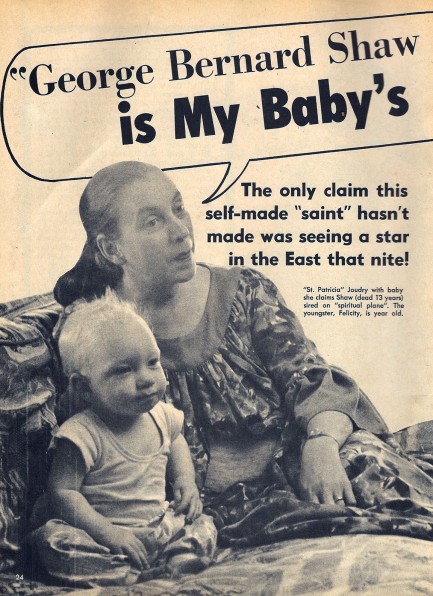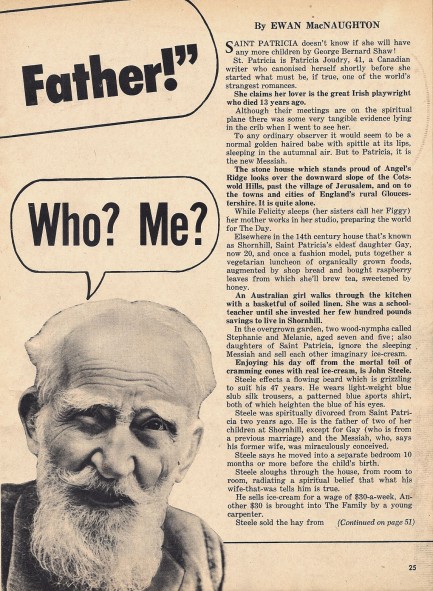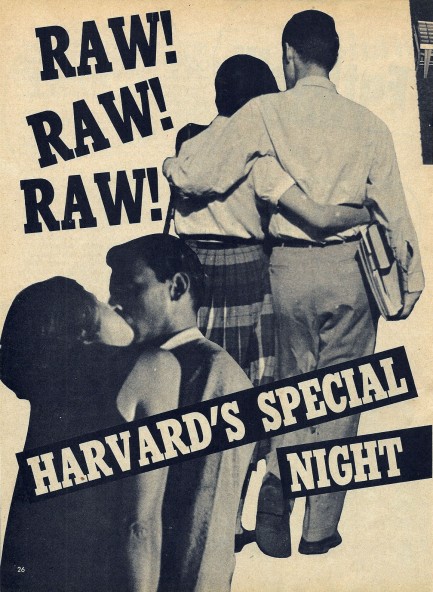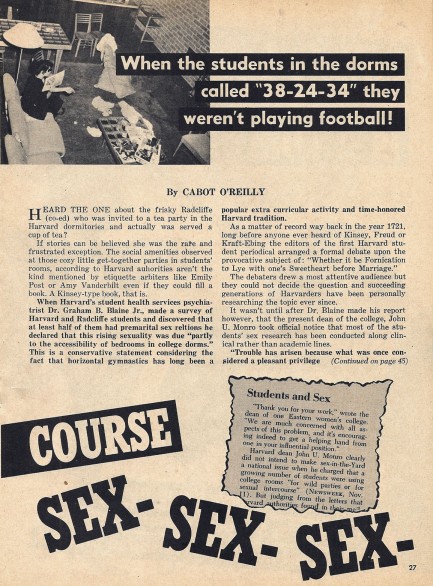 ---