The list is long, cowboy, and you're nowhere on it.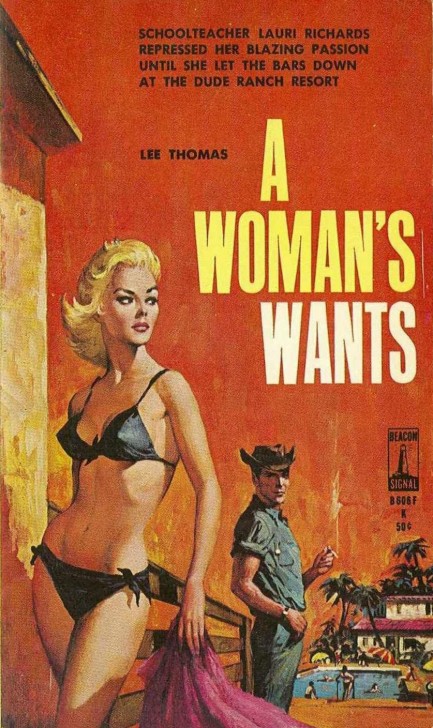 There aren't quite enough dude ranch sleaze novels to consider them a distinct subset of mid-century fiction, but we've noticed a few books similar to Lee Thomas's 1963 effort A Woman's Desire. Like E.L Scobie's Man Handled, for example, which we talked about a while ago. A Woman's Desire deals with a group of guests at the Slashed Lightning Ranch, and the revolving affections of Lauri (nice girl), April (man eater), Bob (real cowpoke), and Craig (city slicker). Round and round it goes, and just like in rodeo whoever stays mounted the longest wins. Style points for getting out of the saddle without landing on your face. Charles Copeland cover art.
---
When the dean's away the wife will play.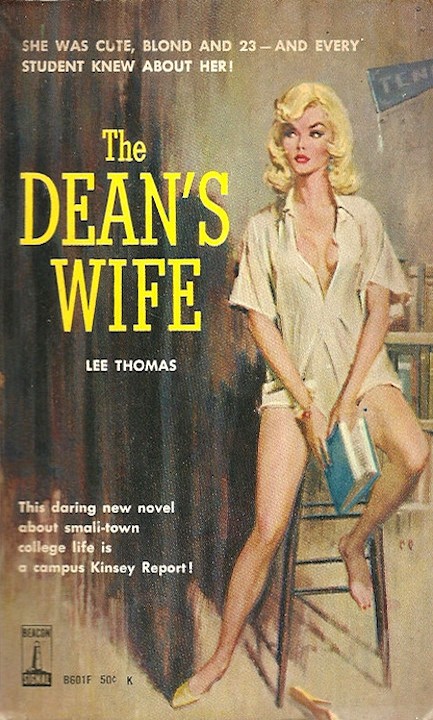 Above, another entry in the school sleaze genre, The Dean's Wife, by Lee Thomas for Beacon Books. Thomas was a pseudonym used by author Lee Floren, who also wrote as Matt Harding, Will Watson, and possibly other entities. He didn't just write sleaze—he authored numerous westerns, and generally wrote those under his own name. The Dean's Wife is copyright 1963, and the art is by Charles Copeland.
---