Wow, something smells amazing.
This photo shows the debris cloud of the nuclear test Priscilla, which was part of the series of tests codenamed Operation Plumbbob, conducted during the summer and autumn of 1957 at the Nevada Test Site. For this particular blast, more than seven hundred pigs were garbed in suits made of different materials to test various means of protecting living tissue from thermal radiation. Guess what? It didn't work. The pigs survived, but with third-degree burns over 80% of their bodies, making for one of the cruelest, but undoubtedly most mouth-watering nuclear tests in history.
---
Awfully sorry to burst your balloon.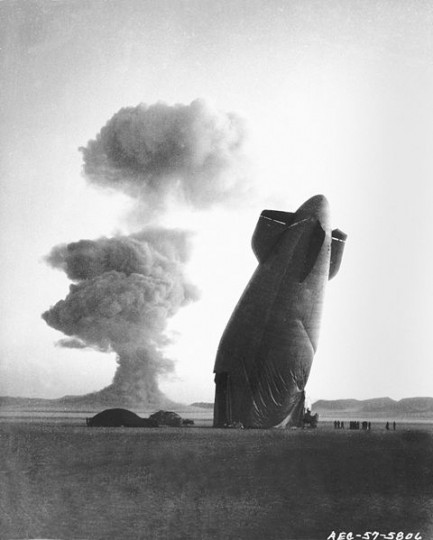 Above is an image of a downed blimp, or barrage balloon, that was floated above the Nevada Test Site to measure the effects of the pressure wave from a nuclear blast. The test was a nineteen kiloton detonation codenamed Stokes, part of the series Operation Plumbbob, and was set off about five miles away from the blimp. That was today in 1957.

---