On the first day of murder, my true love gave to me...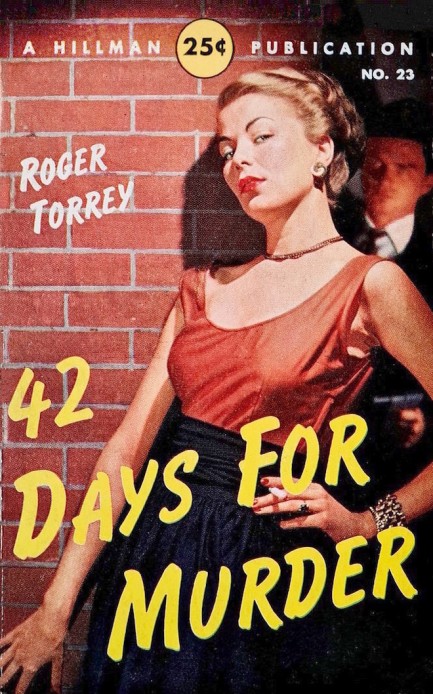 The 42 days of Roger Torrey's 42 Days for Murder refers to the six weeks that someone needed to be resident in Nevada to qualify for a divorce, which we think is kind of clever title-wise. The story deals with a rich man's wife who runs away to Reno to dissolve her marriage but goes incommunicado after she arrives. The husband hires a detective named Shean Connell to track down his wife so that he can at least talk to her before she ditches him. Finding her is not much of a problem for Connell. Arranging for his client to talk to her is another deal entirely. As the story unfolds, it turns out there's a reason for her reluctance to chat. A very good reason, actually, which Connell figures out only at the cost of considerable mayhem, two deadly shootouts, and a veritable pile of corpses.
The book was originally published in 1938, but this Hillman edition featuring a photo cover came in 1949. Torrey was an experienced writer, having produced stories for the pulp magazine Black Mask, and here he shows a deft hand with a unique idea that we can't even hint at without spoiling the book. Flaws include dialogue that sometimes stretches past the point of usefulness or interest—Torrey could have cut the book by twenty pages easily, if not thirty—but it remains a fun ride tearing around 1930's Reno with Connell, who's not only a shamus but an ace piano player. He's the best part of the novel, though he's unusually cynical about women. Too bad 42 Days for Murder was Torrey's only book. It's not perfect, but it's one to catch if you can.


---
Devil in a red dress.
The above cover of Private Detective Stories from October 1943 features art from Allen Anderson illustrating Roger Torrey's short story "Marriage Means Murder." Anderson worked most actively during the 1940s for a long list of pulp magazines, including Spicy Mystery, Planet Stories, and others. His saturated colors, heavy shadows, and crowded visuals have a strong visceral impact, and, overall, his work is exactly what we always imagine when we think of pulp. This particular cover appears elsewhere on the internet, but our scan is a different one. In any case, we'll have more from Anderson later, and in the meantime you can see a brilliant selection of fourteen of his pieces here.
---