Well, Mr. Warner, I dressed like a vampire because I wanted to look like a bloodsucker when I came to talk with one.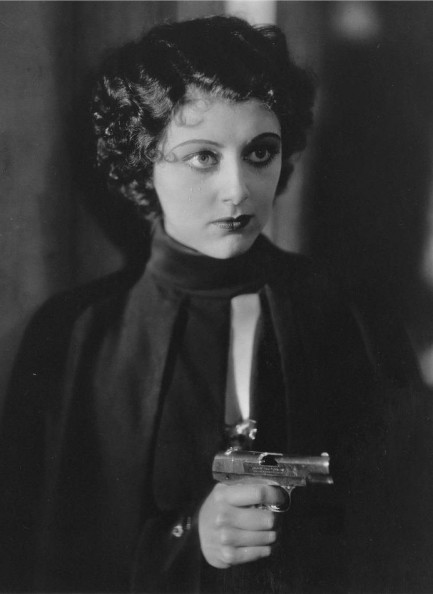 We wonder if the cape will ever come back into fashion. High-waisted pants did, so we imagine anything could. U.S. actress Ann Dvorak shows how to rock a cape as she brandishes a pistol in a promo photo made in 1932 when she appeared in the classic crime movie Scarface. It's considered one of the more significant American films, and every movie buff should see it. Dvorak also starred in such films as The Case of the Stuttering Bishop, Stranger in Town, Heat Lightning, and Three on a Match. The last film was significant for her career. Due to a legal dispute she discovered that Warner Brothers had paid her the same for her leading role as they had paid Buster Phelps, the child actor who played her son and wasn't even credited. Needless to say, Dvorak was unhappy, and eventually went indie in order to control her own career. She wasn't able to secure the best roles anymore, but maybe she at least got a little satisfaction, even if she didn't shoot Jack Warner.


---
Crime doesn't pay. Wink, wink. Just kidding. It paid for me.
This promo photo stars U.S. actress Ann Dvorak. Despite its mischievous nature, it was made for the crime drama Scarface. The dress she's wearing is one you'll see her in if you watch the film. She had been performing since age four in uncredited roles and shorts but the gritty Scarface made her a star. She appeared in numerous movies after that, many of them enjoyable, but what we like most about her is her stage name. Generally Hollywood performers wanted names that sounded less foreign, but she actually chose Dvorak over her real last name McKim. She had great talent, so it wouldn't have mattered what name she acted under. See Three On a Match or G Men for good examples. The above is from 1932.
---