Two NBA players go Tarantino on each other.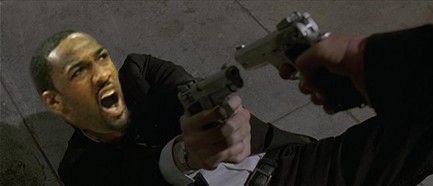 It must have looked like a scene from Reservoir Dogs. Two angry men pull guns on each other while arguing over money. The difference here is, both men were rich NBA basketball players, and the incident happened in the team's locker room. That's the report coming from sources such as the New York Post
concerning why federal authorities and Washington, D.C. police are investigating Washington Wizards teammates Gilbert Arenas and Javaris Crittenton. Details remain sketchy, but both the NBA and the Wizards did confirm the probes were taking place. Professional athletes from Allen Iverson to Tom Brady have had gun-related incidents. But if the Washington story as described is accurate, it represents an explosive new example of America's pervasive athlete/gun culture.
The incident is especially disturbing for the NBA for two reasons—one, Arenas is no insignificant journeyman. He's a two-time all-star, who, when healthy, is one of the most devastating scorers in the league. The second reason is the alleged subject of the argument—a gambling debt. The NBA is still trying to shake suspicions of fixed games that were raised when ex-referee Tim Donaghy claimed that he influenced scores for the benefit of gamblers. The NBA says Donaghy was just one bad apple, but several players have hinted that, based on their personal observations, Donaghy was probably not the only ref under the thumb of organized crime. A confrontation of the sort described between Arenas and Crittenton, even if it involved no weapons, would have worried NBA bigwigs because of the rumor it was over a gambling debt.
For now, those involved are keeping mum. Although Arenas did joke to journalists earlier this week, "You guys, I wanted to go rob banks, I wanted to be a bank robber on the weekends"—the suggestion perhaps being that highly paid athletes don't need to squabble over small change, thus the rumors swirling around he and Crittenton are ludicrous. But based on the previous behavior of figures in every sport from NASCAR to professional swimming, being rich and famous seems to have little effect on one's propensity for finding trouble. NBA Player's Association Executive Director Billy Hunter, asked for a comment on the Arenas situation, stated the obvious: "This is unprecedented in the history of sports. I've never heard of players pulling guns on each other in a locker room."
---
Lawsuit alleges Tom Brady's hired muscle shot at two photographers
From previous episodes pretty much everyone in the world knows that New England Patriots quarterback Tom Brady is not one of those guys who enjoys the attention that comes with fame—unless the attention is coming from Brazilian models.
Two photographers found out firsthand just how camera shy Brady is, and the mess that resulted led to them suing Brady and his wife Gisele Bundchen yesterday. The court papers read like a chapter from an Ian Fleming novel, complete with the leafy tropical hideaway, menacing bodyguards, and lethal gunfire. The alleged incident occurred in Costa Rica in early April, when AFP photographer Yuri Cortez and colleague Rolando Aviles of the daily newspaper Al Dia tried to photograph Brady and Bundchen at a party being thrown on private property. The photogs had gotten permission to venture onto a neighboring property, from which they shot photographs of the party occurring next door. So far so good for the shutterbugs.
However, according to the court papers, when the two were returning to their rented SUV, bodyguards hired by Brady and Bundchen appeared, demanding their cameras and memory cards. Aviles immediately booked for the car, leaving Cortez to deal with the bruisers. Cortez claims one bodyguard twisted his arm behind his back and told him the Brady-Bundchen family wanted to have a chat. Aviles was still with the SUV at this point, and the confrontation moved in that direction. At some point the photographers claim they spotted a gun in the hands of one bodyguard and decided to drive away. That bodyguard or another then fired at the SUV, the bullet shattering the rear window and ricocheting off the windshield.
Asked for comment Brady's lawyer said he had not seen the court papers yet, and Bundchen's people said they had no comment. But we have a comment. If the charges are true, we wonder if the NFL's zero tolerance conduct policy will apply to Brady. We doubt it. New York Giants receiver Plaxico Burress just got two years for accidentally shooting himself in the leg in a Manhattan nightclub and will face a league suspension even after he gets out of jail, but we think employing bodyguards who shoot at two fleeing men is equally disturbing. Just saying—and no we aren't Jets fans.

---