In the end she was bigger than all of them.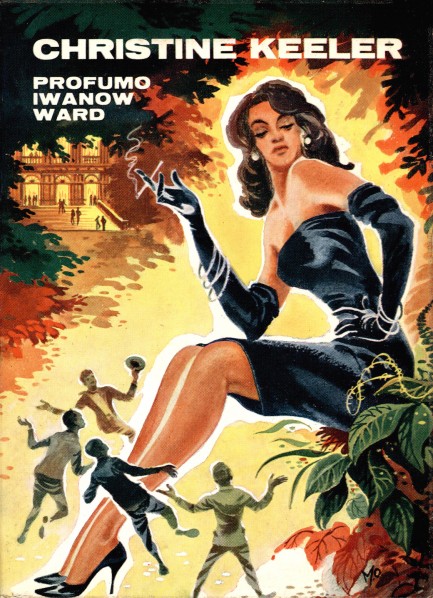 Joachim Joesten's Der fall Profumo is a true account of the Profumo sex scandal that rocked Britain's conservative government in 1963, eventually brigning about the resignation of Secretary of State for War John Profumo. The book was translated from the original German into Dutch by J. P. M. van Elswijk for Dutch publishers De Kennemer and made into what you see above, and newly titled Christine Keeler.
The names of the other players in the story—Profumo, Yevgeni Ivanov, and Stephen Ward—were listed just below, so sometimes you'll see the title of the book written as Christine Keeler, Profumo, Ward, Ivanov. An unwieldy title perhaps, but the book came out the same year the scandal occurred, which means the names would have been instantly recognizable to bookstore browsers.
You've doubtless heard about Keeler and company as well, but if not check here for a quick overview. Even back then it was Keeler who was the central figure, and today she's the one that's remembered, while the others have become bit players in her story. That's why the beautiful cover painted by Dutch artist Martin Oortwijn is so appropriate. Obviously he was an illustrator with special talent. We managed to find a couple of other pieces by him, so we'll get to him a bit later.
---