Two's company, three's dead weight.
Pulp books and magazines reused art quite a bit, and the piece above—by Julian Paul—is a good example. Here you see a tough soldier of fortune and a native girl floating on dangerous waters, but on a version we posted from Action for Men back in March, there were three figures. We joked that whenever two men and one woman were involved, a disagreement was soon to follow. Looks like the guy with the gun won.
---
Beyond the villa of the dolls.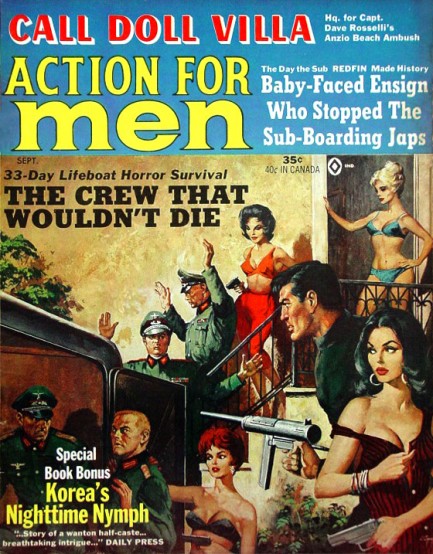 Above, a September 1964 Action for Men adventure magazine containing assorted WWII and Korean War tales. The cover art is by Charles Copeland, and it depicts American soldiers and partially dressed Italian "call dolls" aka prostitutes, capturing a group of Nazi officers who we'll assume are pretty bummed the raid didn't happen about an hour later.
---
Missing man found with native girl—no sign of man's friend.
March 1960 Action for Men with cover art by Julian Paul. This trio will soon have some serious issues to sort out, because once immediate danger passes the male mind focuses entirely on getting laid. Usually two virile guys and one beautiful, sarong-clad girl means there's one too many swinging dicks in the picture, but it could also be the girl who's the obstacle to hot tropical love. You better recognize. Regardless, somebody's getting cast adrift.
---