I'm fine. It's all good. I'm calm. I said I'm calm!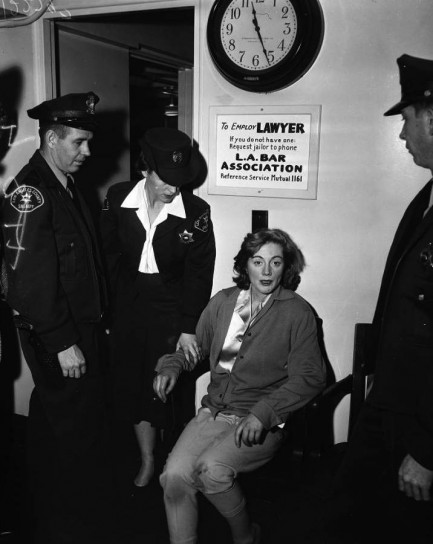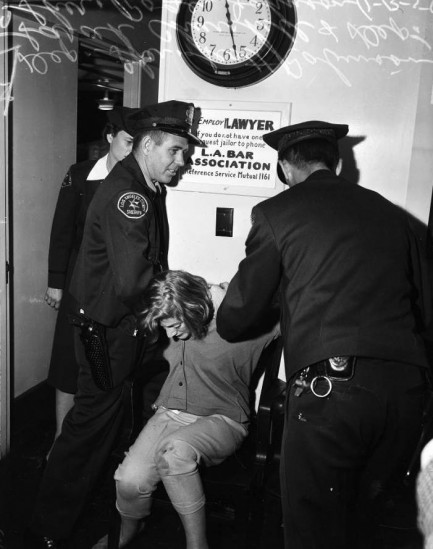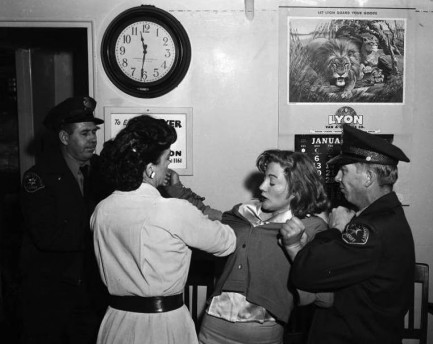 Winston Churchill coordinated his share of bombing campaigns, and it looks as if his daughter Sarah Churchill learned a thing or two about bombs herself—f-bombs, that is. Check the time on the clock. Things started out okay, but over the course of several minutes it looks like she worked herself up to, "Fuck you! And fuck you! And fuck you! And fuck you too!" This is funnier than we can explain because we had a female acquaintance do this very thing to three cops a little while back.
Churchill, who is also known as Sarah Millicent Hermione Touchet-Jesson, Baroness Audley, opted for a show business career when she was young, and as Sarah Churchill appeared in films such as Royal Wedding and All Over the Town, as well as in dozens of television movies. In these images she's been arrested in Los Angeles for drunkenness, and after being conducted to the copshop had this little dust-up with the uniforms and a nurse.

This wasn't the only time Churchill drank herself into custody. In general, she lived a flamboyant life that overshadowed her acting career and annoyed her father. She wrote about these issues in her 1981 autobiography Keep On Dancing, the title of which refers to her early dance classes and subsequent desire to become a chorus girl. But on the above occasion we suspect Churchill probably learned that cops don't dance. That was today in 1958.


---