No Moore mister nice guy.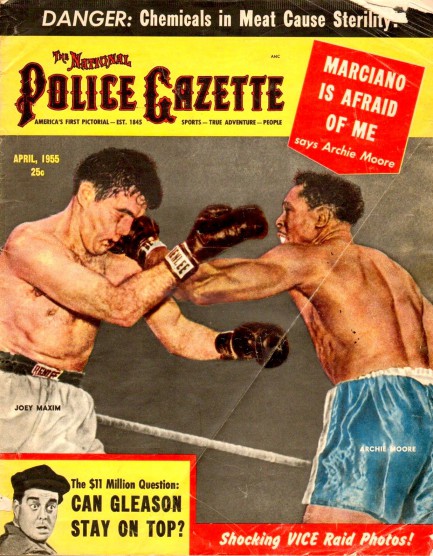 This cover of The National Police Gazette from April 1955 shows light-heavyweight champion Archie Moore putting a hurting on Joey Maxim. Gazette was hyping an upcoming title bout between Moore and Rocky Marciano, then and now considered one of the top three boxers to ever lace up a pair of gloves. We doubt that Marciano was afraid, as Moore claims on the cover, but maybe he should have been. The night of the bout Moore amazed/dismayed the crowd by landing a right counter and knocking Marciano to his knees. It was only the second time in Marciano's storied career that he had hit the canvas. He received a count from the ref. Under boxing rules the count should have stopped when Marciano rose—which he did after two seconds—and Moore should have been free to pummel his presumably dazed opponent. But referee Harry Kessler interposed himself between the two fighters.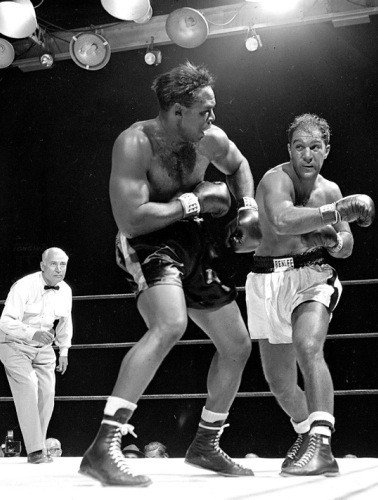 Moore tells it this way: "The referee saw me stepping toward Marciano, and [put] his butt in my stomach and kept me off Marciano. He grabbed Marciano's hands and wiped off his gloves while my corner yelled, 'Hit him! Hit him!' All of a sudden, Kessler jerked [Marciano's] hands, and Marciano's head jerked and [that] brought him to."
Moore eventually lost the fight. But you have to give him credit—rather than thinking Kessler acted maliciously, he believes the ref was so amazed to see the champ down that he simply forgot his duties under the rules. Still, Moore makes no bones about it—in his view, Kessler cost him the fight. In the end though, Moore had to be proud. He had jumped up a weight class for the bout, and, at forty-one, was a decade older than Marciano. For those reasons and others a Moore victory would have been the greatest upset in boxing history, but it was not to be.

---
Ain't no wrong now, ain't no right.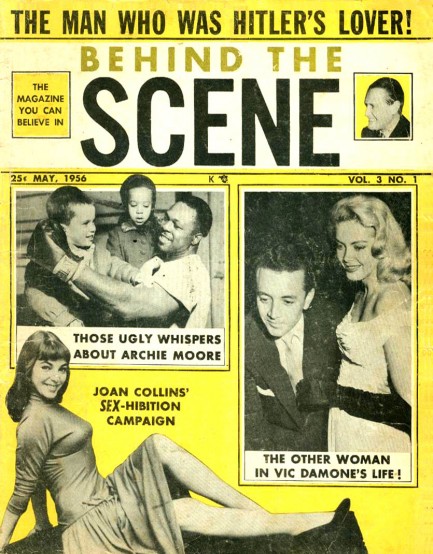 May 1956 cover of Behind the Scene, with the scoop on Hitler's sexuality, boxer Archie Moore's love of children, Vic Damone's supposed cheating on wife Pier Angeli, and Joan Collins' turbocharged sex drive. We can never be sure, because all this happened before we were born, but we think they got three of these four stories wrong. But at least they reassure us by telling us they're "the magazine you can believe in." It's like they think they can get as many facts wrong as they want as long as they have a slogan that tells people they actually got it right. These people are crazy like a Fox.
---