No, my husband doesn't mind that I have sex with other men. Though he probably would if he knew.
Ben Kerr, who we first knew as Mike Moran, then William Ard, might make the trusted author category. His 1957 novel Club 17 is a nice little yarn. It deals with a down-on-her-luck actress finally driven to prostitution, but her first customer is a vice cop out to bust the crime ring she works for, which operates out of an unassuming Manhattan watering hole called Club 17. She can't go through with the deed, which transforms the cop's appraisal of her from hooker to sweetheart, and romance is born.
We know what you're thinking, but the same old motif of love at first sight works because Kerr writes fast and with style. He had to write fast—he churned out three books a year, but his work didn't suffer for it. Some writers just have that gift. He pulls together a cohort of major characters—the cop, the call girl, the groomer, the pimp, a political climber, his two-timing wife, and a private investigator—and effortlessly sets the narrative spinning within only twenty pages.
Turning to the cover, which is amazing, it's unattributed, but we think it's by Ray Johnson. He was working with Popular Library from at least 1955 onward, as we've shown you here and here. The rear cover below reinforces our conviction on this. Look below and note the hair, the shape of the face, and that certain lift of the eyebrows, then check the links. He's the prime suspect. If so, excellent work, from a top rank illustrator.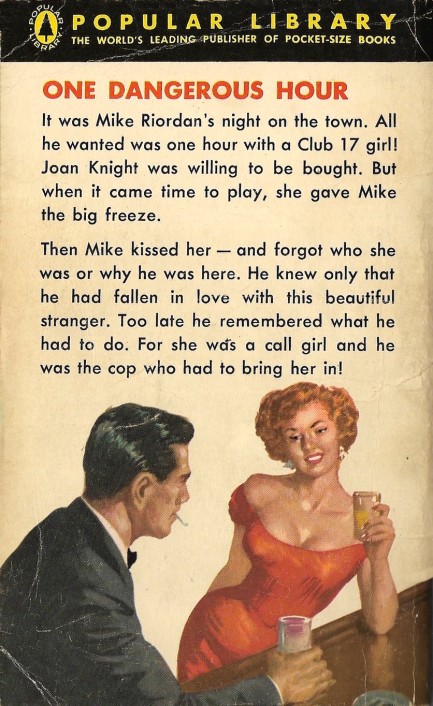 ---
Packed with flavor and fortified with the recommended daily allotment of vitamin f.
Victor Kalin went the tight focus route with this cover of an orange femme fatale he painted for William Ard's 1958 thriller Deadly Beloved, also published as The Root of His Evil. We love the art, and we loved the book too. An insurance investigator named Tim Dane is hired to transport a $100,000 gambling debt from an unlucky loser to a Miami hood named John Cashman. Cashman plans to use the money to help finance a war in Latin America, but that's just background. The more immediate part of the narrative involves an exotic dancer named Lissa, real name Elizabeth Ann Miller, who he has ringfenced with the help of 24/7 bodyguards and a lifetime management contract. Dane ignores warnings to keep away and is soon giving Lissa deep nocturnal lovin'—a pleasure that could cost his life if Cashman finds out about it. Ard, who also wrote as Ben Kerr, Mike Moran, et al, is a talented stylist with an approach all his own. His way of cutting transitional exposition is pretty neat. Every writer is required to do it, but Ard can cross town within the space of a sentence and still not sound like he's rushing. We're already trawling the auction sites for more from him. Highly entertaining.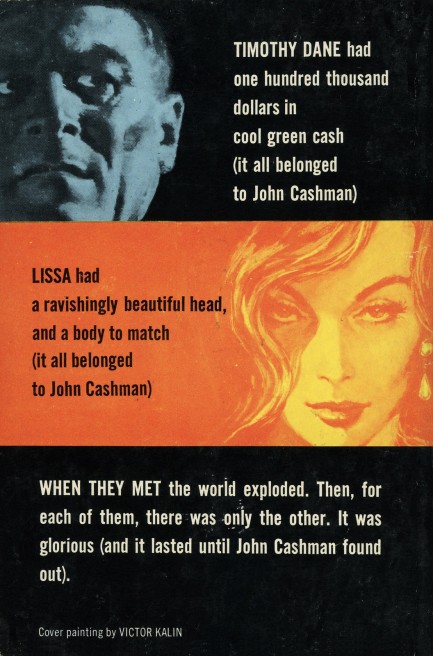 Edit: We got an e-mail asking exactly what we meant by "cutting transitional exposition." We don't want to search through the book for an example, so we'll make up one. It would go something like this. "He decided he'd have to drive to Coral Gables to ask Cashman in person, and two days later when the door opened to his knock, he was surprised that it wasn't a servant but Cashman himself who answered."


---
First of all, hell no. Second, why are you wearing lipstick? And third, crushed strawberry is not your color.
When it comes to mid-century fiction, basically all the guys had problems respecting women's boundaries. There are so many covers of the above type we could curate an entire collection. We can't think of any others, however, where the guy looks like he's wearing lipstick. We checked a few other examples of this one online, just in case this look was courtesy of some kid with a crayon, but he's wearing that crushed strawberry in all of them. Not that we disapprove. More guys probably should do it. We've done it, and it was fun, if not even educational. But maybe we're drilling too deep into this subject. Boundaries we were talking about, right? So, Mike Moran was aka Ben Kerr, Jonas Ward, and Thomas Wills, and this book deals with a private eye who takes a job bodyguarding a boxer who's run into problems as the night of a big bout approaches. Reviews are mixed to middling. But this cover opens the door to all sorts of discussion, which makes it worth sharing. 1953 on this.


---