Why so bashful, beefcake? Turn around, drop those buckskins, and let me see what I'm working with.
The frontier adventure The Stranger by Lillian Bos Ross has a fun and games sort of cover, but it somewhat belies the content of the book, which is about a lonely Kansas woman who advertises herself as a willing wife, agrees to an arranged marriage, travels to California's Bug Sur coast to wed, and finds that her new husband is an awful brute. It's an adventure but also a romance, and being written in 1942 and set even earlier, her main goal is to—you see this coming, right?—win over the husband who beats on her (and cheats on her, for that matter). Does she succeed? Do bears shit in the woods? This Bantam paperback edition was published in 1949, and the cover art is credited to Bernard Barton, who was actually Harry Barton, but using his middle name instead.


---
Yes, I'd like to report a murder. A man murdered every last bit of my patience.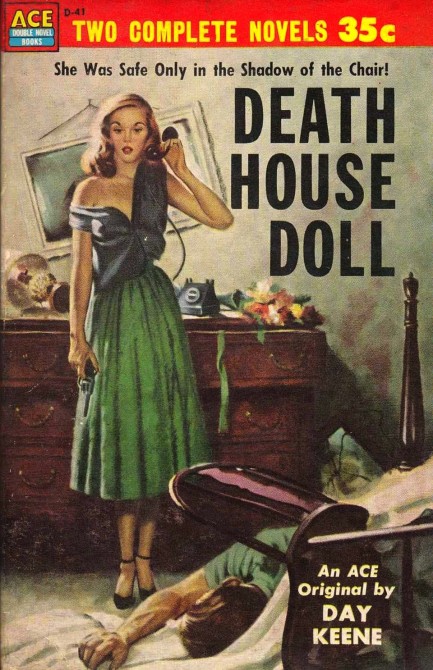 Above, a nice cover for Day Keene's 1954 thriller Death House Doll, with excellent art credited to Bernard Barton, who's aka Harry Barton (Bernard was his middle name). In the story, a Korean War vet has promised his fatally wounded brother he'd look after his wife and baby daughter, but when he gets back to the world (Chicago) he's stunned to find that she's sitting on death row for murder, and unwilling to spill the truth even if it saves her. The attraction with this one is watching a decorated war hero run riot on hoods and thieves, while up against the always effective ticking clock gimmick—an execution date, which in this case is five days hence. The book was an Ace Double with Thomas B. Dewey's Mourning After on the flipside, and the art on that one, just above, is by Victor Olson. We put together a nice collection of Harry Barton's work back in May that we recommend you visit at this link.
---