Beautiful jinx finally jinxes herself.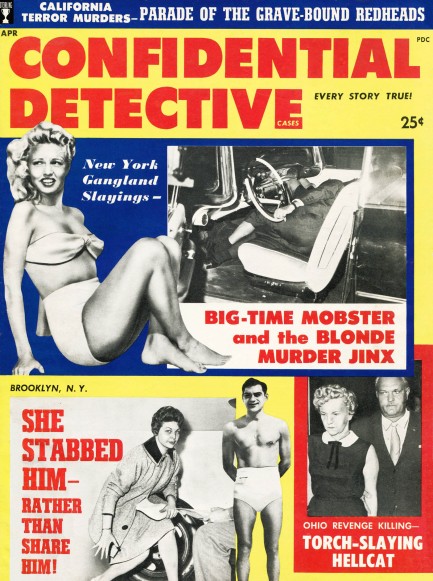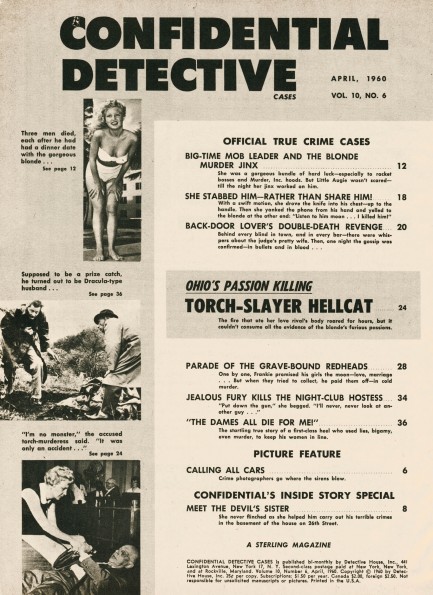 Confidential Detective Cases, for which see an April 1960 cover above, was published bi-monthly from 1942 to 1978 by New York City based Detective House, Inc. The magazine has an appropriately garish crime rag look and many stories of interest, breathlessly reported. The headers are entertaining: "She Stabbed Him—Rather Than Share Him!" "Parade of the Grave-Bound Redheads." "The Dames All Die for Me." All these tales are of interest, but today we're focused on one story—the piece about the unlucky death of Janice Drake. It's titled "Big-Time Mob Leader and the Blonde Murder Jinx." A jinx is of course someone who brings bad luck to others, but what do you call someone who brings bad luck on herself?
Drake was a former Miss New Jersey who had competed in the Miss America pageant, was a semi-famous G.I. pin-up, a professional dancer, and the wife of comedian Allan Drake. She and her husband were known to have an open marriage, and among Janice's male friends were several New York City mobsters. One of these was Anthony Carfano, aka Little Augie Pisano, an associate of crime boss Frank Costello, who was pitted against mob rival Vito Genovese in a power play for control of the New York City rackets. Carfano had thrown his support behind Costello, causing Genovese to develop a homicidal grudge.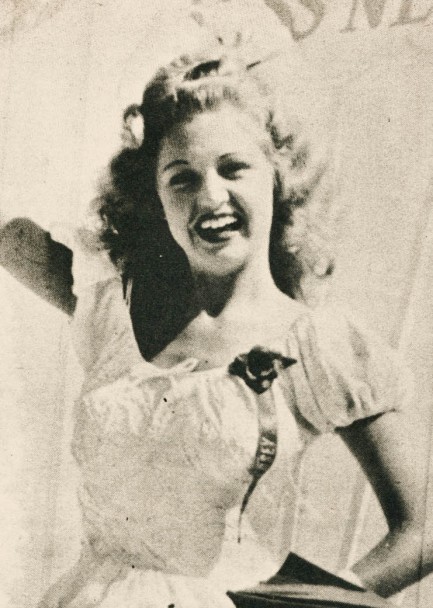 This was not a guy to go to dinner with, but on the night of September 29, 1959, Drake accompanied Carfano to a restaurant called Marino's, where they dined with a mob
caporegime
named Tony Strollo. Strollo was Genovese's right hand man, but Carfano had no idea Genovese was bent on revenge, nor that Strollo had been assigned the job. When Carfano and Drake left Marino's, they were planning to drive to La Guardia Airport to board a night flight to Miami. But two gunmen were stationed in the rear of Carfano's Cadillac and they forced him to drive to a secluded area near the airport, where they shot both him and Janice Drake twice in the head and once in the back of the neck.
Bad luck for Drake, but don't feel overwhelmingly sympathetic. She may not have been married to the mob, as the saying goes, but she was definitely playing footsie with it. Twice she had been present at a mobster's last supper. She went to dinner with Garment District k
ingpin Nathan Nelson the night he was murdered, and dined with Gambino crime family boss Albert Anastasia the night before he was whacked in a barbershop. Talk about a jinx.

She was called to testify in court concerning both slayings, yet

for some reason never seemed to comprehend the risks of running with a dangerous—and highly endangered—crowd

.

More than a few police figures believed Drake was a mob courier, a high level go-between, a role in which she may learned the identities of Nelson's and Anastasia's killers. She may not have been a target the night she had her last supper and met a messy end, but it could be that since she knew too much, her loss as collateral damage was deemed an acceptable outcome. Others think she was just mob arm candy and finally ended up in the wrong place at the wrong time; anyone in the car with Carfano would have bought it the same brutal way. Whatever the specifics, Drake's early death—she was thirty-two when it happened—was probably inevitable.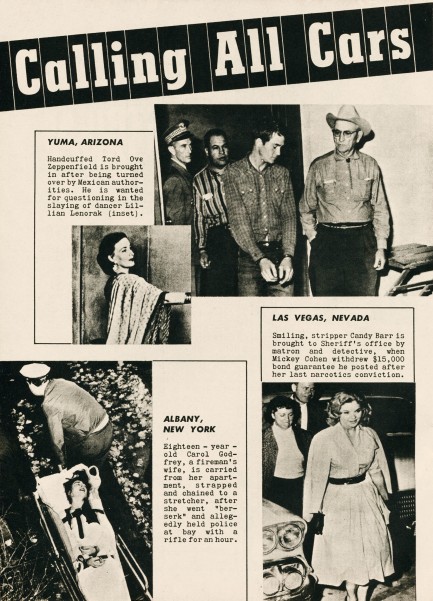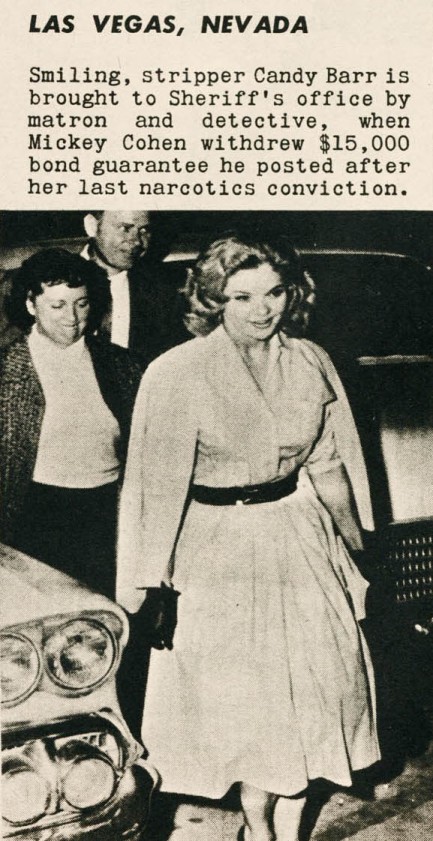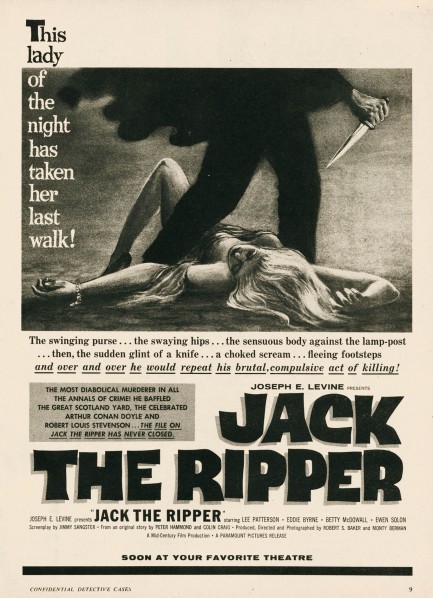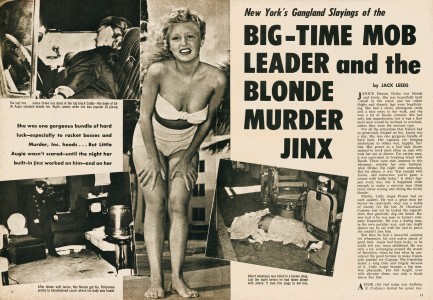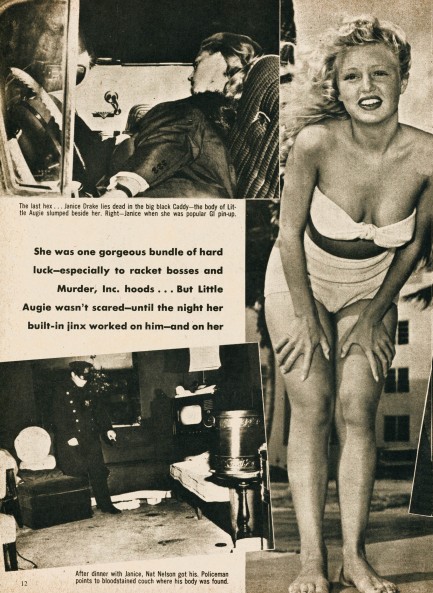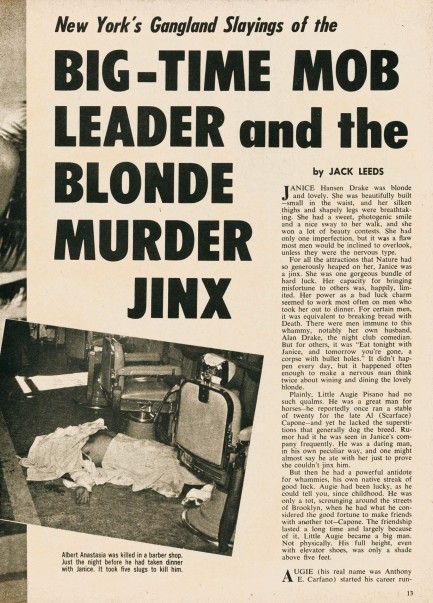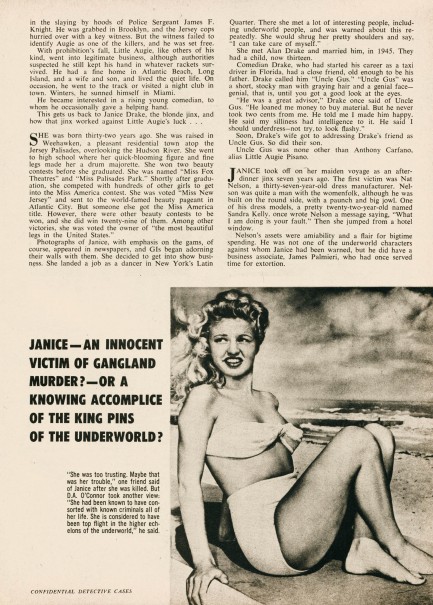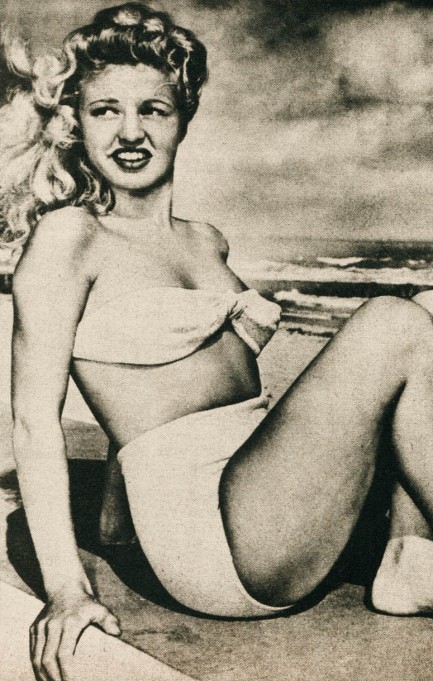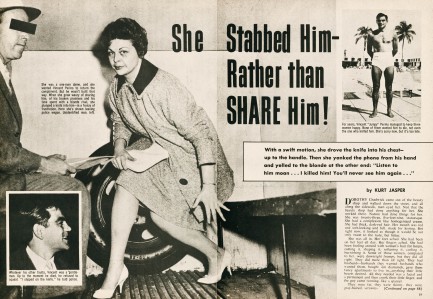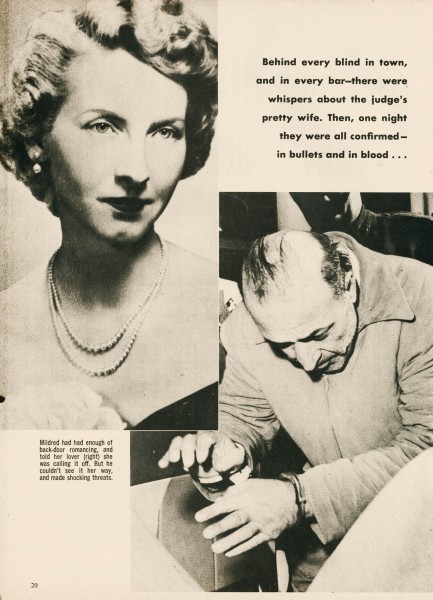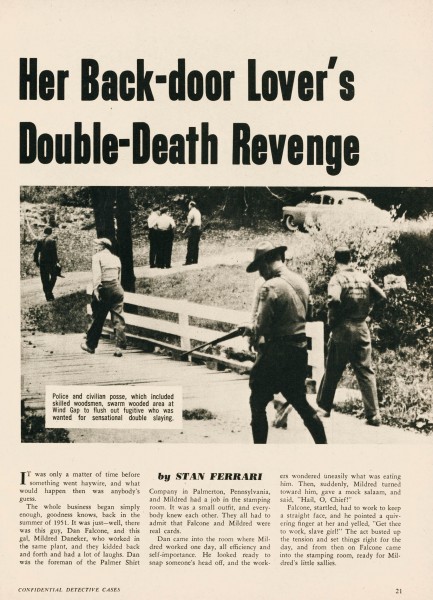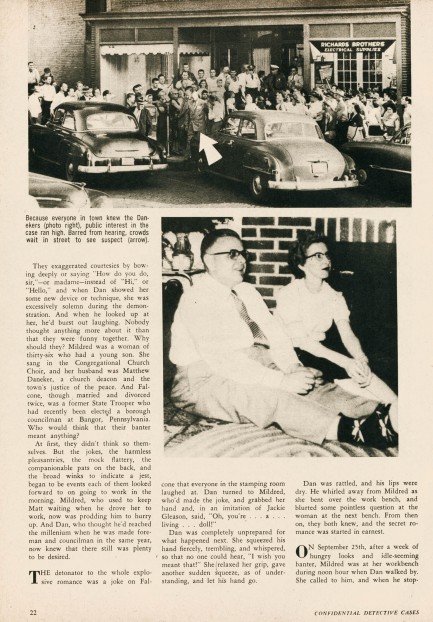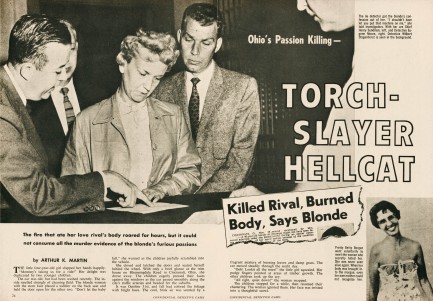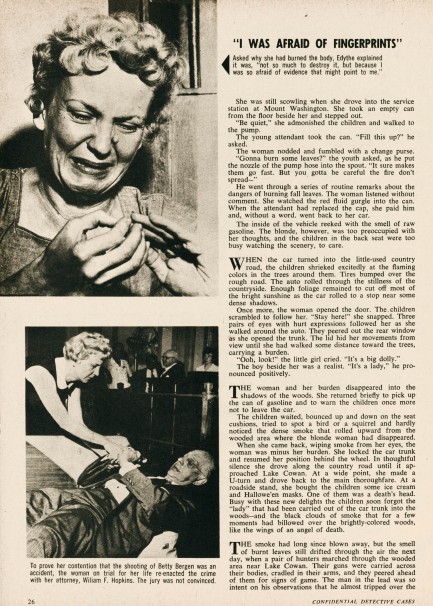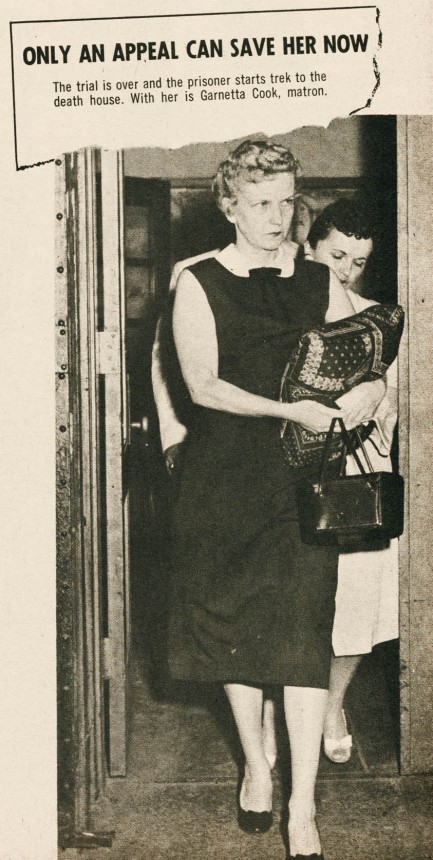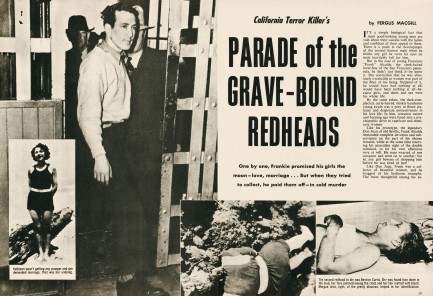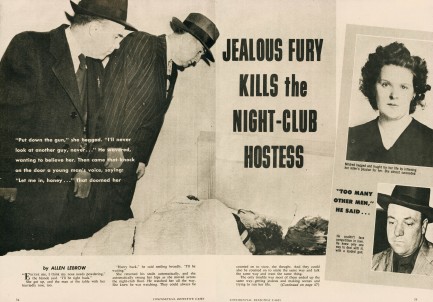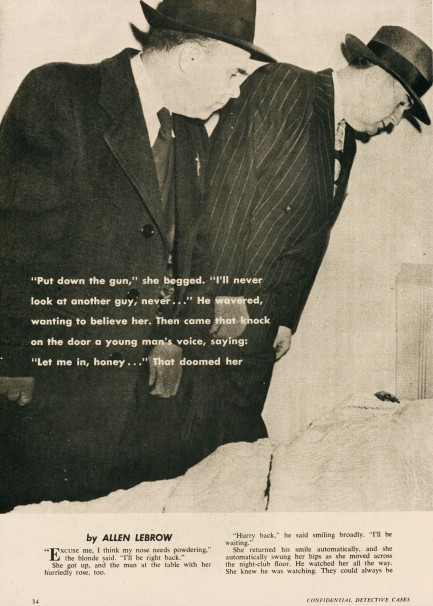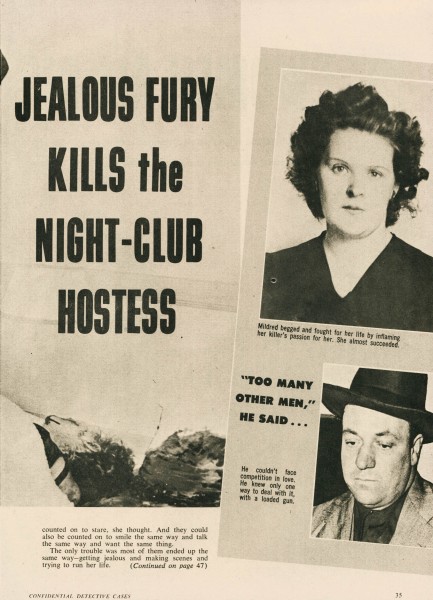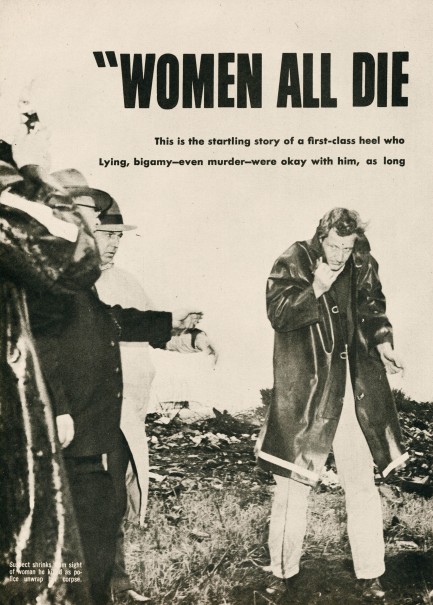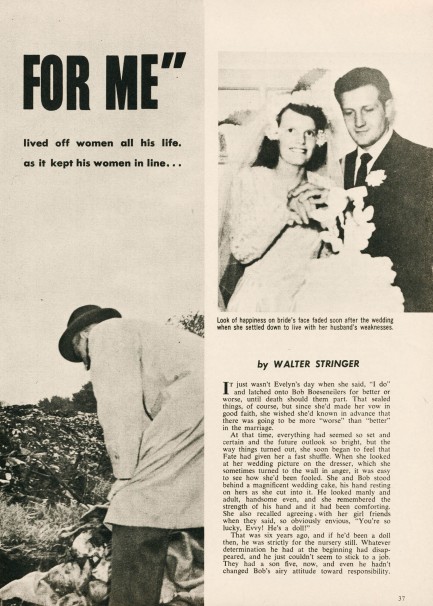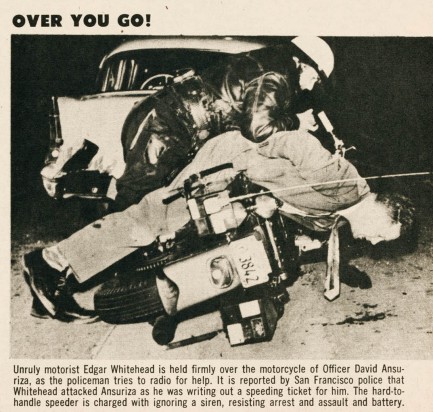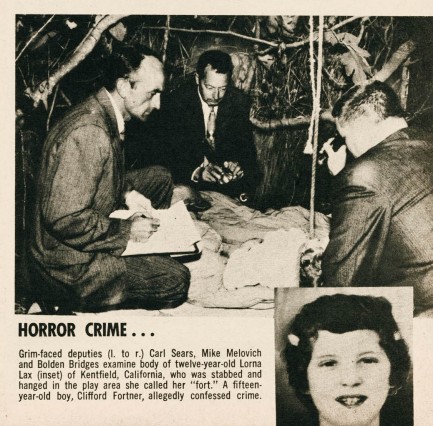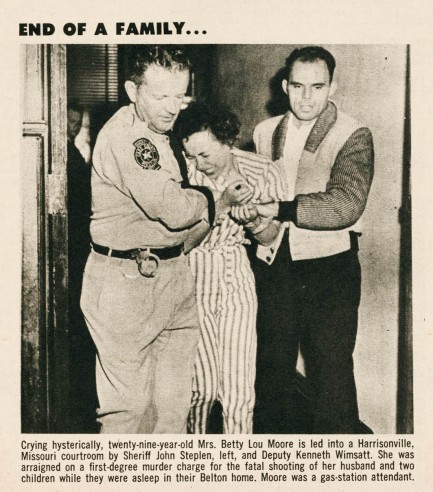 ---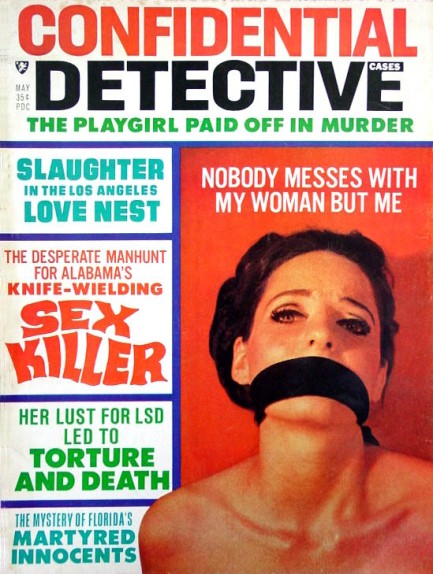 Here's a cover I came across that I thought you guys would like. The header I wrote is the absolute limit of my cleverness, so no subhead, sorry to say. Feel free to add one. The year on this is 1968.
You're right, we do like this. As far as adding to what you wrote, we could do it but that would defeat the purpose of us not doing any work on these. Regarding reaching the limit of your cleverness, you'll notice that never stops us.
---
With this ring, I thee dread.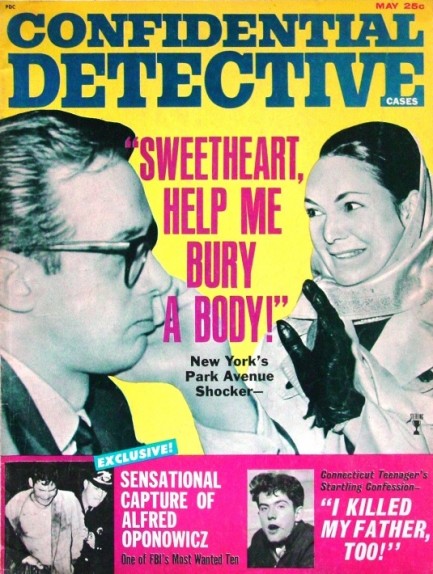 Today's eye-catching cover from Confidential Detective Cases, May 1965, features a story about a Park Avenue couple and their failed attempt to disappear a body. If it was the wife asking for help, we aren't surprised the scheme went awry—most men won't help with the dishes, let alone a cadaver. However, it's possible the husband was the one asking for help. If so, this story might be referring to the Mark Fein case. It seems to fit—Fein was a jet-setter with a palatial apartment on Park Avenue. In 1965 he killed his bookie, stuffed him in a trunk and, with the help of his wife and two others, dumped him in the East River. The trunk bobbed to the surface days later and soon the cops came knocking on Fein's door. According to a Saturday Evening Post article, Fein's wife said to him in disgust, "Didn't you ever hear of cement?" As punch lines to one's own arrest rate, it doesn't quite approach, "And it would have worked, too, if it wasn't for you pesky kids!" but it's pretty close. We'll have more Confidential Detective Cases covers down the line.

---