Those dirty bushwhackers done hung him. And nobody else in the entire territory's got feet delicate enough to walk on my back when it acts up.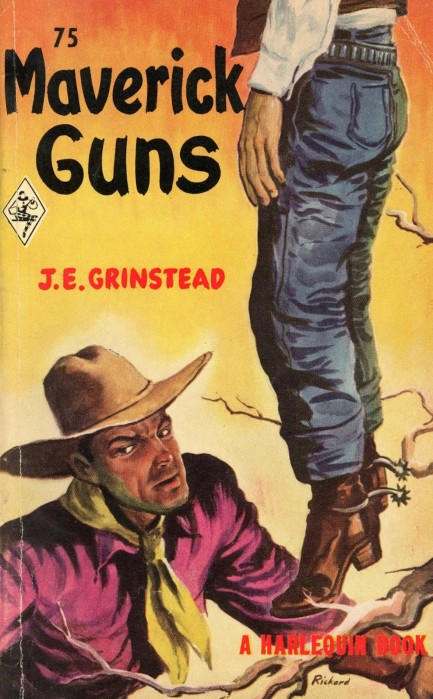 When we saw this paperback at the blog canadianflybynight we immediately had to share it because it serves as an addendum to our cover collection of unfortunates who've been hanged. We gather the story here deals with a corrupt syndicate ganging up to steal the land of a stubborn rancher. Somewhere in there the cowpoke with the daintiest feet in the west is cruelly strung up. The novel is originally 1939, and this Harlequin paperback with curious cover art by D. Rickard appeared in 1950. See our hanging collection here.


---
Take a walk on the wild side.
Above are three cover treatments for Sugar-Puss on Dorchester Street, written by Al Palmer, and first published in 1949 (many sources say 1950, but Palmer's current day publisher Véhicule Press says 1949). Sugar-Puss was set in Montreal in the debauched red light district centered around Dorchester Street (now René Lévesque Boulevard), and spiced with firsthand observations from Palmer, who was a night-crawling columnist for the Montreal Herald and later the Montreal Gazette. His main character, Gisele Lepine, leaves her small farming town, is swept up in bright lights and big city, and pulled into various dramas involving a newspaper man, a cabaret owner, drug-dealers, and chorus girls. Gisele's situation soon devolves, bringing her up-close and personal with organized crime, murder, and white slavery (always, in mid-century novels, taken to be somehow worse than mere slavery). The novel was Palmer's only one, but it has managed to endure among collectors, maybe because it has possibly the best title ever. He also wrote a city expose entitled Montreal Confidential. We like all three of these covers, but even if the first two seem of higher quality, with their splashes of purple and yellow, we think version three manages to capture a feeling of loneliness and alienation. The top piece is by Syd Dyke, the middle one by D. Rickard, and the last is by unknown.
---
Where there's smoke there's desire.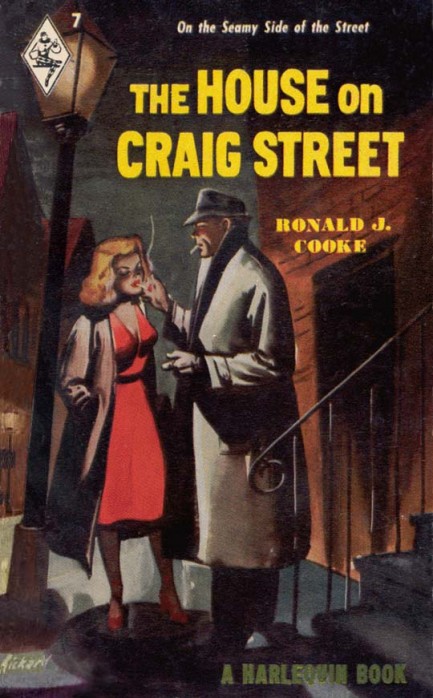 Above is a cover for Ronald J. Cooke's The House on Craig Street, produced by an artist known only as D. Rickard for Harlequin in 1949. That's the year Harlequin was launched in Toronto, Canada, and we gather that Rickard painted many of the company's early covers. We had actually seen his work around quite often without knowing who painted it. But we always took note of it, and now that we've attached a name to the output, we're officially on Rickard's bandwagon. His style reminds us of many of the French covers we share—i.e., verging on impressionistic, as opposed to the realistic work you see from many of the top American artists.
Moving on to the fiction, Ronald J. Cooke's tale here involves a young advertising man who wants to make it big, and the action is set mainly in Montreal of the 1930s. Though there is a love interest,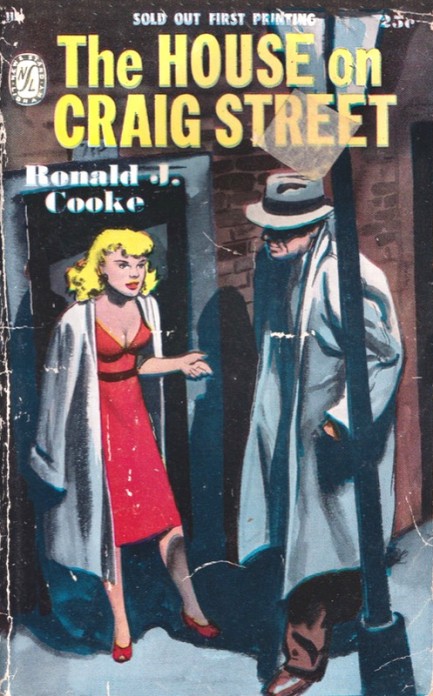 or even two, this book isn't one of the romances with which Harlequin earned its enduring fame. Cooke went on to write two more novels, and some non-fiction, including books like the popular Money-Making Ideas for Retirees

. He also wrote tons of business articles for magazines and trade publications, exciting stuff like "How To Get Better Results for Your Mail-Order Business" and "Labour-Management Ideas That Yield Big Dividends."
D. Rickard painted another cover for The House on Craig Street

for News Stand Library's U.S. run of the book, which you see at right. Depicting the same scene, this alternate version, also from 1949, seems to us a bit less evocative than the Harlequin cover, almost cartoonish. Anyway, we'll have more work from this interesting artist later, but if you want to see some now, follow the link to this small
collection.
---