Is it just us, or does something about this pose make you think about scoring?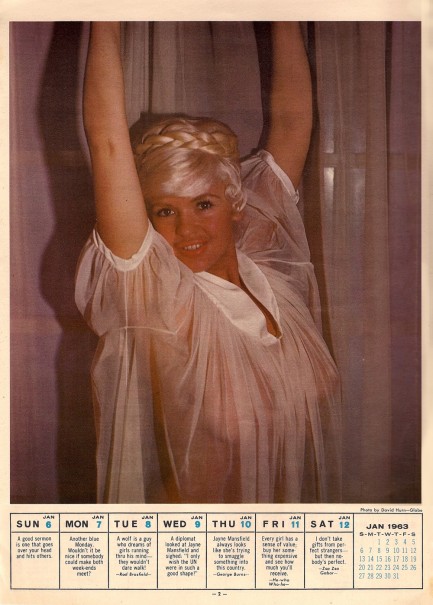 We're back on schedule with Goodtime Weekly and a page for today in 1963 featuring none other than Jayne Mansfield, who's making her third appearance for the calendar. After being lensed twice by Bernard Wagner, here and here, British photographer David Hurn gets a shot. We love the pose because it looks like she's signaling a touchdown or a field goal—appropriate this first weekend of playoff football in the U.S. (which is something we can watch live thanks to the wonders of the internet). We doubt Hurn was thinking of sports when he suggested the pose. More likely he simply said, "Um, Jayne, I can't see your breasts with the fabric bunched up like that. Can you raise your arms? Higher? Perfect." The result was an image that's quite famous, which is to say, it's one of only three from the calendar that we've seen before. That doesn't surprise us. Hurn is a significant photographer who shot everything from political events to the Beatles, and is still kicking around today. He also shot this amazing image of Jane Fonda for the film Barbarella. Okay, we're off. Enjoy the games, everyone.
Jan 6: A good sermon is one that goes over your head and hits the others.
Jan 7: Another blue Monday. Wouldn't it be nice if somebody could make both week-ends meet?
Jan 8: "A wolf is a guy who dreams of girls running thru his mind—they wouldn't dare walk!"—Rod Brasfield
Jan 9: A diplomat looked at Jayne Mansfield and sighed: "I only wish the UN were in such good shape!"
Jan 10: "Jayne Mansfield always looks like she's trying to smuggle something into the country."—George Burns
Jan 11: "Every girl has a sense of value; buy her something expensive and see how much you'll receive."—He-who Who-he
Jan 12: "I don't take gifts from perfect strangers—but nobody's perfect."—Zsa Zsa Gabor


---
We're kind of Fonda this outfit.
Promo shot of Jane Fonda in the sexy but practical (or not) space suit from her film Barbarella, 1967, shot by British photographer David Hurn. This is her second appearance as one of our femmes fatales, and what an appearance.
---