Maybe I've been working in this lab too long, but I'd really like to meet whoever produced this beautiful urine sample.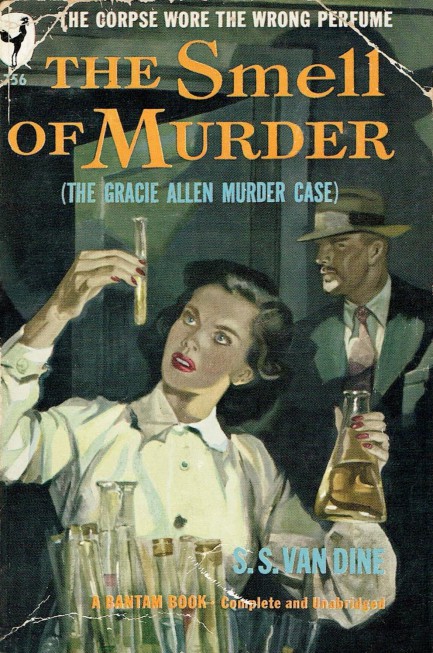 The Smell of Murder has nothing to do with bodily fluids, but when we see yellow liquid in a test tube that's where our minds go. Especially after a couple of nights in Magaluf, hereafter referred to as Malagoof, where the streets run with liquid gold. The rest of Mallorca, however, was very nice. The Smell of Murder is a mystery with a gangland focus and a secondary character who works for a perfume company—hence the test tubes. That character, interestingly, is named Grace Allen and is based upon the famous comedienne. Her Vaudeville partner George Burns appears too—he's the owner of the perfume company. 1938 publication date, plenty of reviews online, unknown cover artist.
---
Is it just us, or does something about this pose make you think about scoring?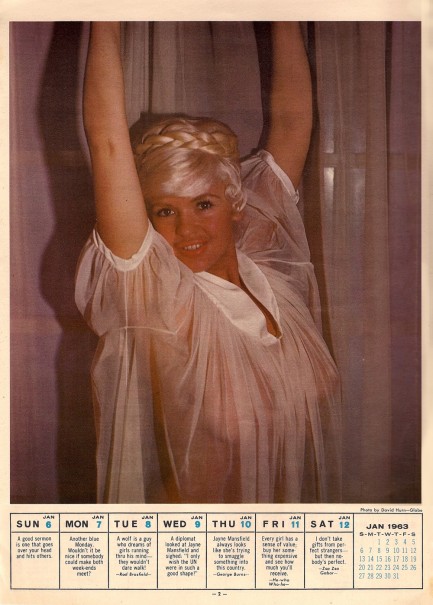 We're back on schedule with Goodtime Weekly and a page for today in 1963 featuring none other than Jayne Mansfield, who's making her third appearance for the calendar. After being lensed twice by Bernard Wagner, here and here, British photographer David Hurn gets a shot. We love the pose because it looks like she's signaling a touchdown or a field goal—appropriate this first weekend of playoff football in the U.S. (which is something we can watch live thanks to the wonders of the internet). We doubt Hurn was thinking of sports when he suggested the pose. More likely he simply said, "Um, Jayne, I can't see your breasts with the fabric bunched up like that. Can you raise your arms? Higher? Perfect." The result was an image that's quite famous, which is to say, it's one of only three from the calendar that we've seen before. That doesn't surprise us. Hurn is a significant photographer who shot everything from political events to the Beatles, and is still kicking around today. He also shot this amazing image of Jane Fonda for the film Barbarella. Okay, we're off. Enjoy the games, everyone.
Jan 6: A good sermon is one that goes over your head and hits the others.
Jan 7: Another blue Monday. Wouldn't it be nice if somebody could make both week-ends meet?
Jan 8: "A wolf is a guy who dreams of girls running thru his mind—they wouldn't dare walk!"—Rod Brasfield
Jan 9: A diplomat looked at Jayne Mansfield and sighed: "I only wish the UN were in such good shape!"
Jan 10: "Jayne Mansfield always looks like she's trying to smuggle something into the country."—George Burns
Jan 11: "Every girl has a sense of value; buy her something expensive and see how much you'll receive."—He-who Who-he
Jan 12: "I don't take gifts from perfect strangers—but nobody's perfect."—Zsa Zsa Gabor


---
How to be nude and fully clothed at the same time.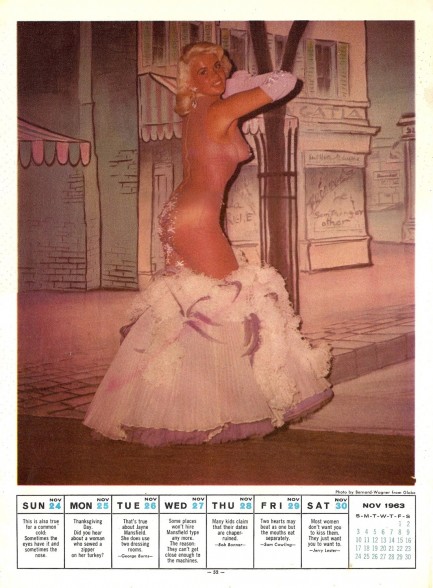 Above is a shot of Jayne Mansfield from Bernard Wagner showing the actress in a nude evening dress that covers her bits with a few stars and sparkles. We also love the Paris street-style matte painting behind her. Since we had both the name of the model and photographer, we were able to do an extensive search on the web and did not encounter this shot anywhere, which means we're going to claim that this is the first time it's appeared online. Always a proud moment. The weekly observations are below, and we're guessing that the quip for November 27 has something to do with typesetting, but we couldn't find any references to "Mansfield type" anywhere. Anyone have a clue on that? Drop us a line.
Nov 24: This is also true for a common cold: Sometimes the eyes have it and sometimes the nose.
Nov 25: Thanksgiving Day. Did you hear about a woman who sewed a zipper on her turkey?
Nov 26: "That's true about Jayne Mansfield. She does use two dressing rooms."—George Burns
Nov 27: Some places won't hire Mansfield type anymore. The reason: They can't get close enough to the machines.
Nov 28: "Many kids claim their dates are cheaper-ruined."—Bob Banner
Nov 29: "Two hearts may beat as one but the mouths eat separately."
Nov 30: "Most women don't want you to kiss them. They just want you to want to."—Jerry Lester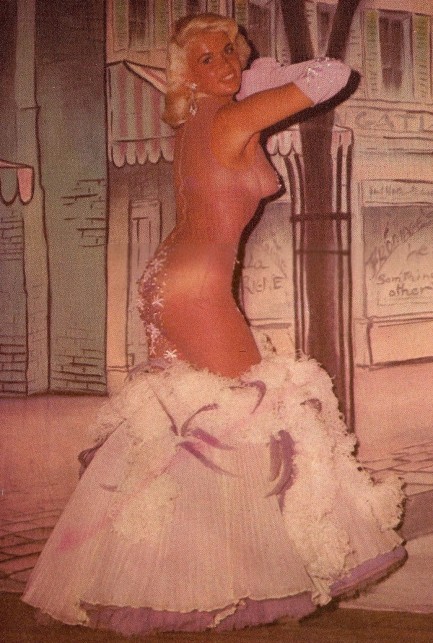 Update: Here's an e-mail we got from a reader named Lisa that may solve the mystery of the non-sensical quip.
This might be too old to care about, but the author thought that "Some places won't hire Mansfield type anymore. The reason: They can't get close enough to the machines" was a joke about typesetting. But it seems more likely that there's just a typo in the line. It should read "Some places won't hire Mansfield to type anymore." Then the second sentence makes sense.
Thank you, Lisa. It's amazing how long we can look at something and still simply not see things like that. That's why the extra eyes of readers are so important to us.


Update two: Here's Lisa again, with an even better take on this.
Well, I was basking in my typo-spotting glory on Facebook when a couple of friends pointed out that the joke is just as likely--maybe *more* likely--to be "some places won't hire Mansfield types anymore". Then the "they" in the second sentence is referring to "Mansfield types," which makes even more sense. And that's how vintage materials research is done, folks! Sorry to force a potential new update on you.
No worries, Lisa. We're flattered that anything we do would cause you to bask. What are you wearing right now? Never mind. Now that you've got us seeing the line in all its myriad possibilties, we might as well throw a third option—"Mansfield's type"—out there as well. That will certainly cover the gamut. Er, we think.


---