Egyptians are reminded that in their country, as in all others, money talks and billionaires walk.
Billionaire Egyptian Hisham Talaat Moustafa has taken the first step toward avoiding the death sentence handed down to him two years ago for the murder of his ex-lover, Lebanese pop star Suzanne Tamim. We posted on it back then—how Moustafa hired Mohsen Al-Sukkari to jet to Dubai and do away with Tamim, but was tripped up when Al-Sukkari accidentally let himself be caught on security cameras entering and leaving Tamim's building. Average Egyptians, after Moustafa's surprising death sentence was announced, were forced to deal with the unsettling possibility that their legal system was not corrupt through-and-through, and that their lifelong cynicism concerning equal justice for both rich and poor had been unwarranted. Well, they needn't have worried. On Tuesday appeals judge Adel Abdel-Salam Gomaa left peon Al-Sukkari's death sentence in place but reduced billionaire Moustafa's sentence to fifteen years, even though under Egyptian law contracting for a murder is deemed equivalent to committing one. Most observers, cynicism fully restored, believe the sentence reduction is only the first of several steps toward freeing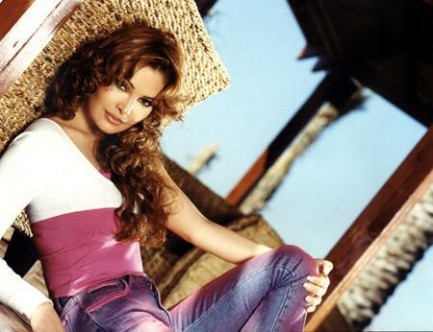 Moustafa. The judge is legally bound to detail the reasoning behind Tuesday's decision, but with a sixty day grace period to work with he has the luxury of choosing a day when his explanation will make the least impact. Meanwhile Al-Sukkari's defense attorney—his client now left to face death alone—summed up events by commenting, "I'm 72 years old and throughout my long career as a lawyer I have never witnessed such an incident."
---
Egyptian billionaire calls up an employee and asks for a big favor.
In Egypt yesterday, billionaire hotel and resort magnate Hisham Talaat Moustafa was sentenced to death by hanging after hiring a hitman to kill his ex-lover, Lebanese pop singer Suzanne Tamim. Tamim was knifed to death at her home in Dubai last year by Mohsen el-Sukkary, a security guard employed at one of Moustafa's numerous hotels. Moustafa's involvement became clear through phone records and other evidence, and el-Sukkary's hand in the crime was determined after he left DNA at the murder scene and was caught on a security camera.

Suzanne Tamim became famous in 1996 after winning an American Idol-style competition, but her career ran into problems, and she split with her manager-husband. Her affair with Moustafa was a closely guarded secret because he is married. When it soured last year Tamim took up residence in Dubai, reportedly to distance herself. Moshen el-Sukkary, who was also sentenced to death by hanging, flew to Dubai after agreeing to a two million dollar fee for his services and tricked Tamim into opening her apartment door by posing as an employee of the property. Once inside, he attacked the singer with a knife and eventually slashed her throat, but not before leaving ample evidence behind, including his own blood.

There had been widespread interest in the case in Egypt—and throughout the Arab world—because the wealthy and highly connected are seen as above the law. It was particularly thought to be true of Moustafa, who is a member of Egypt's ruling National Democratic Party and is close to President Hosni Mubarak's youngest son, Gamal. But in a surprising development, Moustafa was stripped of his parliamentary immunity before the trial. Moustafa might still dodge the hangman—his case will be going through a mandatory review by religious authorities, and an appeal to the high court, which means his connections may yet serve him.

---
The opposition booted him, but he isn't letting go quite that easily.
Former Thai prime minister Thaksin Shinawatra announced today that he would not appeal his October conviction for facilitating crooked land deals. Thaksin was found guilty of corruption and sentenced to two years in jail for helping his then-wife Pojaman illegally purchase state-owned land. Thaksin's résumé also includes suppressing news of a bird flu outbreak, causing more than 2,500 deaths during a crackdown on illegal drugs, and failing to declare all of his considerable wealth.

In 2006 his family sold shares in the Thai telecom group Shin Corp and netted a cool €1.9 billion. It angered many Thais that he sold a national resource to interests in Singapore, and the populace were also well aware that he had avoided paying taxes. As a result, protests erupted, prompting Thaksin to call a snap general election, which opposition parties boycotted. Faced with the threat of nationwide turmoil, he stepped down, then unretired a few weeks later. In May 2006 he was definitively re-retired—by coup d'etat.

Being stripped of power hasn't exactly left Thaksin incapacitated with shame in a spider hole. He possesses a multi-billion euro fortune, which would tend to cushion most any blow. And he also owns English Premier League side Manchester City. Yet Thaksin still craves power, which means he isn't about to let a coup and a criminal conviction derail him. He recently announced from Dubai, where he lives in exile, that he plans to launch a political comeback.
---