You can eat an apple a day but it won't keep this doctor away.
Above is I Capolavori della Serie KKK Classici dell'Orrore number 127, entitled Gli esperimenti del Dott. Hass, aka The Monster, published in 1969, written by Patty North, who was really Franco Marotta. And of course the brilliant art is by Benedetto Caroselli, whose work you probably recognize by now. Marotta also wrote Il robotto maledetto, which means so far he's written about an evil doctor and an evil robot. The book also has a short story beginning on page 121 called "Violenza," which was penned by Roland Greaves, who was really Renato Carocci. That's a lot of entertainment for just a few euros, and well worth it.
---
He's everything a man is, except he turns on only when you want him to.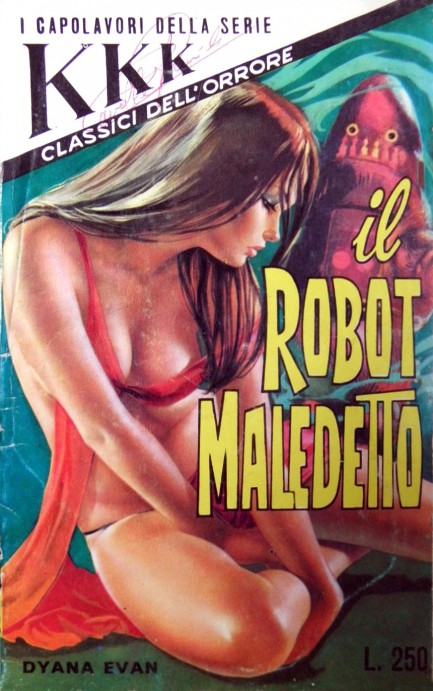 Above, Edizioni Periodici Italiani's Il robot maledetto, 159 in the I Capolavori della Serie KKK Classici dell'Orrore, written by Dyana Evan, a psuedonym of Franco Marotta, 1971. The art featuring a lingerie clad woman and a phallic robot is more suggestive of romance or sleaze than horror, but it's great work by Benedetto Caroselli, who you can see more of here.


---
That dream she keeps having about an icy hand at her neck? Not a dream.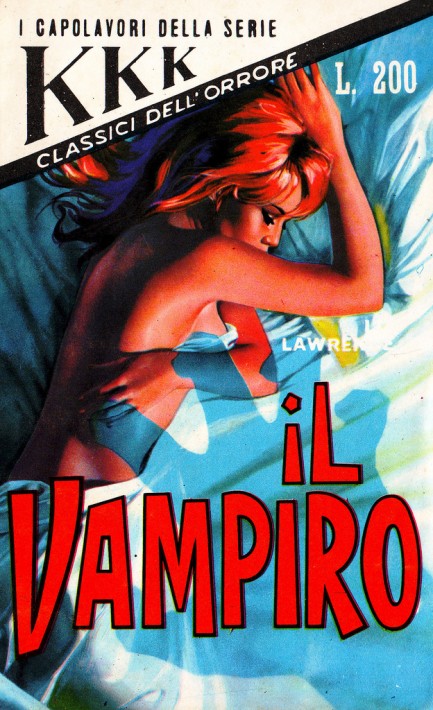 Above is another cover by Benedetto Caroselli for I Capolavori della Serie KKK Classici dell'Orrore. That's a real mouthful, but really it just means "KKK Masterpiece Series Horror Classics." This one, number 116 from 1969, is entitled Il vampiro and it was written by Liz Lawrence, who was a pseudonym of Franco Marotta. We don't know if it's the same guy, but a Franco Marotta wrote for Italian cinema for forty years, and among his work was the original Inglorious Basterds. Probably the same guy. Anyway, brilliant piece of art from Caroselli here, featuring the menacing shadow of a vampiric hand looming over a sleeping nude. See more Caroselli by clicking his keywords below.
---