Yup. Done gave myself more'n a few painful burns over the years with this trick but I got it down pretty good now.
The cover art by Robert Bonfils makes The Passion Cache look like a western but it's actually set in the present day, or at least 1968, which is when Don Bellmore, aka George H. White, wrote the book. It deals with two fraternity buddies who go looking for twenty-thousand dollars worth of Spanish gold in the mountains above El Paso, Texas. But this is sleaze fiction, not adventure fiction, so the quest for gold is really secondary to the main character Jud's quest to do some prospecting between the thighs of his friend's wife Viola, an Indian girl named Desert Rose, and an eager virgin/tomboy named Sally. He's successful on all counts, multiple times. Does he eventually end up with the gold? No, but he ends up with Desert Rose, and that's pretty much what these books are all about.
---
Spain conquers the cosmos.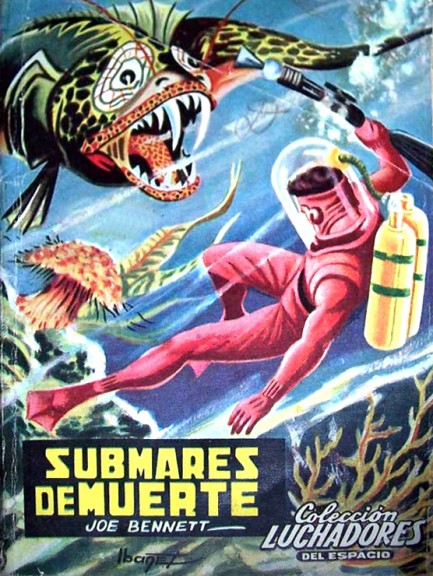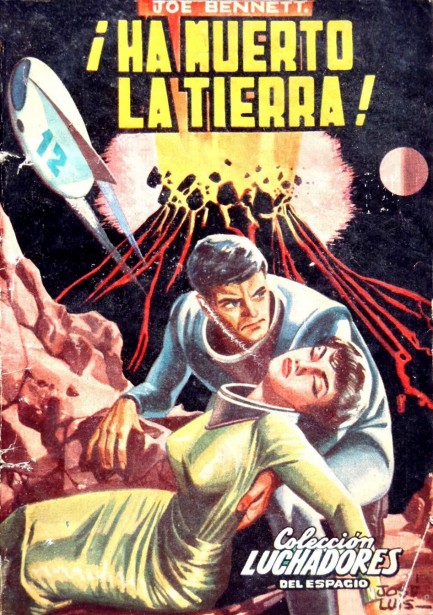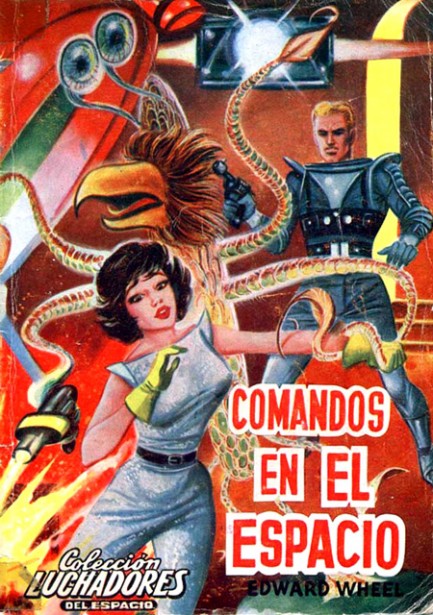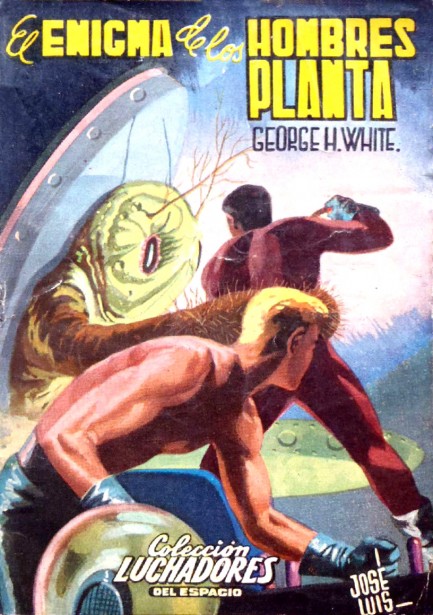 Above, assorted covers of the Spanish science fiction series Luchadores del Espacio, or Space Fighters, from Editorial Valenciana, created and written by Pascual Enguídanos Usach under the pseudonym George. H. White, with other authors like Alfonso Arizmendi Regaldie, José Luis Sanchis Benet (writing as Joe Bennett), and Pedro Domingo Mutiñó (as P. Danger) also involved. Art is mostly by José Luis Macias, with a few contributions from Vicente Ibáñez Sanchís and José Lanzón Piera. A couple of these images came from audiolibrosdebolsillo (where you can download audio copies), so thanks to them.
---
My gosh, are those Vivier stilettos you're wearing? How extraordinary.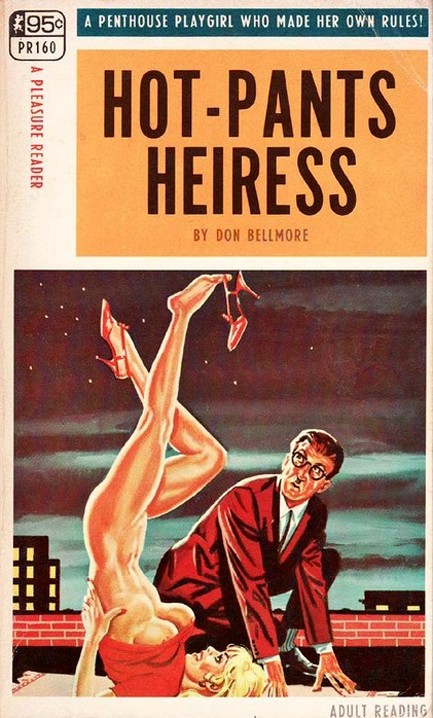 Don Bellmore, whose Hot Pants Heiress you see above, was one of many prolific smut authors during the 1960s. He wrote Shame Agent, Sin Dealer, Prey for Rape, The Dyke Department, The Twins' Initiation, and many more. It all sounds pretty low rent, but you'd be surprised how robust the market is for vintage sleaze. We saw The Twins' Initiation going for $49.95 on one site. Pretty good for an author that wasn't even real. Bellmore was one of those names shared by a number of writers, including George H. White, who also wrote as both Jan Hudson and J.X. Williams, though the J.X. pseudonym was also used by John Jakes among others. White/Bellmore also may have filled in as Alan Marshall when Donald E. Westlake wasn't inhabiting the role. It all gets pretty confusing. But what isn't confusing is this humorous cover art, featuring a bottomless vixen doing the upside down bicycle exercise and her friend with a shoe fetish. We have some more Bellmore covers below. Enjoy.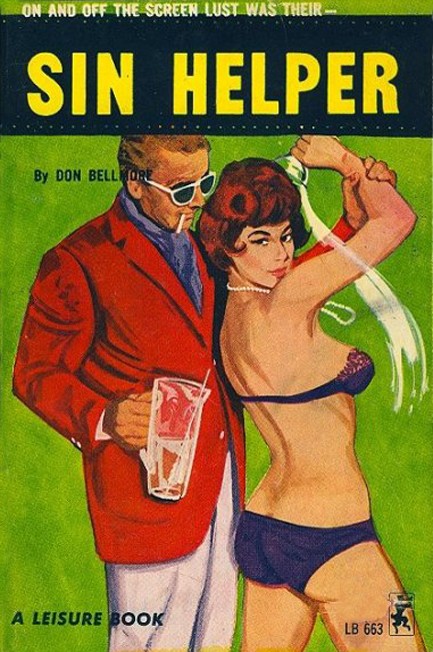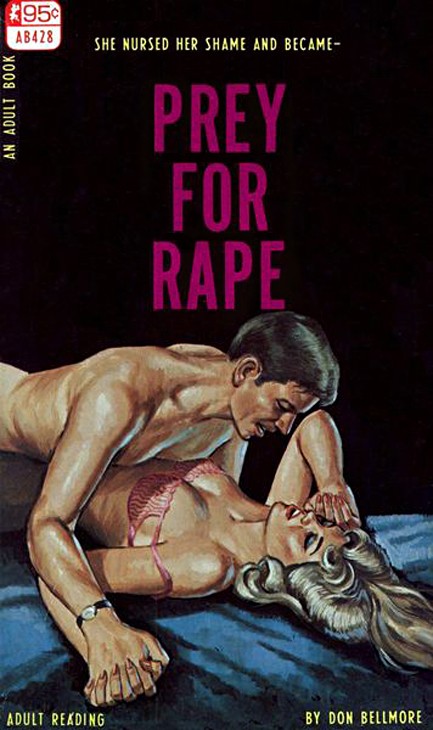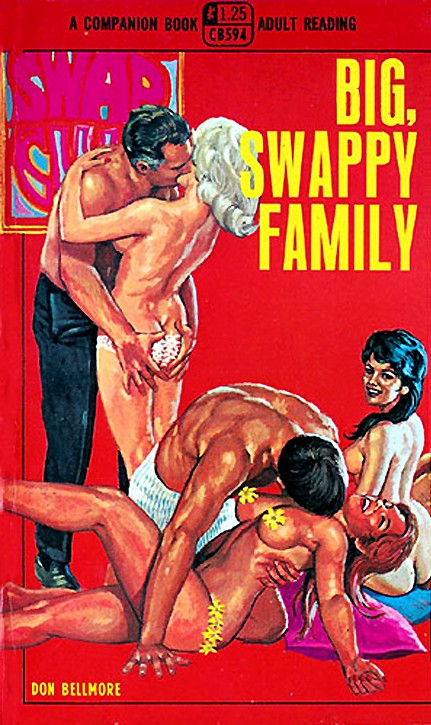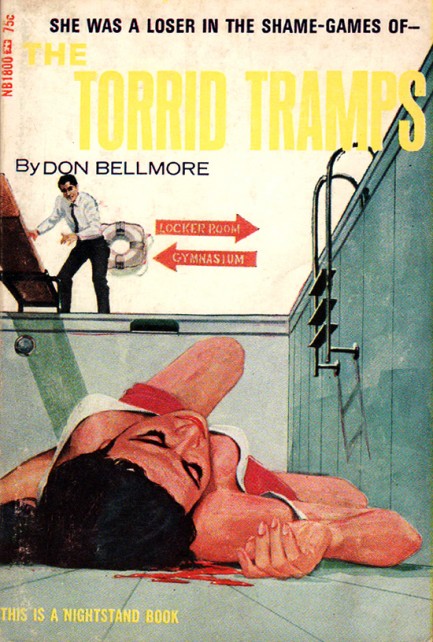 ---